BigPanda Launches 'Alert Intelligence' To Improve, Simplify AIOps, ITOps
BigPanda's AIOps platform is adding smart capabilities to reduce noise, simplify integration and improve the quality of alerts. IDN speaks with Blair Sibille about how 'Alert Intelligence' modernizes AIOps.
by Tom Donoghue
Tags: alerts, AI, AIOps, BigPanda, events, intelligence, MTTR, operations,
Blair Sibille
Field CTO

"Our interactive dashboards give teams full visibility into how events are processed and the incidents that require action."
Application Architecture Summit

Modern Application Development for Digital Business Success
June 8, 2023
Virtual Summit
AIOps provider BigPanda is offering a new set of Alert Intelligence technologies aimed at providing IT operations teams with more useful global views of enterprise systems – and do it simply and more easily.
BigPanda's Alert Intelligence combines noise reduction, correlated alerts, enhanced analytics and broad and deep integrations with some 50 tools. The result is IT Opens teams can obtain deeper insights and unified views into their data to quickly identify and resolve issues, noted BigPanda's Blair Sibille, vice president of product marketing.
"At a high level, the new Alert Intelligence capabilities help organizations get more value from the monitoring and observability tools they're already using by visualizing the output trail of all their applications and infrastructure components," Sibille told IDN.
"The ability to visualize all the output events and alerts from their technology stack holistically, helps customers drive larger efficiency and cost optimizations," he added.
Under the covers, Alert Intelligence could be thought of as offering a smart AIOps pipeline for converting raw events data to actionable alerts, and moving data across key stages including filtering, suppression, normalization, deduplication, aggregation, and enrichment.
"Today, enterprise IT Ops teams face increasing complexity of IT environments, and massive volume of alerts and data," BigPanda's Alert Intelligence approach also aims to eliminate "alert fatigue," which can often plague and overwhelm ITOps teams, Sibille noted.
"It's fairly common for IT teams to use a disparate set of tools," she added. "As each tool alerts teams of possible issues, it creates a certain level of muddiness or noise that takes time for ITOps and DevOps team members to manually sift through before identifying critical incidents that may (or already have) caused outages," Sibille said. "Alert Intelligence modernizes the entire process by ingesting data from each of these sources and using AI to automatically cut through the noise to identify high-quality.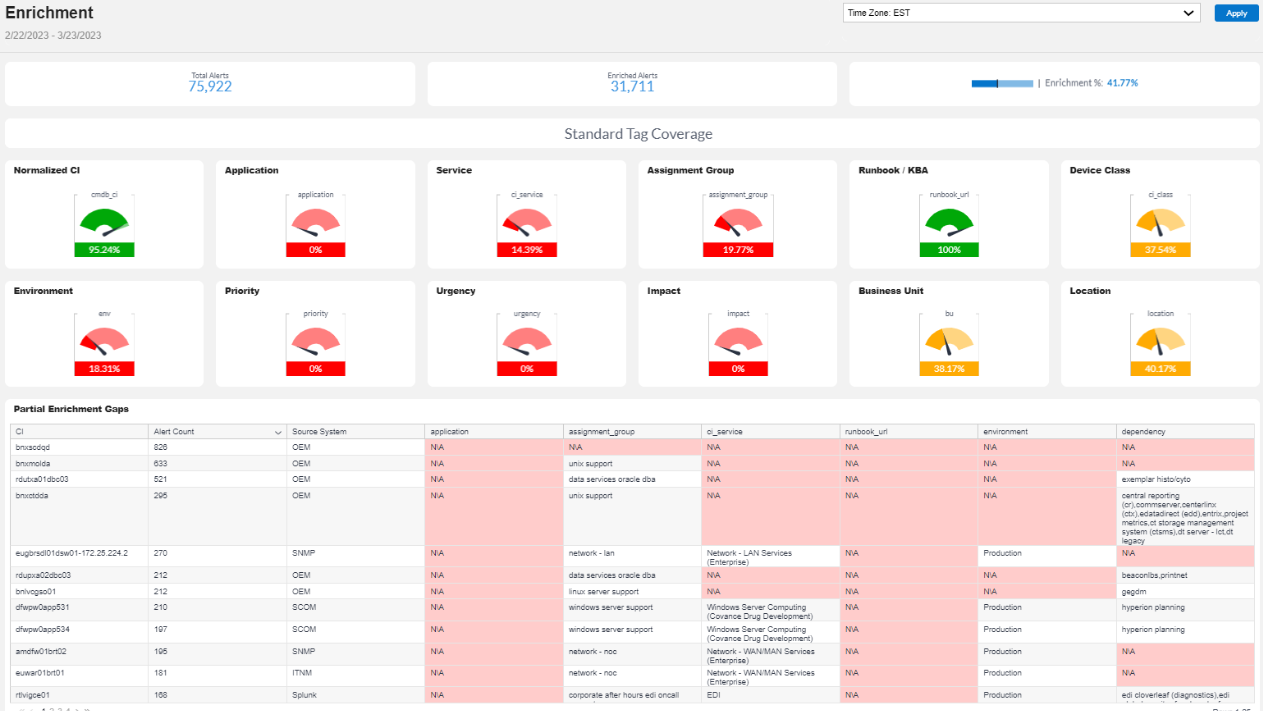 While having a wide toolset helps identify a range of issues or 'events,' few of these tools talk to each other. This makes it difficult to see a unified view of what alerts or events are truly worth paying attention to – hence, the "noise" versus "signal" issue.
BigPanda's website describes the challenge this way:
Teams are swimming in event noise. The widespread adoption of monitoring and observability tools causes ITOps, DevOps and SRE teams to drown from event noise. Events distributed across a hybrid or multi-cloud environment pile up and overwhelm teams' human capacity to focus just on important alerts, causing IT incidents to pile up and painful, costly outages to occur.
With Alert Intelligence, BigPanda platform's is "fully customizable," Sibille added, so organizations can tailor it to their specific needs. Users "can test and preview various filters to home in on a configuration that makes the most sense for their individual organization," she said.
In specific, BigPanda's Alert Intelligence includes the following capabilities.
Monitoring Integrations: Various monitoring and observability sources can be integrated seamlessly through REST API, email alert, or SNMP trap. Users can easily set up most integrations on their own. Unified visibility:
Unified Visibility: Deep integrations across a wide number of tools also lets BigPanda present higher-quality alerts from various monitoring and observability sources via a "first pane of glass" inside in BigPanda eliminates the need for teams to switch between different tool consoles to identify problems.
Event Normalization: BigPanda can normalize heterogeneous data from different monitoring tools. This provides a consistent format using general-purpose key-value pairs called tags. Further, standardization of disparate monitoring event formats into a common format that makes it easy to perform cross-source event correlation.
Event Deduplication: To reduce noise, BigPanda can intelligently parse incoming events to identify duplicates or updates to existing alerts. These duplicates or updates are then discarded or merged.
Event Filtering: To reduce "noise," BigPanda automatically suppresses non-actionable events, maintenance windows or non-production environments. Out-of-the-box deduplication and noise filtering helps teams focus on relevant events and reduce noise by up to 98%. In addition, a preview capability makes it easy to build and test new filter patterns based on alert metadata and enrichment tags.
Event Enrichment: BigPanda can also annotate events with context tags that are extracted from payload data like hostnames or clusters, or from topology data like a CMDB or service map.
Event Aggregation: BigPanda rolls up multiple events generated from a monitored resource changing state, into a single timeline view for users to see.
How Alert Intelligence is Optimized AI for Operational IT, MTTR
BigPanda's latest solution builds on the company's long-standing machine learning and natural language processing investments. As a result, IT Ops teams receive a new level of AI capabilities to distinguish between "signal" and "noise" when it comes to taking action on alerts.
"Teams can test and preview a number of filters based on alert metadata and enrichment tags, which we've found helps reduce irrelevant noise by up to 98%," Sibille said.
Further, BigPanda offers "interactive dashboards," which actually reveal how events are processed, so that ITOps and DevOps teams can see the daily trend of number of events, the source of different events, and actioned incidents in a single place.
"Our interactive dashboards give teams full visibility into how events are processed, enabling them to analyze trends such as the number of daily events and incidents, the sources of key events, and the incidents that require action. Ultimately, the platform's incident intelligence process significantly improves MTTR with correlation and enrichment assisted by machine learning," she added.
BigPanda plans more AI-focused improvements, Sibille told IDN.
"I would keep your eyes peeled for new innovations in BigPanda in the coming months; we've focused research towards measuring AIOps maturity and success, which will empower AI/ML suggestions other than correlation patterns soon in different areas of BigPanda. We've already streamlined the onboarding experience through our Virtual Onboarding Assistant, which makes configuration suggestions to our new and existing customers, and we look to expand on this in the near future," Sibille said.
BigPanda's Alert Intelligence Offers Ease and Breath of Integration
Another fundamental technology to BigPanda's Alert Intelligence is the company's commitment to integration with external tools and systems, Sibille noted. BigPanda's latest platform sport some 50 easy to deploy, low-code integrations.
We asked Sibille about the core integrations and the overall vision.
We tend to break down our integrations by category. In terms of monitoring, key integrations include Datadog, SolarWinds, Splunk, Grafana, New Relic, Prometheus, and many more. When it comes to change systems, BigPanda integrates with players including AWS CloudTrail, Jira and ServiceNow.

The platform also integrates with ServiceNow for topology use cases, as well as other platforms including Dynatrace and VMware. For collaboration, key integrations include Jira, PagerDuty, ServiceNow, Slack, and Asana, and for single sign-on (SSO) it integrates with Okta, OneLogin, and Ping Identity.

One of our aims is to make life easier for ITOps and DevOps teams, so we will continue to add relevant integrations as needs and use cases arise.
"With its innovative technology and powerful capabilities, BigPanda's Alert Intelligence solution is set to revolutionize the way enterprise IT operations teams manage alerts and data, providing greater efficiency, productivity, and insights than ever before," said BigPanda CEO Assaf Resnick.