EnterpriseDB Releases Solution To Optimize Postgres for IT, Business Resilience
EnterpriseDB brings 'extreme high availability' to Postgres, with supports for operational resiliency, scalability and disaster recovery. IDN learn more about EDB Postgres Distributed 5.0 with EDB's Jozef de Vries.
by Vance McCarthy
Tags: cloud, DR, EnterpriseDB, PGD, Postgres, resiliency, SQL,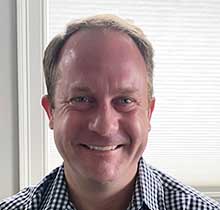 Jozef de Vries
chief product engineering officer


"Adoption of EDB Postgres Distributed does not require unique skills beyond what a database administrator or application developer possesses."
Application Architecture Summit

Modern Application Development for Digital Business Success
June 8, 2023
Virtual Summit
With the latest technology from EnterpriseDB, Postgres is getting a major update to deliver operational resiliency, high availability and enterprise-scale. The new technology, EDB Postgres Distributed (PGD) 5.0 aims to help customers meet their most mission-critical use cases.
PGD 5.0 "uniquely solves the problem of planned downtime and unplanned outages for enterprises running business-critical applications," according to Jozef de Vries, EDB's chief product engineering officer.
The "extreme high availability" solution for Postgres aims to keep business- and mission-critical applications running and protects against planned and unplanned outages, de Vries noted.
Specifically, the solution will enables customers to run PostgreSQL with up to 99.999%+ availability via use of a novel "active-active technology." The technology, which leverages EDB Postgres Distributed's multi-master capability, is available only with EDB -- and no other Postgres-native database, he added.
"Operational resiliency is paramount for businesses today. . .. Downtime and data loss can lead to significant business disruption, and enterprises simply cannot afford that. EDB Postgres Distributed 5.0 delivers extreme high availability to minimize downtime so customers can always access their data and applications - even through major version upgrades and during maintenance operations," said EDB's chief technology officer Marc Linster.
PGD 5.0 'Always On' Approach Supports HA for Postgres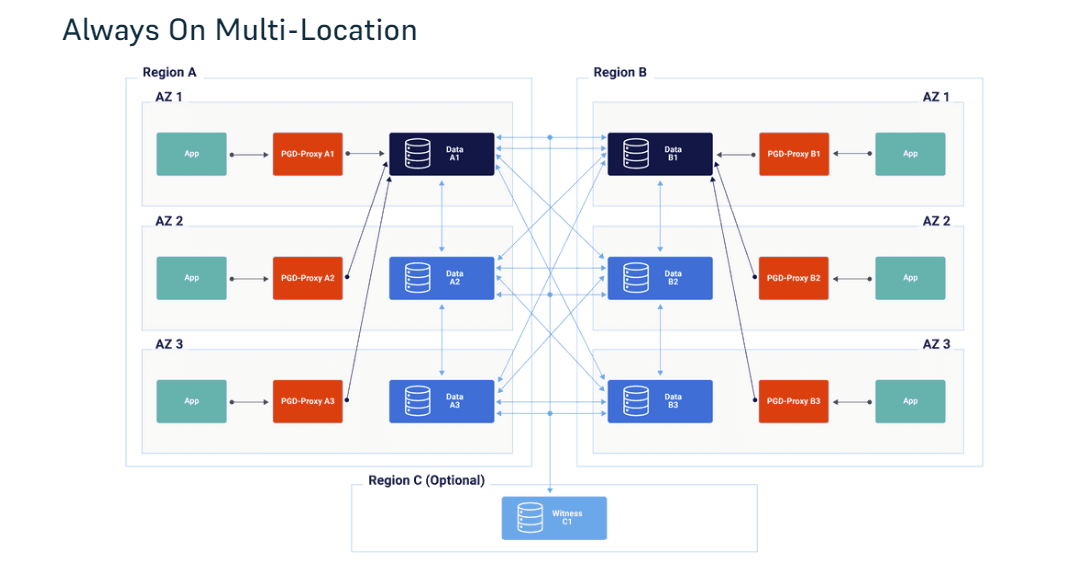 EDB's PGD 5.0 provides "support and guidance for a standard set of architecture topologies referred to as 'Always On' to support single or multi-location deployments with varying levels of redundancy depending on your RPO and RTO requirements," de Vries told IDN.
With these architectures, EDB PGD 5.0 delivers several resiliency crucial benefits to IT and business, de Vries said, including:
Maximizing uptime: Extreme high availability ensures that high-value transactions happen when they need to and allows businesses to deliver the uptime customers and partners expect.
Protecting business-critical applications: Redundancy architecture for frequently accessed applications provides a higher level of availability and protection.
Increased availability of web-based applications: Redirecting traffic to functional servers ensures online applications stay up and running in the event a server fails.
Avoidance of productivity disruptions: Businesses can perform full version upgrades and maintenance with little downtime and can avoid costly maintenance weekends.
IDN asked de Vries how PGD's 'Always On' capability works.
The Always On architecture uses 3 database node group as a basic building block (it's possible to use 5 node group for extra redundancy as well).

All Always On architectures protect an increasing range of failure situations. Each architecture can provide zero recovery point objective (RPO), as data can be streamed synchronously to at least one local master, thus guaranteeing zero data loss in case of local hardware failure.

Increasing the availability guarantee always drives additional cost for hardware and licenses, networking requirements, and operational complexity. Thus, it is important to carefully consider the availability and compliance requirements before choosing an architecture.

EDB's de Vries also explained how customers can access and activate PGD to manage planned downtime -- and avoid dangers from unplanned outages.

Whether for system maintenance activities or system software upgrades, PGD maintains availability of the system through a process referred to as 'rolling upgrades' or 'rolling restart.'

The upgrade or maintenance process is performed on each node in the cluster one after another, while keeping the remainder of the cluster operational.

During the upgrade process, the application can be switched over to a node which is currently not undergoing maintenance or upgrade to provide continuous availability of the database for applications. PGD provides a suite of tooling and documentation that an individual facilitating this process can use to orchestrate the process.
Customers can upgrade to PGD 5.0 immediately without disruption through EDB Extreme High Availability, an easy-to-use an add-on to EDB Enterprise and Standard Plans, de Vries added.
Adoption of PGD does not require any particular set of unique skills beyond what a general database administrator or application developer possesses to work with general database technologies. EDB provides extensive documentation and materials on how to deploy, configure, and use a PGD environment.

In addition, we provide a tool called Trusted Postgres Architect (TPA) which is a command line base automation tool that executes the installation, configuration, and system upgrade/maintenance activities.

As with any sort of software evaluation effort, it is recommended that the user has sufficiently scoped out the use cases they want to validate and perform these activities into a non-production environment before deploying into production.
PGD Resiliency Also On Tap for BigAnimal DBaaS in the Cloud
Notably, soon these crucial PGD 5.0 resiliency features will also be available for EDB BigAnimal, the company's fully managed, cloud-based, database-as-a-service (DBaaS).
We asked de Vries whether EDB expected traditional Postgres users might speed up their moves to the cloud once BigAnimal offers deep support for resiliency, visibility and control.
As PGD is made available on BigAnimal, we do encourage users to take advantage of its enhanced high availability characteristics. Provisioning and configuration of a PGD cluster in BigAnimal is done through a series of user interfaces or API calls that allow users to create an environment that suits their application use cases and availability requirements. We will also be looking to introduce best practice guidance and documentation to help users determine what sort of configurations are best suited for their application needs. For users that want to migrate existing Postgres workloads to PGD, EDB and BigAnimal provide various migration tooling options and services to streamline that process.
As for how BigAnimal users would setup PGD features, including traffic redirection, that will depend on the customer's topology.
"Traffic redirection happens automatically for single regions environments," de Vries told IDN. "For multi-region environments, the user needs to take action to redirect traffic to a new region. This is done by design as users will want to have control over when their applications begin redirecting traffic to a different region."

One IDC executive found merit in EDB's approach to avoiding downtime and disruptions.
Carl Olofson, Research Vice President at IDC said in part, "Downtime is not merely an inconvenience or occasional cost, it can break an enterprise. With PGD, EDB is delivering a comprehensive means of ensuring continuous business continuity for users of PostgreSQL, enabling EDB Postgres to handle the most critical and demanding data workloads."
EDB's PGD 5.0 is also accompanied by EDB's newly-launched Transparent Data Encryption (TDE) and PostgreSQL's intrinsic security and disaster recovery features. Combined, these can provide users an integrated, holistic solution for modern cybersecurity infrastructure and database productivity.
"With PGD 5.0, enterprises can now experience extreme high availability with minimal downtime in case of a data incident and TDE reduces the likelihood of business-critical data being stolen or lost forever," de Vries noted.
EDB Postgres Distributed 5.0 is immediately available through EDB Extreme High Availability, an add-on to EDB Enterprise and Standard Plans.