Bonitasoft Adds Developer Tools To Support Testing, Speed Deployment of Process Apps
Bonitasoft now offers testing, QA and deployment features within its popular process app platform. IDN talks about the developer benefits with Bonitasoft CEO Miguel Valdes Faura.
by Vance McCarthy
Tags: automation, Bonitasoft, cloud, deploy, lifecycle management, process apps, QA, testing,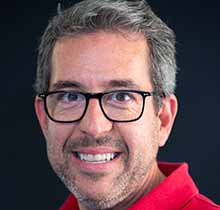 Miguel Valdes Faura
CEO and co-founder


"More and better process app testing supports sustainable automation and allows development teams to have more confidence in changes."
Application Architecture Summit

Modern Application Development for Digital Business Success
October 20, 2022
Virtual Summit
Bonitasoft has released the latest update to its digital process automation platform, bringing process app developers new tools and capabilities for testing, QA, deployment and lifecycle management.
Bonita 2022.1 provides a unified process app platform where users can design their app, conduct quality assurance testing and deploy -- all in the same environment, Bonitasoft CEO and co-founder Miguel Valdes Faura told IDN.
"Development teams will now have all the technologies needed to test, deploy and continuously deliver business process automation projects more easily," Faura said.
In the big picture, Bonita 2022.1 aims to enable more seamless support for more frequent process improvements, he added.
"We are bringing automation to make testing easier and more visible. All this is part of our continuous improvement story. More and better process app testing supports sustainable automation and allows development teams to have more confidence in changes," Faura said.
Among Bonita 2022.1's notable features are:
The Bonita Test Toolkit accelerates testing and deployment of complex, core, and critical automation projects. The Bonita Test Toolkit can be executed from an IDE, a command line, or a Continuous Integration. Projects can be tested efficiently at each step (as well as end-to-end) with the tooling provided. Tests can be written in the Bonita Studio IDE or any remote non-production environment.
A tool for deep visibility and process monitoring lets developers and IT make sure a process task succeeded or failed, such as a customer onboarding request. With real-time information from inside a running process, users can see in detail what went wrong. Bonita even helps prevent errors. "Every time a developer team goes to change a process or application when you click the button, you're automatically going to see if you're breaking anything," Faura said.
An updated Docker image lets users take either the Bonita Docker image with its database schema or use their specific database configured for Bonita. This new Bonita Docker image also now includes its own LDAP synchronizer for easier deployment.
Capabilities to help cloud developers more easily deploy Bonita process apps to the cloud. Bonita 2022.1 helps developers achieve "automatic migration [to the cloud], without requiring any manual action." A "healthcheck" feature checks all Bonita levels so that it is immediately visible and can be managed if something goes wrong.
Continuous Integration to allow for rapid iterations between development and QA. Bonita 2022.1 can set up continuous integration with tooling that makes it easy to review updates very efficiently, Faura said. This is because the test toolkit is also integrated into the Bonita Continuous Delivery add-on to include testing in the delivery pipeline. As a result, developers can quickly go from development to QA, and when they need to make a change come back to development and again to QA.
Boosted performance and robust security vulnerabilities handling. Updates to the runtime engine include dynamic permission authorizations activated by default. Any custom code added for permissions remains intact during platform updates, so the development team needs no time-consuming rework.
Flexible connectivity via generic extensions and connectors based on standard APIs. "When building new applications, you are connecting with other systems to reach some data," Faura said. Bonita 2022.1 offers a marketplace of generic extensions or connectors based on ODBC, JDBC and REST APIs to let users interact with their existing databases. "More and more our customers are using generic technical connectors. For example, they use REST connectors to connect with their Salesforce instance -- rather than using native connectors. This ensures ongoing compatibility."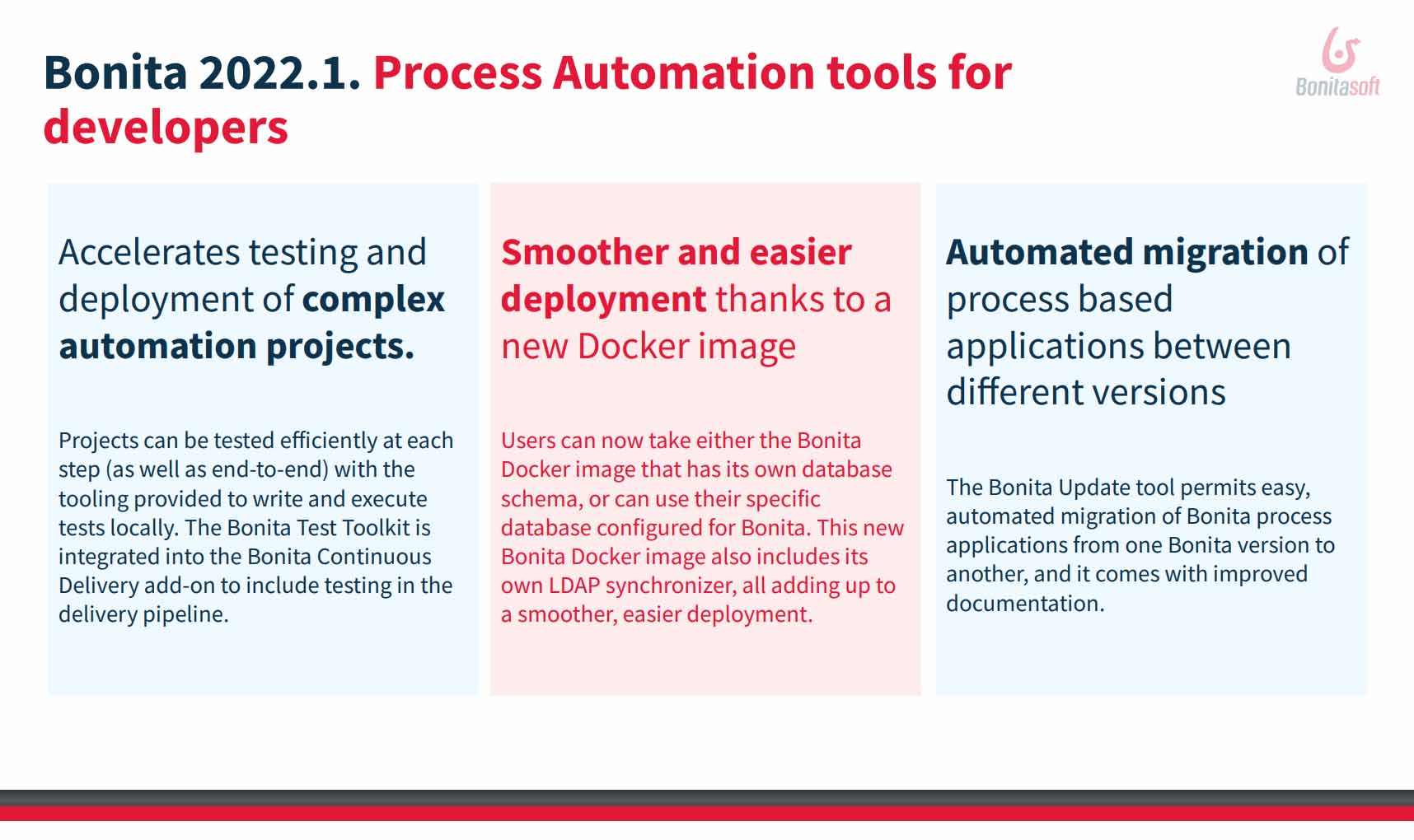 Bonitasoft's Focus on Process App Developer Needs Pays Dividends
"This update is focused on developers and how we can improve testing capabilities and help ensure people using cloud technologies like Docker can easily deploy their process apps to the cloud. With Bonita 2022.1, we provide the tools we promised to developers to ease testing and deployment for enterprise-critical applications."
As for productivity results, Faura said, "With Bonita 2022.1, to go from a prototype to launch can honestly take from days to weeks, depending on the complexity of your application. With our methodology, we usually try to work in days rather than weeks because we prefer to reduce the complexity so you can see results faster."
Faura also shared how Bonitasoft's decision to drill down into highly technical developer needs is helping the company solve two major customers' "main pains" when it comes to process app deployments:
We have an idea to work on two main pains with our customers.

One I call Immediate Pain. This is where we know that we have known big trouble with an application, such as a customer onboarding application. So we focus with Bonita on traditionally solving those specific issues.

Second, we're working increasingly with companies with Strategic Pain. This is a need to modernize IT and better align IT with business


They might like to use Bonita for one application, but more likely, they are looking for a platform to help them with a lot of applications. They're going to build completely fresh, new applications, but they also want a lot of applications that combine new and old for strategic projects.
Release of the Bonita 2022.1accelerates development and production with a clear separation between visual programming and coding capabilities. Bonita integrates with existing information systems, orchestrates heterogeneous systems, and provides deep visibility across all enterprise processes.
Bonitasoft also offers an open source "community" edition, which includes all capabilities required to develop and deploy process automation projects, Faura said.