SailPoint Set To Offer a No-Code Way To Automate Security Tasks, Customize Workflow
As companies struggle to find identity talent, SailPoint is bringing a no-code approach to identity security. SailPoint Workflows lets users integrate and automate such processes in a few clicks.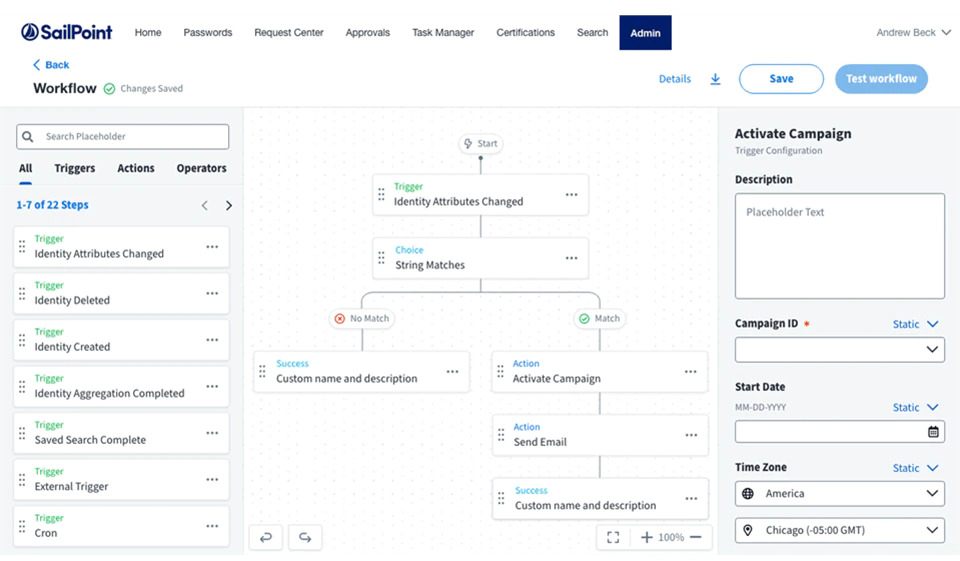 SailPoint is putting final touches on a no-code way to customize and secure app workflows. The SailPoint Workflows visual SaaS tool aims to empower enterprises to automate security tasks without coding.
SailPoint Workflows aims to simplify the integration and automation of identity security processes, allowing users to accomplish these tasks with just a few clicks. SailPoint's simple drag-and-drop interface is key to this, which streamlines workflow setup through APIs and event triggers, according to SailPoint executive vice president of product Grady Summers.
The new SaaS offering will automate complex and repetitive tasks by creating a workflow from scratch -- or users can select from a set of pre-set templates to fit their needs, Summers added.
Users will also be able to connect seamlessly to various other SaaS apps within a cloud environment.
Among the chief benefits for admins to its no-code workflows approach, SailPoint can
Auto-generate a certification campaign when an employee changes roles
Disable all associated accounts when an employee leaves the organization
Auto-generate a ticket to investigate an aggregation issue
"At SailPoint, we think every organization deserves an identity security program like the ones we see at Fortune 100 companies. However, identity talent is in high demand, and most companies don't have teams of developers available to tailor solutions to their unique needs. We want to put that power into the hands of all of our customers," Summers said in a statement.
SailPoint Workflows is designed to let users:
Accelerate identity processes: Automate use cases such as event-driven certifications and custom approvals.

Adjust and adapt easily: Quickly create, update, remove, and replicate identity-related workflows.

Extend identity across the business: Connect to and create actionable workflows with a fully extensible platform across your apps and systems.

Strengthen security: Go beyond a human-based, manual approach to protect against today's security risks at scale.
How SailPoint Workflows Simplifies Identity Security, Expands Ecosystem Support
SailPoint's ability to provide no-code development and seamless integration for identity and security is the result of an update in an open architecture the company committed to early in 2021.
"Earlier this year, we opened our identity security platform to be extensible in anticipation of offering no-code options," Summers explained. "We continue to build a flexible product to help our customers on every part of their journey. We accomplish this with Workflows—build security templates once, scale and share with teams for efficiency, all done securely."
SailPoint software architect Jeff Upton shared more about the company's initiative in a recent blog post.
Hearing frequently how customers want to integrate identity events and data with 3rd party applications and custom workflows, we've added event-driven integration with all your identity data. For example, you may wish to notify a system administrator when a new employee joins the company, or invoke a targeted certification campaign when an employee's manager changes.

SailPoint now emits relevant, timely, actionable events, letting you extend identity governance deeper into your application ecosystem.

By using either our user-friendly Administration UI or configuration REST API, identity governance administrators are able to subscribe their own custom webhook receiver endpoints or AWS EventBridge integrations. Once subscribed to events, SailPoint will start streaming identity events into their custom integrations.

Once your custom integration is ready to receive and process events from SailPoint, you can create a subscription for an event. Once a subscription is created, your custom application will start receiving event invocations. All subscriptions can be configured using a SailPoint REST API. Many subscriptions can also be configured in [the] IdentityNow Administrator UI.
SailPoint Workflows is slated to launch in Q4 of 2021.