Tibco's New Hyperconverged Analytics Approach Delivers Rapid, Actionable Insights for Customers
Tibco Software is aiming to simplify and supercharge cross-enterprise analytics. Tibco's Hyperconverged Analytics unified major components of its Predict portfolio onto a single platform.
Tibco is releasing technologies to speed up the delivery of deeper insights, with a big push to improve its Hyperconverged Analytics approach.
With its latest release and updates, Tibco brings together several critical technologies from its Predict portfolio into a single platform – including Tibco Spotfire, Tibco Streaming and Tibco Data Science.
Tibco's approach to "hyperconverged analytics" brings together visual analytics, data science, and streaming capabilities in a seamless experience. The result is that users obtain immersive, intelligent, and real-time business insights for predictive and prescriptive analytics, according to the company.
Tibco Hyperconverged Analytics is a "game-changing strategy for analytics," said Michael O'Connell, Tibco's chief analytics officer, in a statement. The initiative aims to enable customers to unlock the potential of real-time data for making faster, smarter decisions, he said.
"With every release, we improve the productivity of all stakeholders, data scientists, business analysts, and line-of-business leaders, vastly increasing the impact derived from analytics for our customers. The automation of tasks and the convergence of analytics, data science, and DevOps is central to our innovative approach," O'Connell added.
In specific, Tibco Hyperconverged Analytics aims to increase the business value of data by compressing the time from business events to analytics, insights, and action. These features and benefits include:
a framework for extending the visual analytics palette with Tibco Spotfire Mods, ability to invoke no-code data science functionality,
a set of new advanced streaming analytics capabilities, and
a modern, platform-agnostic approach to ModelOps
One of the main ideas behind "hyperconverged analytics" is by combining the power of analytics with Tibco's data management and data virtualization offerings, customers can now scale analytics and reporting on any data, O'Connell noted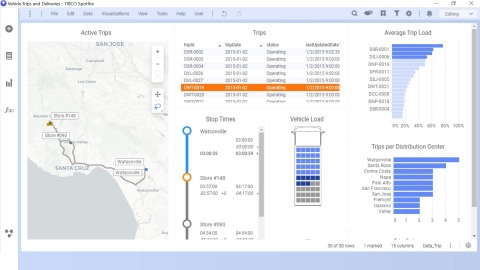 Among the benefits of Hyperconverged Analytics are
Ability to quickly create custom analytics applications, which can drill into multi-layered data sources - with easy to create visualizations
Predictive insights at scale easily with Tibco Spotfire applications.
Deploy, manage, and monitor analytic models seamlessly.
Governable and secured end-to-end analytics lifecycle.
Easy application of AI/ML.
Real-time analytic apps along with fast, continuous queries on data and streams.
One Tibco customer said they already see benefits.
"We rely on technology and people to solve complex problems through software-driven manufacturing and advanced analytics," Ahmer Srivastava, director of memory product solutions for Western Digital's analytics and software applications unit. "Without big data, visual analytics, and predictive analytics, our teams would not be able to succeed in the otherwise task-intensive engineering feats they take on every day. Tibco Spotfire is central to our success in being able to drive innovation and take our product development and manufacturing execution to a new level."
Tibco makes it possible to explore structured, unstructured, and streaming data and find insights as quickly as possible. Augmented with AI/ML capabilities, users can further build and manage machine learning pipelines and deliver embedded data science.
Notable customer capabilities from Tibco's hyperconverged platform for Predict portfolio now includes;
Immersive Visual Analytics to interactively explore disparate data and drill down or across multi-layer data sources.

Data Science & Machine Learning that provides data scientists with easy-to-deploy reusable templates.

Closed Loop Embedded Applications to make it easy to share analysis with one-click web deployment.

Real-time Streaming Analytics can consume and analyze streaming data alongside historical data in a single environment.
Tibco's latest architecture will provide users a customizable way to explore disparate data via a single pane of glass, which can deliver visual analytics, data discovery and point-and-click insights, O'Connell noted.