Dremio Cloud SQL Lakehouse SaaS Accelerates BI and Analytics
Dremio Cloud is taking a SaaS approach to bring scale and consistent query performance at a low cost to companies. IDN looks at Dremio's approach to simplify data lakes with a cloud-native service.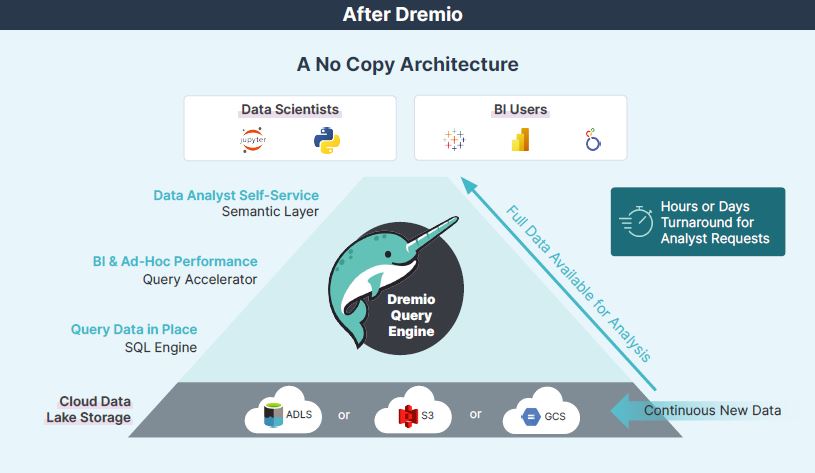 Dremio is aiming to simplify data lakes with a cloud-native SQL lakehouse service.
Dremio Cloud is a cloud-based, fully-managed SQL lakehouse platform built to automatically handle any scale with consistent query performance to support analytics and BI use cases.
"We built Dremio to automatically handle any scale with consistent query performance so companies could achieve data democratization while only paying for what they truly need," said Dremio founder Tomer Shiran. "This type of cost-effective and highly performant scaling was a central design tenet of Dremio. We wanted to be sure data teams could achieve superior price-performance and trust the cost transparency of our platform," Shiran added.
As a SaaS, Dremio Cloud also aims to make cloud data lakes up to 10x easier to implement and manage, Shiran said. Dremio Cloud users have no software to install, configure or upgrade, and no infrastructure to size, manage, and monitor.
Specifically, Dremio Cloud lets high-performance SQL workloads directly on cloud storage, eliminating copying and moving data costs and complexity. Further, Dremio Cloud provides automatic onboarding as an option. It can establish the necessary connection to the user's AWS account, allowing data consumers to connect via their favorite tools and start querying data instantly.
These benefits enable companies to leverage an open data architecture and avoid copying data into proprietary data warehouses, Shiran added.
Dremio Cloud's Features for Analysts, Data Scientists
Dremio Cloud is easier for data teams and data consumers such as analysts and data scientists.
Specifically, Dremio Cloud sports several features that reduce time-to-insight and simplify data engineering tasks. Among them:
A "True" No Software SaaS Experience. Users do not need to install, configure or monitor software. Nor do users need to collect log files or SSH into machines. Dremio Cloud also avoids the need to worry about versions and upgrades.
Query Acceleration. Dremio Cloud enables a wide range of BI workloads directly on data lake storage. These include popular projects such as mission-critical dashboards and interactive analytics. It also supports query acceleration technologies such as data reflections and columnar cloud cache (C3), which makes it possible to achieve dashboard-level response times directly on data lake storage -- without the need to copy the data into warehouses, marts, extracts or cubes.
Workload Isolation. Dremio Cloud features a multi-engine architecture, where queries get assigned to different engines based on routing rules or user selection. All engines are physically isolated, so concurrent workloads never interrupt one another. With this isolation, data analysts do not need to worry about "noisy neighbors" or performance impacts.
Global Control With Infinite Scale. Dremio Cloud features a centralized control plane that users can access, irrespective of the cloud provider and/or regions. Admins can centrally manage users, security, integrations, and more through one pane of glass.
Governed, Self-Service Data Access. With Dremio's semantic layer, companies can avoid data sprawl and inconsistent reports. Dremio delivers a consistent view of their data across all users and tools with automatic, transparent query acceleration. In addition, admins can quickly implement fine-grained access control to regulate who can access data.
Cost Efficiency and Control. With Dremio Cloud lets users pay for only what they use. Engines automatically start and stop replicas based on the real-time workload, and users pay nothing during idle times. Dremio Cloud makes it easy to set limits on capacity usage and spend. Further, Dremio's built-in and custom usage reports make it easy to obtain drill-down reports on usage by job, user, engine and project.
Natïve Integrations. Dremio Cloud's native connectors for popular BI tools (such as Tableau and Power BI) can securely identify end users with OAuth 2.0-based single-sign-on. Data scientists can achieve 20x faster performance than ODBC and JDBC through Dremio Cloud's Arrow Flight interface.
Dremio Cloud Combines Flexibility, Consistency and Security
With Dremio Cloud, company data stays under your company's control (in the company's own cloud storage buckets). In addition, Dremio Clouds comes with enterprise-grade security.
All data and communication encrypted. In addition, Dremio is SOC 2 compliant, integrates with common identity providers like Azure Active Directory, Okta, and Google, and allows admin to grant privileges on any object or dataset to users and roles.
Admins can also implement fine-grained, database-style permissions across all Dremio objects with Role-Based Access Control (RBAC), as well as use ANSI Standard SQL to manage users, grant/revoke privileges, define custom roles and more. Further, admins can easily sync existing roles and users in enterprise identity providers, including Azure Active Directory, Okta, and Ping via SCIM.
Dremio also integrates with tools like Okera and Privacera, which allows admins to apply any existing access policies in those tools to Dremio.
Commenting on Dremio's security support, Thirumalesh Reddy, Dremio's vice president of engineering & security, said, "Dremio serves many of the world's largest companies, including those in highly regulated industries such as financial services and healthcare. We assembled a world-class team of cloud security engineers and built security into every aspect of our infrastructure and product."