Alteryx, Snowflake Partner To Make Analytics & Data Science More Scalable, Accessible to 'Citizen' Analysts
Alteryx is deepening its partnership with Snowflake to deliver a more automated, scalable and user-friendly analytics and data science platform. IDN gets the details from Alteryx' Russell Duncan.
by Vance McCarthy
Tags: Alteryx, analytics, cloud, data science, data prep, integration, machine learning, Snowflake,
Russell Duncan
senior product
marketing manager

"Alteryx Designer seamlessly processes data from Snowflake Data Cloud into automated analytic workflows for data preparation, no-code insights and more."
CLOUD
Architecture Summit

Enterprise-Grade Integration Across Cloud and On-Premise
June 10, 2021
Online Conference
Alteryx and Snowflake are deepening their partnership to deliver customers an integrated platform solution that can automate processes, analytics and data science for the cloud.
Alteryx brings its data prep, analytics and data science capabilities together with Snowflake's and its Data Cloud platform, which supports multiple data workload use cases with near-unlimited scale, concurrency, and performance.
Highlights of the integrated Alteryx / Snowflake solution include:
Alteryx automated data preparation and processing executable inside Snowflake's compute services.
A scalable data loader for large-scale analytics and data science initiatives.
Seamless connection between transformed data and Alteryx's analytic and data science capabilities for predictive and prescriptive analytics, data science and machine learning.
Ready-to-use Alteryx business solution templates that provide outcomes in minutes.
The result is "a complete analytics, data science and process automation platform," useable by a wide range of users, according to Russell Duncan, Alteryx senior product marketing manager.
The platform sports a full set of end-to-end features, alongside deep automation and AI, Duncan noted. The result is a platform suitable for citizen analysts, business analysts, and seasoned data scientists and data engineers, he added.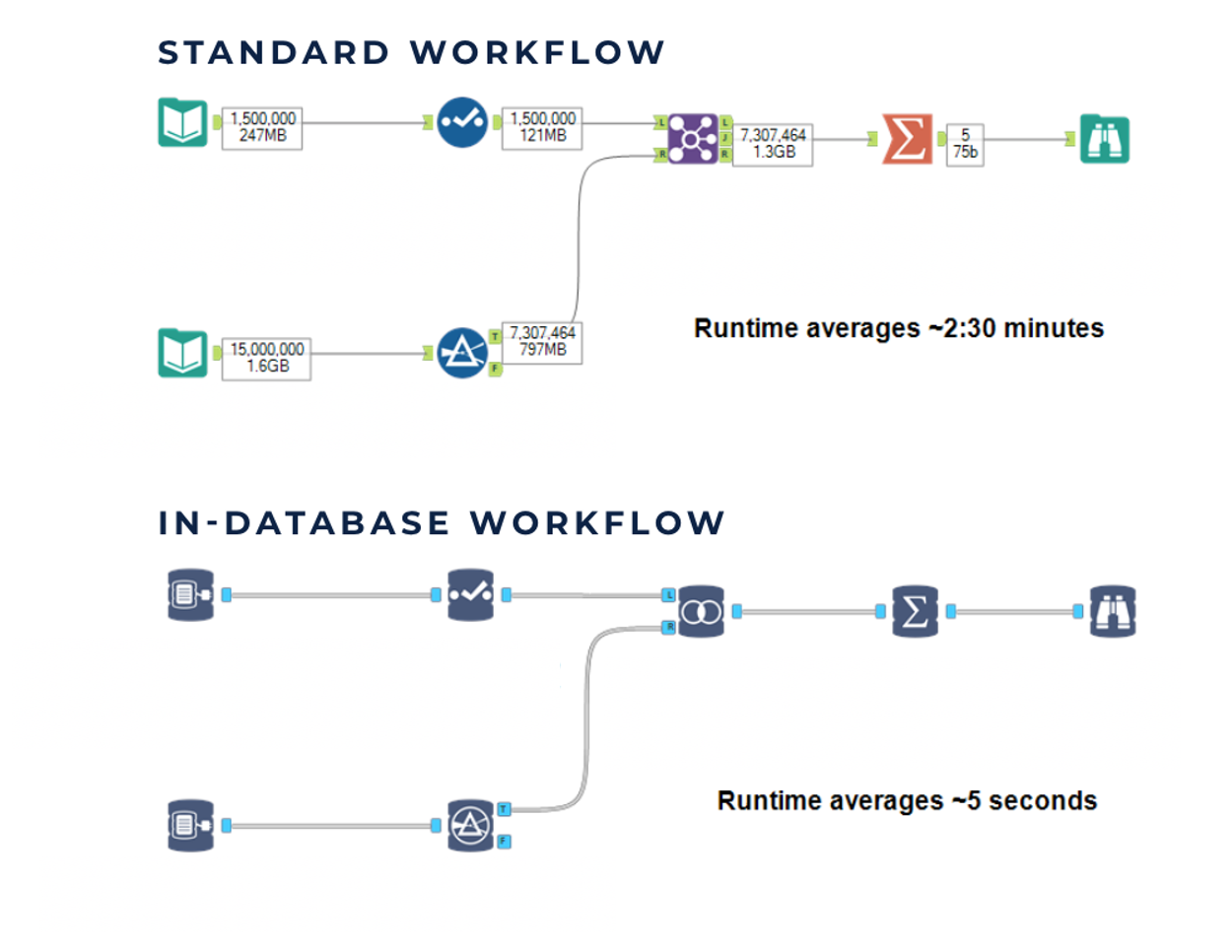 Duncan provided IDN an overview of the user experience with the Alteryx/Snowflake solution in action.
Alteryx Designer seamlessly processes data from Snowflake Data Cloud into automated analytic workflows for data preparation, no-code predictive and prescriptive insights and more. Data ingested into Alteryx from Snowflake can be processed either in memory. Or Alteryx Designer's In-database analytic building blocks can push down the execution of SQL queries into a customer's Snowflake Virtual Warehouse.

This eliminates loading the data into system memory and can greatly reduce processing time. Analysts can visually build an Alteryx workflow using no-code and low-code automation building blocks to unlock the unlimited scalability of Snowflake.
The Alteryx / Snowflake solution also works with data from third-parties, Duncan added.
"For those looking to write data from other data sources utilized in Alteryx workflows to Snowflake, they can use the Snowflake Bulk Loader. Alteryx supports all three internal stage types – user, table and named. Alteryx also supports loading data from an Amazon S3 external stage," Duncan told IDN.
For implementors, Duncan told us Alteryx requires a Snowflake driver and user credentials when it comes to installation, Connections are handled by DSN, DSN-less, and In-DB Connection Files. [For more detailed information on how to deploy for specific use cases, Duncan referred to the Best Practices Guide for using Alteryx with Snowflake.]
Inside the AI/ML Features Powering the Alteryx / Snowflake Solution
"Together, Alteryx and Snowflake share hundreds of joint customers and with this new integrated offering and partnership, we will serve the growing market demand," said Sharmila Mulligan, chief strategy and marketing officer of Alteryx in a statement. "We're excited that this closer partnership with Snowflake will further enable our customers to accelerate analytics and data science automation at scale and succeed in their digital transformation initiatives."
"Our partnership with Alteryx can help make scalable analytics and data science on Snowflake more accessible to citizen analysts across an organization, to help drive business outcomes," said Colleen Kapase, vice president of global alliances at Snowflake in a statement. "As demand for analytics and data science on Snowflake increases, partnerships with organizations, such as Alteryx, help us serve customers globally and supports our mission of mobilizing the world's data."
Aside from all the value users gain from a simple UI and streamlined integration, the rich support Alteryx / Snowflake offers for a robust the AI/ML lifecycle is also grabbing attention.
Duncan also explained how Alteryx's AI/ML lifecycle approach works alongside Snowflake's Data Cloud.
While Snowflake helps data scientists operate quickly and efficiently with a centralized source of high- performance data, it benefits from a partner platform that can handle critical AI/ML lifecycle steps such as exploratory data analysis, feature engineering, model training, model deployment and model monitoring," Duncan said.
"This is where Alteryx comes into play. With Alteryx, citizen data scientists and data scientists can build, validate, deploy and optimize models in an easy-to-use, visual, and guided experience," he added.
Duncan also detailed for us how Alteryx uses a "no-code / low-code" designer, whose design also benefits both specialists and citizen users
Starting with the no-code R- and Python-based building blocks in Alteryx Designer, users can both train and score predictive and prescriptive models on the data within Snowflake and easily write the outcomes back to Snowflake.

Citizen data scientists pulling data from Snowflake to work in Alteryx can utilize Assisted Modeling, an Alteryx Designer building block wherein users build a model through a guided experience that enables them to understand the data, employ the most appropriate modeling technique, validate results and deploy their models for fast and trustworthy outcomes.

And like any analytic and data science outcome where Alteryx is connected to Snowflake, the flow, processing and output of the data is fully automated so that Snowflake remains the central source of truth for an organization's data, helping to keep data up to date, enriched and accessible to all users.
Beyond using the no-code building blocks, enterprise users can also customize models and write their own from scratch, Duncan added.
Alteryx is not just a no-code data science platform either—data scientists who prefer to write their own code can do so right within a workflow comprised of predefined analytic and data science building blocks using Alteryx Designer's Python building block with integrated Jupyter Notebook.

With a combination of coded and low-code models, expert users have ultimate control over their outcomes. Alteryx shares the load with a wide array of supervised and unsupervised model types that can be extended and customized with a data scientist's own code. A broad array of statistical and econometric capabilities leverage built-in R and Python, ML and AI to offer everything from drag-and-drop ease to the ability [to import] the libraries of your choice.
The Alteryx / Snowflake solution offers a 30-day free trial, which provides a single, seamless user experience that automates connectivity to Snowflake and executes Alteryx's automated data transformation capabilities and more within Snowflake.