Aible, Boomi Team Up for Easier AI-Powered Workflows, End-to-End Projects
AI firm Aible is teaming up with Boomi to marry the power of AI with some 1500 pre-built integrations. The goal is to let enterprise professionals across teams easily collaborate on AI-powered end-to-end workflows.
Aible is partnering with Boomi and its cloud-based integration platform to make it easier for enterprise teams to design and deliver AI-powered workflows.
Under the partnership, Aible's AI portfolio can leverage Boomi's more than 1500 pre-built app and data integrations to eliminate work silos, according to company execs. The focus is to encourage all employees – IT, data science team and even business users —to collaborate on end-to-end workflows with AI, noted Aible CEO Arijit Sengupta.
Also leveraging the Boomi integrations, Aible's AI capabilities will be able to optimize AI recommendations end-to-end -- across business functions, integrations and workflow, Sengupta added.
"AI doesn't know anything beyond its training data and doesn't understand business context, business constraints or principles of fairness," Sengupta said in a statement. Aible asks business users only a few focused questions to understand what the business is looking to achieve and then creates "an optimized set of AI models" that help meet business objectives and ROI, he added.
The Aible/Boomi collaboration aims to create a foundation that can empower everyone with the fastest speed to value, Sengupta noted. Companies can go from "raw data to AI recommendations in hours – with. . . existing teams, skills, and resources," he added. This includes the ability to easily track and audit all workers' parallel actions - across IT, business, and data science teams.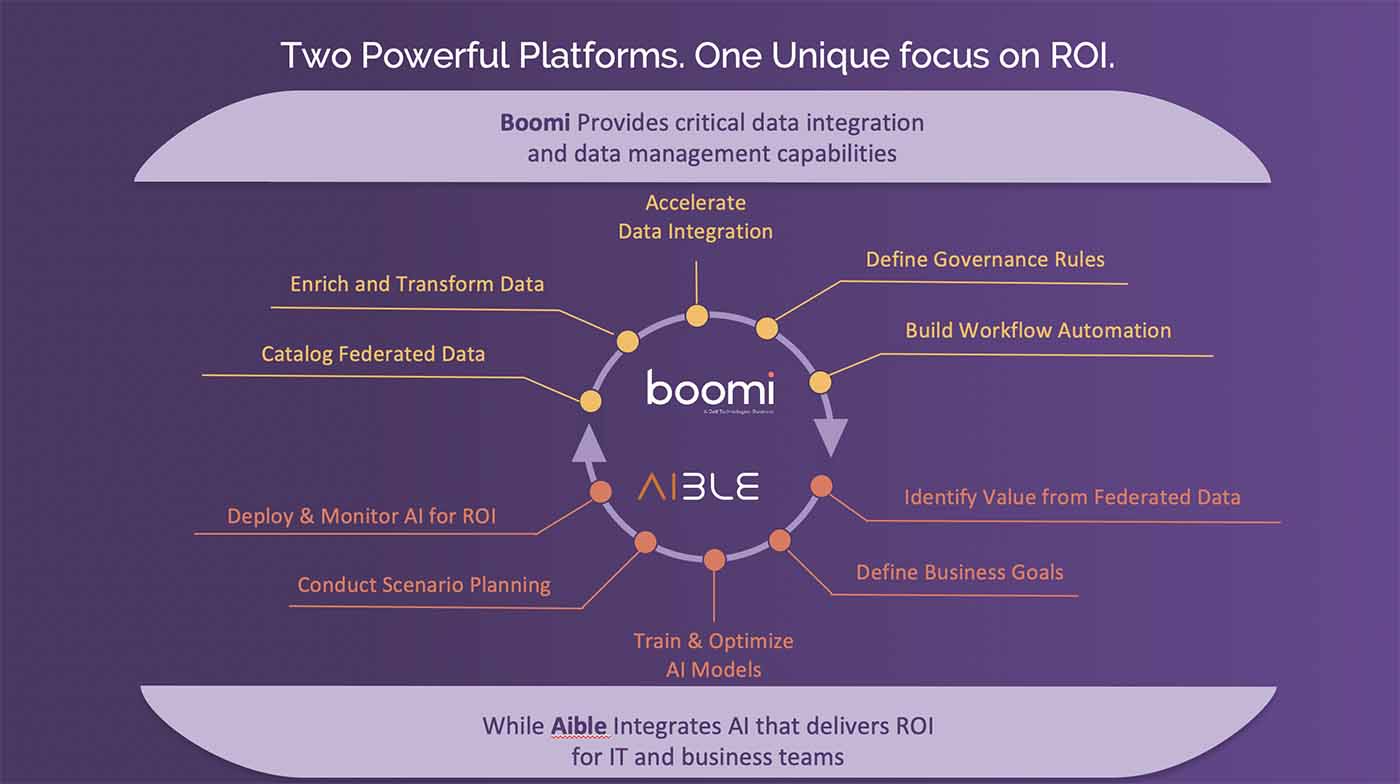 Under the covers, Aible and Boomi complement each other this way.
Boomi provides critical data integration and data management features, including the ability to
Enrich and transform data
Federate catalog data
Accelerate data integration
Implement data governance:
Launch automated workflows
Aible, for its part, brings integrated AI experiences into data systems and apps to help enterprise business teams:
Validate data and AI-Readiness
Define business goals
Train and optimize AI models
Conduct scenario planning
Deploy and monitor AI to deliver ROI
The deep partnership leads to several types of use cases, Sengupta noted. They include:
Embed AI into popular data sources and apps: With connectors with the Boomi iPaaS platform, business teams can easily access data from popular sources such as Snowflake, Google BigQuery, Teradata, DB2 and more. In just hours, users can also embed AI recommendations directly into enterprise apps, including SAP, Oracle NetSuite, Salesforce, Marketo, among others.
AI that spans the entire enterprise: AI can break through silo with Aible. Teams can link projects that impact each other to balance and optimize AI recommendations across related functions – to apply contextual AI end-to-end across apps and workflows.
Natural Language and Vision Services: Natural language and image processing features are available in Aible Enterprise to let teams capture intelligence from a more comprehensive set of sources. This approach supports end-to-end automation -- without manual tagging requirements, which avoids time-consuming and error-prone processes.
Combined, the Boomi and Aible technologies work together to deliver AI-driven business impact by enabling business teams to optimize actions and resources.
The Aible blog describes enterprise benefits from the Aible-Boomi partnership this way:
IT teams will gain the ability and unparalleled flexibility to launch integrated AI experiences for business teams that react to changing business and market conditions as well as feedback from end-users.

Centralized IT teams will also be able to leverage Aible to monitor and quantify the business impact created by the AI. Business teams will benefit from AI-powered recommendations within the applications they use every day. It will allow business teams to leverage an iterative and flexible approach for agile strategic planning and scenario testing to demonstrate sustained business impact and ROI.

The combined cloud-native platform makes it easy to get started with AI and accelerate your progress towards integrated experiences across the enterprise. Aible and Boomi help business users answer questions such as:

How can I optimally change my sales budget and resources given changing assumptions and market realities?


How much do I need to invest in customer retention efforts to maximize ROI?
How can I optimally change my marketing budget and resources given changing assumptions and market realities?


How can I balance inventory carrying cost against expected expedite costs to minimize risk and expense?

Aible starts with your intended outcome and crafts an AI trained to that outcome.
To leverage AI's power with Aible and Boomi, customers of Boomi can enroll in the Early Access Program. The program enables customers to add AI into their existing applications for targeted use cases and deliver business impact.