Domino Battles ML "Model Drift" with Domino Model Monitor; Expands Data Science Management
Domino Data Labs is shipping a solution to tackle ML "model drift" with Domino Model Monitor. The company is also updating its popular enterprise data science management platform.
Domino Data Lab's latest releases aim to help enterprises accelerate research and manage data science projects.
In specific, Domino has released a new Domino Model Monitor, which intends to minimize "drift" in ML models. DMM lets organizations automate alerts for drift in all their models, regardless of where those models were developed or deployed, reducing risk of financial loss and degraded customer experience from undetected model drift.
Model "drift" happens to ML predictions because they evolve with time as data changes. This problem can degrade model accuracy. Even worse, "drift" often goes unnoticed until it negatively impacts business outcomes.
Model drift is particularly troublesome since COVID-19, given the drastic changes to the economic environment and human behavior, noted Domino's co-founder and CEO Nick Elprin.
The new Domino Model Monitoring (DMM) aims to resolve "drift" by providing a "single pane of glass" to monitor the performance of all models across an organization, Elprin added.

Users can identify data drift, missing information, and other issues that can impact models. Further, they can take corrective action before more significant problems occur, he said.
DMM presents information in an easy-to-understand dashboard that allows all personnel to deeply understand model performance – all without the need to do manual work and reconstruction.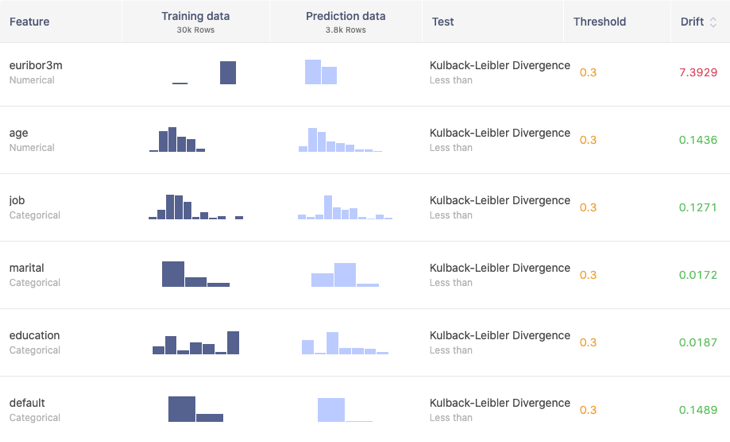 Domino's Updated Enterprise Data Science Management Platform
Domino is adding capabilities to its Enterprise Data Science Management Platform. New features include:
On-Demand Spark clusters: With this new platform, data scientists can now, with one click, spin up their own Spark clusters to use for distributed analysis in Domino. Data scientists can choose the cluster size they need. Domino then handles the distribution of packages and dependencies across the cluster—removing a common DevOps problem and maintaining a unified platform for all data science work.
Data science project management: Domino's new data science project management capabilities give data science teams and leaders powerful new ways to manage projects and track progress, including defining custom Goals, customizing Stages in a company's data science lifecycle, and providing dashboards that create visibility into in-flight work, progress, and risks.
Additional Kubernetes distributions and multi-tenant support: Domino can now take advantage of intelligent Kubernetes orchestration with Microsoft Azure Kubernetes Service (AKS) – [This support builds on Domino's existing support for open source Rancher, Amazon Elastic Kubernetes Service (EKS), Google Cloud Kubernetes (GKE), and VMware Pivotal Container Service (PKS).]
Domino's support for multiple K8s "flavors" gives IT options when deploying to the infrastructure of their choice, from public clouds, like AWS or Azure, to their own on-premises hardware, Elprin said.
"As the world's most sophisticated companies are increasingly investing in data science as a competitive advantage, it's clear they need new capabilities to manage their models and scale their research. We're proud that our new product capabilities are helping companies. . . accelerate research, deploy models, and now monitor those models at scale," he added.
One Domino customer welcomed the upgrade.
Mike Shepherd, distinguished engineer, AI Research for Dell Technologies Services, said: "Our teams are tasked with enhancing operations and improving the way we deliver customer support and services. By leveraging data science methods and collaboration tools, such as Domino Data Lab's data science platform, we're developing frameworks that augment intelligence and create unique user experiences while better managing operations on the backend – including forecasting spare part demand, preventing outages and more."
Domino's latest rollouts come as the company also announced its latest round of funding round. Highland Capital Partners led the $43 million round, which also included Highland Europe, Dell Technologies Capital, Sequoia Capital and Coatue Management.