With Automation for Snowflake, WhereScape Fast-tracks Design, Development, Deployment and Operation of Cloud Data Warehouses
Data infrastructure automation software vendor WhereScape is looking to simplify and accelerate migration of on-prem data to the cloud. WhereScape Automation for Snowflake automates Snowflake native functions, wizards and best practices.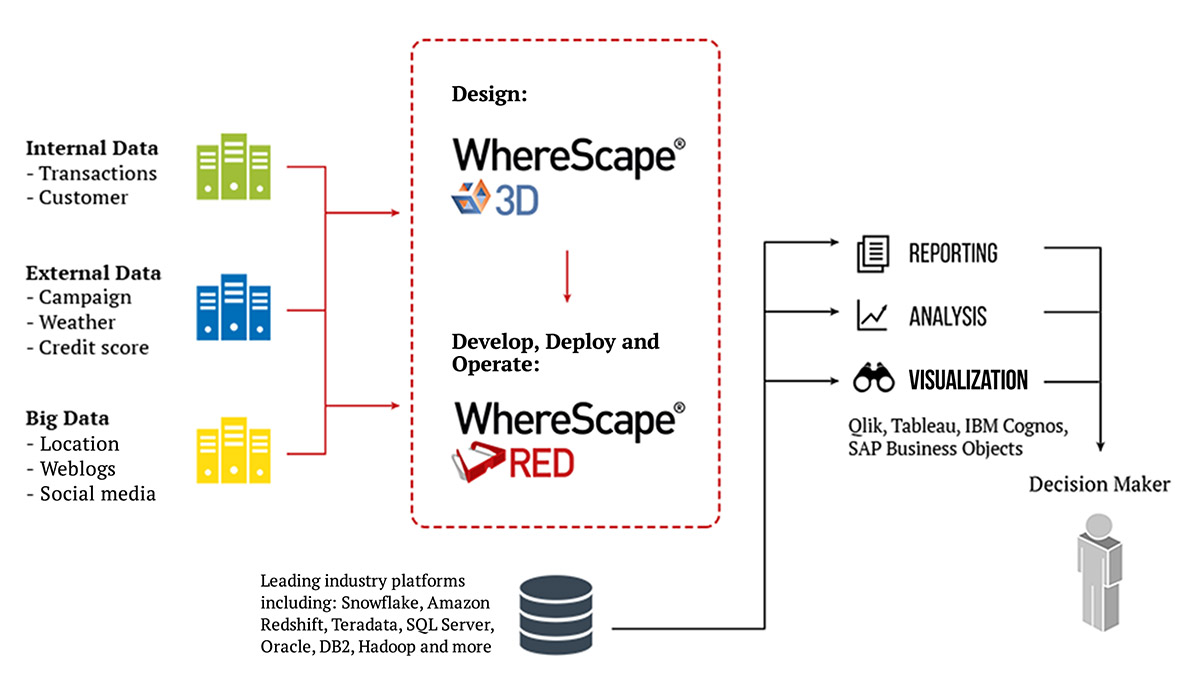 Organizations of all sizes are grappling with the strategy, tactics and timing of moving on-premises data into the cloud, and this includes their data warehouses. The technicalities of this heavy-weight move are often complex and time demanding.
WhereScape is looking to simplify and accelerate such projects. The company's just-released WhereScape Automation for Snowflake, focused on customers using cloud data warehouse platform Snowflake, is designed "to help IT organizations speed up the delivery of cloud-based data infrastructure projects," according to its CEO Mark Budzinski.
"WhereScape Automation for Snowflake automates key development and operations workflows for Snowflake customers based on the native functions, wizards and best practices of Snowflake and incorporates data warehouse modeling methodologies such as third normal form and dimensional," Budzinski explained.
Key benefits of WhereScape Automation for Snowflake:
Fast-track Snowflake projects: from design through operation, dramatically shorten the development lifecycle, automate up to 95% of the coding effort.
Boost developer productivity: eliminate repetitive and time-intensive tasks to improve productivity fivefold.
Close the collaboration gap: turn IT requestors into IT advocates, iterate and solidify solutions with business users using rapid prototyping.
Inside the Architecture, Capabilities of WhereScape Automation for Snowflake
In specific, WhereScape Automation for Snowflake provides a range of tools and capabilities aimed to take companies through the entire process of cloud adoption for business-critical and historical data. It includes the following components:
WhereScape 3D for Snowflake helping IT teams quickly and effectively tackle the upfront planning, modeling and design needed to rapidly put Snowflake to use. WhereScape 3D data discovery and profiling tools allow customers to more easily understand new data sources and leverage automation built for Snowflake to quickly build, test and iterate on prototypes with business users.
WhereScape RED for Snowflake, an integrated development environment, providing IT teams the ability to develop, deploy and operate Snowflake data infrastructure faster. With built-in automation based on native Snowflake functions, wizards and best practices, customers can eliminate the time-intensive hand-coding involved in data infrastructure development. Advanced DevOps capabilities allow users to quickly establish new environments, continuously migrate changes and operate data processing in Snowflake – all with best practices automatically utilized. WhereScape RED for Snowflake automatically generates and maintains user and technical documentation such as data lineage, track back, and track forward for future reference, lifting a time-intensive burden off IT teams.
WhereScape Data Vault Express for Snowflake, an integrated combination of WhereScape 3D and WhereScape RED embedded with Data Vault 2.0 specific capabilities, empowering teams to more practically deliver data vaults.
In sharing why WhereScape's latest product focuses on SnowFlake, Budzinski noted Snowflake's cloud-based data warehousing solutions deliver the performance, elasticity, scalability, concurrency and simplicity needed to store and analyze all of an organization's data in one location. He also discussed what he called "The Snowflake effect" in a recent blog post:
Snowflake is an answer to a problem IT has suffered for too long.

In the '90s data warehouses and the resultant business insight were supposed to be the holy grail that would transform how we do business. However, the logistics of building and managing a data warehouse that worked were more complex than we had first hoped. So, the power of data resided with a few specialists, its extraction in any meaningful form was slow, and this created political struggles within organizations that disabled rather than enabled the majority. […]

The cloud changed this by allowing us to only pay for what we need. Now with increased security and trust, we are shifting more critical workloads on to the cloud, but we can still often spend more money than is needed. […]

Snowflake is a cloud-native database. Whether you're a cloud-native company or not, Snowflake enables you to take advantage of this latest technology and run like a digital native, only paying for the storage and compute you need at any time.

"As the growth of data doubles nearly every other year, organizations are increasingly feeling squeezed for resources and time," Budzinski said. "Many look to the cloud to address these challenges. We are excited to help Snowflake customers maximize their adoption of a cloud strategy and fast-track their use of Snowflake by addressing head-on the thrash and hidden costs of designing, developing, deploying and operating data infrastructure."
Kent Granziano, senior technical evangelist of Snowflake, concurred: "WhereScape automation for Snowflake makes it possible for organizations to start using Snowflake faster and more easily by simplifying and automating the design, build and population of data warehouse tables," he said in a written statement.
"The combination of WhereScape's data warehouse automation tools with Snowflake's zero administration service is perfect for enabling our customers to be successful with agile data warehousing," Granziano added.