Antidot Enables 'Interactive' Tech Docs That Are Easier To Publish, More Relevant To Users – and Actually Get Read
Antidot has updated its document delivery platform with new features aimed at making it easier to create user-friendly interactive docs. Docs are created and consumed thanks to a combination of semantic search, content enrichment, automatic content tagging and more.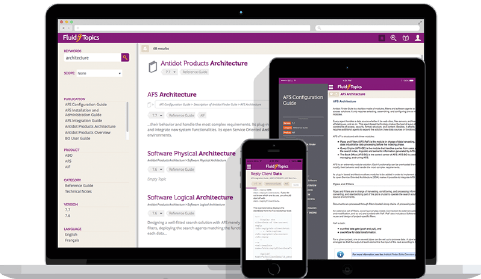 For all the dynamic shifts in digital business – apps, devops, drag-and-drop integration and even UX – there is one area that has been slow to embrace change: Technical content.
Documentation, reference manuals, install instructions and user guides remain tedious and time-consuming – for both those who publish and others who need to read them. Further, once created, it's just as tough to update them or make them more relevant to consumers.
Antidot is looking to tackle this the problem using a combination of semantic search, content enrichment and dynamic content delivery – technologies they have been using to help companies deliver smarter document solutions in combination for more than a decade.
"Since inception, Antidot has been tackling the challenge of leveraging data and documents that are spread through silos in the enterprise," said Antidot founder and CEO Fabrice Lacroix in a statement. "Our technology stack aims at bringing consistency and structure to this data, regardless of format and structure, helping users to surface relevant and useful information."
The company has updated its dynamic delivery platform for technical content offering, dubbed Fluid Topics, with a host of new features to permit the easy creation of "interactive' documents, with the goal of giving the user a smoother – almost enjoyable – experience.
Fluid Topics 3.2 "transforms static documentation into a lively, simple and interactive online publishing system," said Lacroix. With Fluid Topics, "users can read, search, navigate, annotate, create alerts, send feedback to writers, with a rich and intuitive user experience," he added.
Antidot's 'Fluid Topics' Looks To Transform Docs for Digital Change
In a recent blog post, Lacroix described many of the limitations to how technical documentation is delivered and consumed today. It's a cycle of hard work (for producers and users) that sounds quiet familiar.
Documentation essentially transitioned from the print era into the digital era, without as much as a facelift. Printed and ring-bound manuals gave way to PDF files that mimicked the same structure. Fulfillment became easier because you no longer had tons of paper to ship, but that's about the extent of the progress that was made. Users are still too often left with the frustrating experience of having to browse thousands of pages of content, peruse dozens of PDF manuals – with extremely limited searching and browsing capabilities.
Antidot's Fluid Topics is a platform, designed with key features that look to innovate how technical content is created, delivered and consumed, Lacroix added.
"Fluid Topics offers a rich and intuitive user experience on all desktops and tablets. By increasing accessibility to your documentation and promoting the variety of ways in which it can be used, organizations reduce support costs, increase customer satisfaction and expand the commitment of their ecosystem."
First off, Fluid Topics technologies are also focused on these general goals:
Quick, easy access to the right information at the right time, making searching for technical product knowledge really efficient.
Combine and transform technical content into relevant, useful information by slicing and dicing data from virtually any source to create a unified knowledge hub.
Freedom for any user to tailor documentation and provide useful feedback to writers.
Knowledge of how documentation is actually used.
Fluid Topics v 3.2, add these capabilities:
Sanctioning 'Casual Publishing': This allows for any user to create Personal Books of custom content, and share these with other users – without the need for special training to using complex tools. Users can assemble content from various topics and sources, add comments and even write their own ad-hoc content.
Casual publishing is aimed at helping frequent users of technical content to better craft documents to meet their frequent needs to quickly access just the information they use most often, and potentially also to share it with others, Lacroix explained. Such users could include support agents who write tailored instructions, resellers who reuse technical content and embed it in their own documentation, power users who train their colleagues, he added.
Content Organization: Similarly, with this update Fluid Topics clients get more control over the look and feel of their documentation delivery system. Users get the ability to design a search and navigation experience that is tailored to the brand environment, and to the specific target audience, Lacroix said.
Notably, this also lets users easily change the organization of content, as well as its look-and-feel. It also is smart enough to "automatically add links" to other relevant topics to result pages, and to edit taxonomies that are inherited from the content management system. Antidot accomplishes these smart docs using semantic search and automatic content tagging, according to Lacriox.
Markdown Content: Fluid Topics can now automatically integrate Markdown content inside the dynamic documentation delivery portal, thanks to a new Markdown connector.
"Because of its ease of use, Markdown has been gaining traction among field engineers and subject matter experts to produce technical notes, field reports, maintenance procedures, and more," Lacroix said.
In specific, Markdown content can be added to Fluid Topics alongside other sources of content that use common technical documentation formats (e.g. DITA, Author-it, Word, pdf, etc.) This lets users consolidate all product-related content, regardless of its origin, into a single knowledge hub.
Antidot offers a free Fluid Topics test account here.