Zenoss Service Dynamics Allows NTT DATA To Bring Unified IT Monitoring to Customer Hybrid Environments
NTT DATA, one of the ten largest business and IT services providers worldwide. Is working with monitoring solutions provider Zenoss to bring unified IT monitoring to customer's hybrid environments.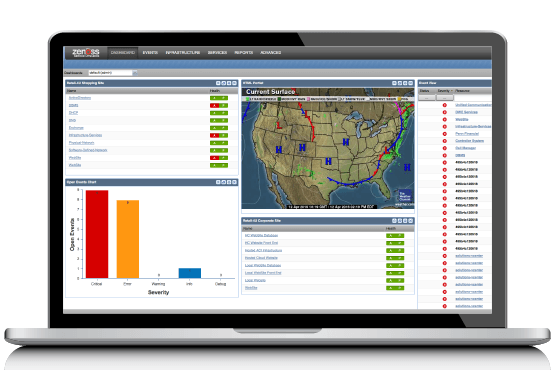 Gone are the days of applications running in a single data center on physical hardware. Most applications today rely on resources that reside in public or private clouds, and use highly-virtualized infrastructures.
These new and diverse architectures for modern data center operations can present challenges to enterprises, as well as major service providers. Both groups need ways to achieve a more unified way to obtain visibility and management control over hybrid and virtual environments.
With operations in more than 50 countries, NTT DATA is one of the ten largest business and IT services providers worldwide. The company worked with Zenoss, a provider of hybrid IT monitoring solutions, to enable its clients support varied and complex business and technical environments, and still achieve lower costs and maximize IT efficiencies.
In specific, Zenoss solutions allowed NTT DATA to easily replace its collection of discrete legacy tools and provide a better and more unified monitoring solution to its customers.
"The dynamic nature of hybrid environments is forcing IT ops to embrace both old and new technologies and a vastly accelerated rate of change," said Sandeep Subbaiyan, a solutions marketing manager at Zenoss. "In order to fully understand, track and manage the dependencies of a modern service, IT teams need a monitoring platform that can keep up and provide a clear, easy-to-navigate visualization of the complete service flow."
Neeraj Jaitley, senior vice president of infrastructure, cloud and security practice at NTT DATA, commented in a written statement that "modernizing monitoring capabilities not only allows [our company] to ensure more comprehensive IT service health, but also helps provide superior value to clients."
In a recent blog post, Subbaiyan added a bit more insight into the challenges of monitoring:
For many large enterprises, the biggest challenge is matching their infrastructure monitoring capabilities to ever-growing, increasingly complex business requirements. It is not an easy task when your managed IT resources include thousands of servers across multiple data centers, distributed globally.
According to Brian Wilson, Zenoss chief customer officer, "service disruptions require IT teams to spend countless hours triaging and wading through various tools in attempts to isolate problems and understand impact."
Zenoss Service Dynamics provides IT teams with a single source of the truth and helps them easily identify at-risk services. "They can focus time and energy on fixing problems rather than searching for them," he added.
The Zenoss platform uses a "service-centric approach" that allows customers to visualize an entire service-dependency tree, Wilson said. This lets them quickly see what services and resources are impacted by a device or application event, and identify at-risk situations based on policies to prevent outages.
"Our customers gain IT performance and risk insights into their unique IT ecosystems through real-time analytics that adapt to constantly changing data centers and cloud infrastructures, enabling them to eliminate disruptions and accelerate business outcomes," Wilson concluded.
Zenoss Service Dynamics key capabilities include:
Visibility: Gain 360-degree visibility into your entire IT environment, including service and application dependencies.


Knowledge: Understand everything your services rely on as well as anything that could impact their performance.


Act faster: Accelerate resolution of issues and prevent disruptions with actionable insights and automated workflows.


Scale confidently: Scale seamlessly from small site instances to global, multi-site cloud and data center deployments.
For service providers, Zenoss Service Dynamics offers scaling capabilities that allow to:
Use an elastic approach to scale monitoring platforms and data collection
Store monitoring data using an enterprise-ready big data back end
Optimize manageability and reduce footprint with agentless collection
Load balance monitoring services across a pool of resources