Survey: Trends, Stresses Revealed in App Development for Digital Transformation
A new survey from OutSystems reveals the unspoken truth about digital transformation projects. They are indeed exciting; but can also put a growing strain on IT. IDN discusses OutSystem's survey of 3200 IT professionals with CMO Steve Rotter, along with how a low-code app platform can ease the pressure.
by Vance McCarthy
March 9, 2017
Tags: agile, analytics, appdev, backlogs, digital transformation, integration, low-code, mobile, OutSystems, survey,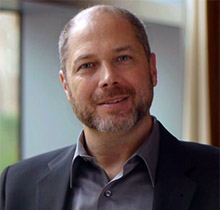 Steve Rotter
Chief Marketing Officer


"Our 2017 survey shows many IT professionals are at a crisis point when it comes to digital transformation and application development."
Mobile + IoT Summit

Your Guide to Building the Connected World
An Online Conference
In one of the most comprehensive IT surveys of its kind, OutSystems reveals eye-popping details on how today's digital transformation projects are putting a growing strain on IT.
"Our 2017 survey clearly shows that many IT professionals are at a crisis point when it comes to digital transformation and application development," said Steve Rotter, chief marketing officer for OutSystems. "Project backlogs are growing. There are more systems to integrate with. The demands for mobile and IoT are increasing. On top of all that, companies need to cope with an increasing 'scarcity of skilled developers,'" he told IDN.
OutSystems report, Application Development in the Age of Digital Transformation, Low-Code Platforms and Citizen Developers, is based on survey results from more than 3,200 IT professionals worldwide. Responses span 40 countries and 28 industries.
The OutSystems report shares 21 pages of insights and pain points across many stakeholders – developers, IT operations, project managers and enterprise architects. Some top take-aways:
Enthusiasm for New Apps is Creating Huge Backlogs. Well over half of IT professionals (62 percent) reported having a backlog of mobile apps, some with more than 10 apps waiting to be developed. In fact, 34 percent of companies with more than 5,000 employees said that they intend to build at least 25 apps in 2017.
Among new apps on IT's 'To Do' lists, reporting and analytics apps topped the list. "This isn't surprising considering the explosion of big data initiatives from the last few years. Companies recognize that this data is critical to gaining an understanding of customer engagement and usage patterns — what Forrester refers to as the 'age of the customer,'" the report stated. The next most common apps survey respondents said they plan to build fall in to the broad category of ways to improve 'customer experience' – thru process automation and customer portals.
"In many cases, these are indeed very lofty goals that not only demonstrate high levels of demand, but also put tremendous pressure on today's IT teams," Rotter told IDN.
Development Times are Excessively Long. The survey found more than three quarters (76 percent) of respondents said it takes more than three months, on average, to develop a mobile app. For some projects (11%), this timeline stretches out to over a year.
"Development times like these are a problem," the survey found. Nearly half (44 percent) of respondents admitted they're not happy with the current velocity of their application development team. Research from Gartner dramatically illustrates this dissatisfaction, noting in part that of the 28 percent of businesses who say they require monthly software releases, some 75 percent say IT can't make those delivery dates.
OutSystems found this problem of long delays isn't only felt among front-line developers. "Architects are nearly twice as likely to be dissatisfied with the current velocity of app development than developers," the survey stated.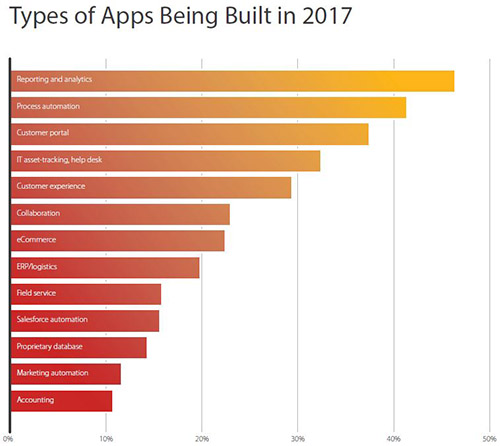 Mounting Integration Tasks Also Slow App Delivery. Given that the move to the digital business often embraces bringing together on-prem packaged apps, cloud-based SaaS apps and custom-developed app, the survey also found "integrations are an important issue that companies need to consider when thinking about application development."
Integrating new apps with existing systems can dramatically increase the complexity of app development and delivery, the survey noted. "Another big [integration] challenge that dev teams have is building front ends and UIs, for new or existing apps," Rotter said.
According to the survey results, about one quarter of respondents (24%) admitted they have many more integrations to deal with. In extreme cases, the number of integrations can top 100 the survey found, although the average number was 5-15 integrations, the survey found.
Modern app architectures likely means the potential for having a large number of integrations to deal with is what the survey called "very real." In part it said, "With the rise of microservices and even serverless architectures this problem is only going to become more acute, leaving IT teams with no choice but to find a way to address the issue."
Mobile Apps – In-Demand, Time-Consuming and Difficult. A huge majority of respondents (88%) said that incorporating mobility into their existing and future applications is either "very important" or "a requirement," the survey found.
"The problem is that creating mobile apps is both time-consuming and difficult. As a result, backlogs are often an issue," it added. Some 62% of IT managers said they have a backlog of projects stacking up because they can't meet the current level of demand. About 9%of them admitted they have a huge backlog – with more than 10 projects to complete. Notably, IT staff working in technology or financial services industries were the most likely to report having a backlog.
Finding and Hiring Skilled Developers is Getting Harder. Because app developers with highly sought after skills can be difficult to find and expensive to hire, most organizations don't have all of the skills that they need in house. 44 percent of organizations reported a knowledge gap in the skills – especially those needed to build and deliver mobile apps. More than one-third (37%) said outright they face challenges hiring the right people.
"The number of apps IT managers are being asked to build are continuing to go up and up," Rotter said. "More mobile, more integration, and more data driven apps. So they are at a crisis point, where they're saying, 'Look, I can't do anything more with the skills I have. I can't outbid Google or Facebook for prime app development talent.' So, they feel they don't have a lot of options. The move to a low-code app platform is proving a solution in reality.
Adoption of Low-Code Platforms to Build Apps is on the Rise. "With so many companies facing pressures to be more productive, low-code [platforms] have really gone mainstream," Rotter told IDN. "Going back 5-10 years, many low-code platforms were good at letting you build a model-driven process-oriented workflow. But, you weren't building real apps. Today, you can."
And the range of apps possible with low-code has really expanded, he added. "With OutSystems, people are building all sorts of apps. I mean they run the gamut, anywhere from a simple field service app, or a really rich mobile app with access to all sorts of data -- and even a full ERP-style inventory management application," he said.
"There a growing range of use cases for low-code, mostly because of the speed it gives customers, and how quickly they can get comfortable with a new methodology," Rotter said. In fact, the survey noted growing awareness – and adoption – of low-code platforms to address the issues of growing backlogs and lack of skilled developers. "While low-code development is still in its early days of adoption, companies that have been using it are seeing noticeable differences in two key areas: App development times go down, as does their reliance on outsourced IT. (These benefits also save on the cost of building apps as well).
The survey quantified some benefits, noting: Companies that use low-code platforms were 20% more likely to develop their mobile apps in less than six months, and report close to a 10% reduction in the use of outsourced IT. "We believe that [these numbers] are indicative of a greater trend that we'll see play out in the months and years ahead" as companies adopt low-code technology, the survey concluded.
OutSystems' Survey Finds Main Drivers, Use Cases for Low-Code App Platforms
The top 2 reasons IT adopts low-code, according to the survey, are "increased responsiveness to the business" and a "desire to reduce IT backlogs". Top use cases for low-code include portals, web-based apps and mobile apps.
"A real common use case for OutSystems is where we see customers with SAP or Salesforce and they want to build something on top of that that is much easier to work with for our business users; or something that will be much more specific to the company's needs," Rotter said. The company also sees lots of adoption of low-code to build mobile front-ends for a cloud-based SaaS or even an on-prem legacy system, he added.
Another factor driving adoption of OutSystems' low-code platform is a surge in its third-party developer and partner ecosystem. "We're up to 200 system integrators and partners building with OutSystems around the world," Rotter said. "That's a really good sign for low-code's maturity and rigor, when you have companies that build apps for a living building with a low-code platform."
Readers can download a copy of OutSystems report State of Application Development: 2017 Research Report -- App Dev in the Age of Digital Transformation, Low-Code Platforms and Citizen Developers at no charge.