Astera's Centerprise Rt Supports Real-Time Cloud Integration for Multiple Data
Astera Software is offering real-time, cloud integration to support the growing list of multiple data types – including complex, hierarchical and unstructured data. The company's Centerprise Rt aims to let customers integrate between cloud-based SaaS and central data infrastructures in real-time using web services and APIs
Astera Software is offering real-time, cloud integration to support the growing list of multiple data types – including complex, hierarchical and unstructured data.
The company's Centerprise Rt uses a code-free approach, and aims to let customers integrate between cloud-based SaaS and central data infrastructures in real-time using web services and APIs, said Ibrahim Surani, president and CEO of Astera.
Astera provides "quality data integration technology combined with service-based, real time access to give them the competitive edge they need in today's tough business climate," Surani said in a statement. As companies look to save money, reduce risk and operate more efficiently, it is critical for users to be able to capture data directly from core transactional systems in real-time -- as it's being gathered, he added.
Under the covers, Centerprise Rt takes a data-centric web services approach to integration between cloud and on-premises systems. Leveraging Astera's data integration engine, the architecture lets businesses integrate and share data with partners, suppliers and customers.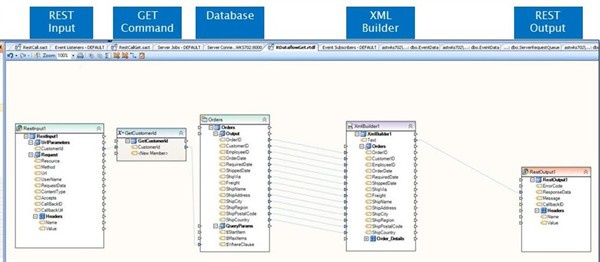 Architecturally, Centerprise Rt features include:
An event-driven approach to real-time integration (messages, web service calls, file drops, emails, updates to database table and even custom events).
Support for flat and hierarchical data integration, extraction, and management
Intuitive, code-free development environment
Security via a fully-secure and reliable .NET platform
High-performance and scalability using a parallel-processing engine
Extensive support for integration with traditional on-premises and SOA-based resources and architectures
A library of data connectors for popular app and data sources (on-premises and cloud). These include COBOL, DB2, Quickbooks, Microsoft Dynamics CRM, Salesfore.com, SQL Server, MySQL, .NET APIs, REST, SOAP, ODBC, XML and fixed length, delimited, Excel databases.
Beyond data integration, Centerprise Rt lets users create and publish dataflows as web services to outside entities to streamline end-to-end processes and workflows. It also provides on-demand data sharing and can provide insights based on multiple data sources, Surani added.