Oracle Ships 'Future Proofs' Integration Tools for Traditional, Cloud, Big Data, Real-Time Projects
This month, Oracle unveiled big improvements to its data integration portfolio to speed and simplify cloud, big data and even real-time projects. IDN discusses the latest "future-proof" updates to Oracle Data Integrator 12c and Oracle GoldenGate 12c, with Brad Adelberg, Oracle's vice president of development.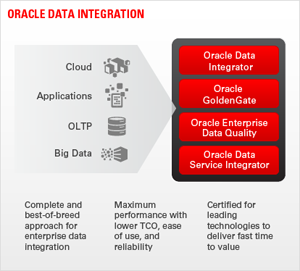 This month, Oracle unveiled big improvements to its data integration portfolio to speed and simplify cloud, big data and even real-time projects.

Oracle Data Integrator 12c and Oracle GoldenGate 12c sport a wide range of improvements to let devs more easily deliver data integration for cloud, analytics, big data and other new projects that leverage multiple datasets for business.

Under the covers, technology improvements in Oracle Data Integrator and Oracle GoldenGate 12c represent "the biggest upgrades to data integration in years," Oracle's vice president of development Brad Adelberg told IDN.

"The management and utilization of data is becoming increasingly complex, as the number and diversity of data sources organizations interact with continues to grow," Adelberg said. "All during our engineering, we asked the question: How do we use integration to get to business value as quickly as possible. Bringing users real-time data, for example, means we could let business users make valuable decisions faster but it also meant we needed to deliver this in a way that would free up IT developers from having to do a lot of detailed technical work."

These latest improvement will drive better standardization to help enterprises that are using traditional data technologies (such as ETL, BI and data warehousing) alongside newer technologies for big data, business analytics, cloud, and real-time data deployments, he said.

"The ODI model is a fantastic match for the new big data technologies," Adelberg said. ODI has never shipped with its own execution engine. It is an engine-agnostic design environment that offers an optimizer that can map logical mappings onto whatever execution engine a company is using and then do the orchestration at runtime.

"In the past, we focused on using relational database engines as execution engines. But now big data gives us an entirely new execution platform with very different characteristics, but you can use the same abstractions in the tool, define your mappings once and then later make decisions about how you want to execute them, using big data or relational data technologies," he said. "You can now focus on what data do I need and how do I want to transform it, and not get bogged down in the technical details."

The improvements range the gamut – and include features for bulk data movement, real-time data replication, federating data, ensuring data quality, management of data and metadata and support for creating intelligent data flows and reusable data services. Oracle also expects extreme performance boosts thanks to techniques such as parallelism and lowering session overhead.

"Customers and IT need to keep pace with a whole set of new data-oriented trends. With these upgrades, Oracle is adding speed and performance for data integration, as well technologies to speed and simplify deployment," he said. The upgrades will also help IT better manage a growing stream of data from inside and outside the firewall, Adelberg added.

Inside Upgrades to Oracle Data Integrator 12c, GoldenGate 12c
One driving feature for Oracle Data Integrator 12c is more intuitive declarative flow-based mapping. In fact, ODI 12c combines the best of flow mapping and ETL. "ODI lets developers do flow-based mappings at the logical level, which means there is a lot of detail developers don't have to enter because ODI knows how fill in those details," he said.

In fact, a dev needs only fill in information at the logical level, such as source and the staging area. "ODI can leverage its models to map all that information into the physical level, and this avoids the need for IT to input all those detailed instructions," Adelberg said. It all happens under the covers so developers see a familiar interface, such as conventional ETL tool, which lets them be more productive, he added.

Tight integration between Oracle Data Integrator 12c and Oracle GoldenGate 12c, will let devs more easily leverage Oracle GoldenGate's low overhead, real-time change data capture completely within the Oracle Data Integrator Studio without additional training.

Oracle's integration products also sport tighter integration with Oracle Database 12c for a strong foundation for seamless private cloud deployments.

Also, integration with Oracle applications, such as Oracle E-Business Suite and ATG Web Commerce, support real-time data delivery for reporting, zero downtime migration, and improved performance and availability.

ODI 12c also sports other upgraded features across the lifecycle:
For faster provisioning, it adds an intuitive step-by-step debugger.
For better operations at runtime, parallelism will boost performance, especially when executing multiple or complex data integration processes. ODI 12c is also pre-integrated to work with other popular Oracle technologies, including Oracle Golden Gate, Oracle Warehouse Builder, Oracle BI Applications, Oracle Business Analytics tools (OBI-EE and Oracle Hyperion).
For improved visibility and management, it offers better monitoring thanks to tighter integration with Oracle GoldenGate 12c and Oracle Enterprise Manager 12c.
To support big data projects, especially for loading and transforming tasks, it integrates with many popular big data technologies, including Hadoop, Hive, HDFS, and Oracle Big Data Appliance.
For its part, Oracle GoldenGate 12c change-data-capture product for real-time data integration, sports integrated delivery enhancements to improve how changes from a source are applied to a target database.

It also improves on data-reading features. GoldenGate 12c improves delivery of real-time replication of data in heterogeneous data environments, Adelberg noted. When Oracle is the target of replication using the new Integrated Delivery feature, he said users can also expect simplified configuration as well as more than 2x performance improvement. Even more performance boosts can be expected when users take advantage of easier integration with Oracle Coherence.

Other key GoldenGate 12c upgrades include:
Tight integration with Oracle Database 12c and support for its multitenant architecture. This promises to simplify deployment and deliver seamless transition to private cloud environments.
A new Coordinated Delivery feature for non-Oracle databases, which aims to simplify setup and management for projects that use multiple database delivery processes. Speaking on non-Oracle databases, it also adds support for the latest versions of major databases such as Sybase ASE v 15.7, MySQL NDB Clusters 7.2, and MySQL 5.60, enhanced security for credentials and encryption keys using Oracle Wallet.
Real-time replication for databases hosted on public cloud environments supported by third-party clouds.
"Behind this is a tremendous amount of technology and the big theme is to deliver extreme performance and future-ready integration that can support moves to cloud and big data," Adelberg said.

As customers adopt new modes of computing, their integration tooling and capabilities need to ensure ready availability and access to accurate and real-time data. "With these upgrades, Oracle is giving customers a valuable set of tooling that will help them move from tech shift to tech shift," Adelberg added.