Progress Goes Beta with SQL-Driven DataDirect Cloud Connectivity Management Service
Progress Software is taking its well-regarded ODBC driver approach to cloud-focused integration with the beta launch of DataDirect Cloud SaaS-based connection management service. DataDirect Cloud offers simplified SQL connectivity to cloud-based data sources using a single standards-based interface. IDN speaks with DataDirect's vice president Michael Benedict.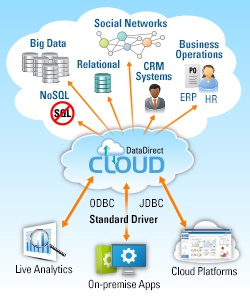 Progress Software is taking its driver approach to enterprise integration to the cloud with the beta launch of its new SaaS-based connection management service.

DataDirect Cloud will provide "connectivity as a service" with simplified SQL connectivity to multiple cloud-based data sources over a single standards-based interface, DataDirect's vice president and business line manager, Michael Benedict, told IDN.

"As companies adopt more cloud-based services they are also using a wide range of new data source, but they also want to be able to simply connect them with their current on-premise data sources. So, thanks to the cloud, we're facing the problem of data islands. Look at the explosion," Benedict said, noting many non-relational data technologies, such as Hadoop, Cassandra, MongoDB and those cloud databases behind Salesforce and other SaaS applications.
"Even as customers run to adopt SaaS and other new cloud-based data sources, they still want SQL access to them."
Michael Benedict
vice president and
business line manager
DataDirect (Progress Software)
"Even as customers run to adopt SaaS and other new cloud-based data sources, they still want SQL access to them because people are finding they can't quickly and easily get all their data out of their SaS applications and conduct reports on it," Benedict said. "An API approach won't solve this requirement because it won't scale and is too complex to deal with connecting to, and managing connections to, so many data sources."

So, to solve this balancing act of richer-yet-simpler access to cloud data, DataDirect Cloud provides a single ODBC driver to provide IT with standards-based SQL access to cloud data – without requiring devs to use customized interfaces or learn new libraries. "We sit in the middle and make the connections so the application doesn't need to," Benedict said.

DataDirect Cloud executes an SQL query against the data source and establishes multiple connections between cloud and on-premise sources and manages the APIs, versioning and other aspects of the connection – removing the need for the application to do such management.

In specific, DataDirect Cloud also offers these enterprise-to-cloud integration benefits:
Real-time SQL access to a broad spectrum of data sources through a connectivity management service that resides in the cloud.
Web-based query development tools that allow interaction with SaaS data without the need for any on-premise software.
Elastic scalability to meet changing and demanding data access needs
The ability for ISVs and SaaS providers to distribute the DataDirect Cloud OEM driver "in the box" and to support a broad array of data sources that will be updated and expanded regularly without having to redeploy to on premise installations.

Progress' SQL-driven, driver approach also lets DataDirect Cloud support a wide range of mission-critical enterprise applications, including BPM, ESBs, business Intelligence, data integration ETL and even Java EE, Benedict added.

DataDirect's Vision for How SQL, ODBC
Deliver Enterprise-Class Cloud Integration
"The success of cloud computing and SaaS based applications will depend in part on eliminating the 'data silo' these applications create for their customers. With the DataDirect Cloud offering, we are delivering the final link to effectively integrate SaaS- based applications with the common tools most organizations have in house today," Benedict said.

DataDirect Cloud is part of the Progress corporate strategy to "to rebuild Progress as a cloud company that can deliver enterprise-class PaaS services," he added. To make the point, Benedict distinguishes between DataDirect Cloud's approach and other cloud integration solutions from IBM, Dell/Boomi and Informatica. "You can do a web transformation or insert a customer record in two ways, you can use adapters or an ESB or you can use SQ," he said.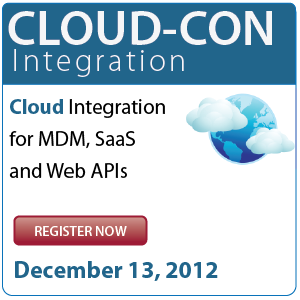 "In our view, SQL provides an advantage because it lets you offer users simple and near real-time data queries across multiple on-premise and cloud data sources," Benedict said. "We see one of the biggest barriers to enterprise adoption of these semi-structured and non-structured data sources in the cloud is the ability to get simple connectivity across all their data sources using technologies they know." This will be a combination of point transformations and ODBC, he added.

DataDirect Cloud leverages the company's extensive experience with providing devs and ISVs data connectivity solutions for a range of enterprise systems, including mainframes, via standard interfaces based on ODBC, JDBC and ADO.NET, XQuery and SOAP.

DataDirect Cloud will go live in mid-2013. Beta program access on a limited basis will start in January 2013. For more info, visit: http://cloud.datadirect.com

Also this month, Progress updated its core DataDirect on-premise driver with more support for big data projects. DataDirect Connect for ODBC 7.1 and DataDirect Connect XE for ODBC 7.1 deliver fast, reliable, secure, and scalable connectivity for Apache Hive. The new driver will enable enterprise applications to connect to all major distributions of Hadoop, including Apache Hadoop, MapR Apache Hadoop, Amazon EMR and Cloudera's distro.

The update also expands support to the cloud-based Microsoft SQL Azure, enabling efficient SQL access to Microsoft's relational database service in the cloud. It also adds support for native database security for Oracle Advanced Security (OAS), and adds a range of mission-critical, on-premise systems, including IBM DB2 10.1, IBM DB2 pureScale 9.8, Teradata 14, and Microsoft SQL Server 2012.