Cloud Integration in 2011: How Cloud is Transforming B2C and B2B Portals
Enterprises are increasingly driving B2B and B2C collaboration to retain and extend their competitive edge. In this article, an Infosys exec shares her views on how cloud is powering a next wave of B2B and B2C portals that can drive efficiency, cut costs and deliver engaging customer experiences.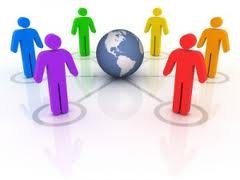 In today's competitive marketplace global enterprises are focusing on creating scalable collaboration platforms to drive efficiency, improve customer service and reduce operational costs. However, collaboration platforms present several challenges to enterprises.

For instance, while collaboration within enterprises and private networks is limited, business units and knowledge bases remain fragmented with knowledge distributed in silos. Further, the search capability of these platforms is narrow and similar to internal messaging applications.
"A cloud platform is a strategic business enabler that can transform the organization [and] create dynamic and digitally advanced customer experience."
Anjali Yadav
Principal Consultant
Infosys
Adopting a viable solution to these challenges requires a careful understanding of the organization's business goals. For example, some progressive business units of an organization may adopt cloud-based solutions to successfully reduce IT expenses. This encourages other units within the organization to adopt cloud-based platforms for their specific requirements, which can result in each unit having specific collaboration platforms.

Thus, while employees within a specific unit can share customer and contact information, other factors such as customer intelligence and key learnings from different processes are not shared and reside within the boundaries of disparate business units. Further, many organizations have separate collaboration platforms for internal employees and external stakeholders such as partners and customers.

In such situations the lack of centralization results in a fragmented customer experience for customers trying to access customer support from multiple channels. It also compromises the efficiency of daily operations thereby hindering business progress. For example, information exchange between production and sales is necessary for accurate forecasts while product engineering groups require regular inputs on customer preferences and pain points from the service organization.

The linear nature of today's collaboration platforms presents a significant challenge since it limits information sharing capabilities to sales, marketing and service organizations and not lines of business (LoBs) such as product engineering groups, field services and operations. Enterprises require a dynamic and multi-dimensional solution that can enhance collaboration by improving search capabilities on the go with speedy access to information that can be displayed on an intuitive user interface (UI).

Building A New Generation Collaboration Platforms for B2B, B2C
Today's customers seek eCommerce cloud portals where partners can publish content such as services, offers, rewards, etc. They require dynamic websites where content can be contextualized according to individual country requirements and altered by partners and end users. This requires the platforms to have authentication and security capabilities enabling customers and partners to share information with relevant stakeholders in the organization.

In order to address the above challenges, organizations are adopting new generation collaboration platforms to meet collaboration requirements across LoBs and across the enterprise. The key features of such a solution are:

Easy information sharing – New generation collaboration platforms enable information sharing in a more efficient way. For example, production can share inventory information with sales thereby enabling better forecasting; prospect details can be shared between sales and vendor networks; and channel partners can place orders online and share these with internal sales.

Advanced search capabilities – The new generation collaboration platforms are bolstered with advanced search capabilities that enable users to easily search for and access information thereby improving daily operational efficiency. Every platform solution is enhanced with federated search capabilities that can search content residing in various applications within the organization.

Information Security – Protocols such as Exchange ActiveSync provide information security to ensure that email on a smartphone is as secure as email on a personal computer (PC). Further, Hypertext Markup Language 5 (HTML5) renders cloud applications on touch-enabled mobile devices.

Unified console view - Collaboration involves several interactions between multiple applications and platforms. This requires a deep understanding of the IT infrastructure, its interoperability and SOA concepts since clouds operate through web services. Collaboration platforms leverage REST-based (representational state transfer) APIs that can be used for integration and providing a console and single screen view to users with feeds from different platforms. The interface disseminates information to different platforms through single text box updates.

Additionally, collaboration platforms are being recognized for their potential to fuel product innovations. Live chat, discussion forums and blogs are enabled on these platforms to provide context-based service for internal and external customers. Further, information is made available from the knowledge base and from relevant public forums and websites through the collaboration platforms.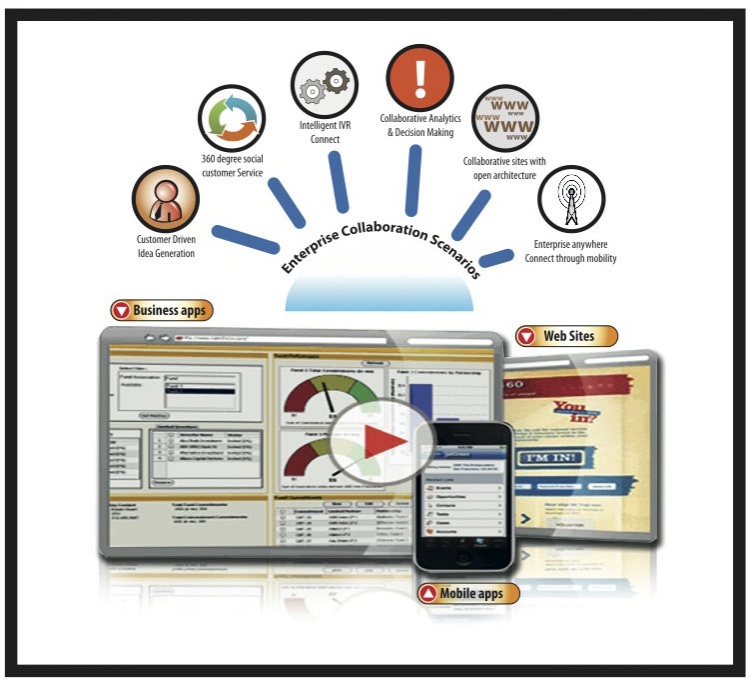 Key Technology Enablers for Next-Gen Collaboration
To create successful solutions that deliver maximum business value without impacting business continuity, organizations should possess thorough knowledge of infrastructure as a service (IaaS), platform as a service (PaaS) and software as a service (SaaS). While designing cloud architecture organizations must consider several factors such as regulatory and country specific requirements, security requirements and complexities of multi-tenancy, and storage and resource utilizations. This requires employing the right technology team in addition to the team that configures and customizes the cloud platform i.e., web designers, security architects, identity management experts, data architects and interface/middleware experts.

Enterprises seeking to develop next generation collaboration solutions should consider the following key technology features that are vital to driving business value:
Role based security that enables a profile-driven user experience
Contextual and federated search for faster turnaround to customers
Content management solutions based on the need of the program such as provisions for administrators to dynamically add/modify portal contents using predefined templates
Extended portal capabilities such as wikis, discussion forums, blogs, social media integrations
Single sign on (SSO) and authentication frameworks
Personalization features with alerts and notifications when new content is published
Advanced mobility and offline capabilities
Advanced analytics with persona-based reports and dashboards as well as improved visualizations

Cloud Collaboration Solution Benefits
As well as being a key driver to reduce IT costs, a cloud platform is more importantly a strategic business enabler that can transform the organization thereby creating a dynamic and digitally advanced customer experience. The following examples illustrate how new generation collaboration platforms can reap significant business benefits:
Enterprise scenarios
Value delivered

Customer-driven idea generation
360-degree social customer support and service
Easy access to knowledge

Improved customer satisfaction and service
Reduced cost to acquire new customers
Quick feedback loop for new product introduction

Intelligent interactive voice response (IVR) connect
Automation of escalations and notifications

Improved customer connect and service through automated features
Integration with the IVR system enabled self-service transactions by loading customer service call details in customer relationship management (CRM) system
Personalized and unique response to each customer

Authenticated website where the customer can publish content such as services, offers, travel information and rewards
Ability for end users and administrators to regularly create and edit online content
Content sharing across multiple websites hosted on a single platform across all businesses, products, countries and languages

Better cross-sell and upsell
Higher customer shelf life through loyalty management services
Unified user experience and lower IT cost

Creation of collaborative sites with open component architecture to develop functionalities such as discussion forums and wikis
Internationalization and localization features

Business value driven collaborative innovation management processes and workflows
Improved sales, service effectiveness and productivity
Conclusion: Hoe Collaboration Platforms
Can Best Leverage Today's & Tomorrow's Cloud
Today's enterprises need to drive business growth in a highly competitive marketplace through efficient collaboration between employees and customers. They require cost effective, robust and agile collaboration platforms that leverage a pay-as-you-go model, provide information and operational security, support a flexible, scalable and intuitive UI, and ensure prompt disaster recovery and rollouts.

Collaboration platforms that leverage cloud services provide unique benefits of sharing information in a secure environment. Data is accessible through multiple channels such as portals, emails and mobile devices. Instant workflows and notifications enable timely status updates. The solution is simple to configure, non-intrusive and customizable. Further, it enables customers to interact with product engineering groups and provides access to expert solutions and opinions.

These key solution features enable the enterprise to reduce IT expenses while providing a digital, dynamic and responsive customer experience.
---
About the Author
Anjali Yadav is a Principal Consultant and Lead for the Salesforce.com practice at Infosys. She has been associated with Salesforce.com and Force.com Centre of Excellence at Infosys since it's incubation days. She has over 10 years of industry experience and has been involved in multiple end-to-end Salesforce.com multi-country implementations across industry verticals.