BPM 2011: Appian Marries Cloud, Mobile, Social for Real-Time BPM
Integration Developer News continues its series on "BPM in 2011" with a look at the latest updates to the Appian BPM Suite. The offering meets growing customer requests, Appian execs told IDN, by blending cloud, mobile and business-savvy social technologies to deliver real-time BPM collaboration across enterprise users, partners and even customers.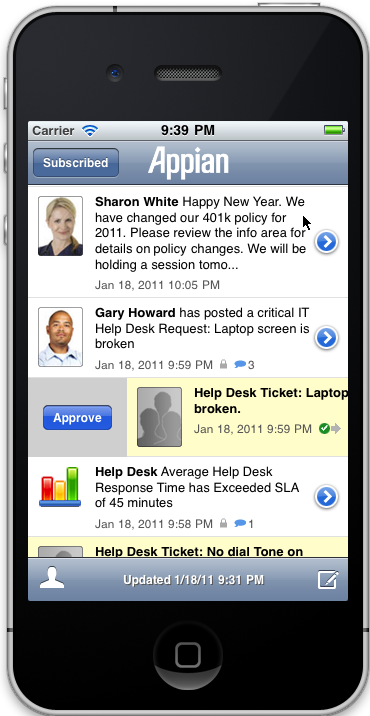 This month, Appian started shipping its latest BPM upgrades in Appian BPM Suite. The new features may redefine how everyday workers use BPM to get updates, improve visibility and participate in business-critical decisions.

Integration Developer News continues its series on "BPM in 2011" with a look at Appian BPM Suite 6.5, which marries cloud, mobile and business-tuned social technologies to deliver real-time BPM collaboration across enterprise users, partners and even customers.

The latest Appian BPM Suite aims to let more stakeholders easily collaborate and consult on not simply the definition of a business process – but on the actual follow-up work that reflects decision-making and action-taking on tasks. Appian's upgrade also provides smart filtering so that each user can see and take action on only those key business events critical to his job.

"In 2011, customers want BPM to be simple to install and operate, but also to extend access to more users and provide them easier ways to work with one another," Samir Gulati, Appian's vice president of marketing told IDN. "Our new release brings together cloud, mobile and social collaboration in ways not available before."
Appian delivers these real-time collaborative BPM capabilities:
Personalized, Filtered Views: Users can filter views by relevant application or process areas and subscribe to customized feeds to monitor the key events and information that is meaningful to them. Users can also be alerted to critical events and hazards in real-time, and take immediate action directly from their mobile or social interface.
Easy, Instant Collaboration: Users can comment, question and collaborate on business events through real-time message posts and ad-hoc updates to trigger quick collaboration to targeted groups within and outside of pre-planned business processes. Messages posted are received in real-time for immediate responses to your feedback.
Take Action: Users can generate actions and complete tasks from their devices (or from within an 'event feed,' which, like an RSS, allows the users to visualize just those individual events they want to track for progressive steps. Actions can be triggered by forms optimized for web and mobile users, which can also capture data and route tasks
Secure Sharing: All information and data is secured using role-based permissions and securely transmitted using SSL to web and mobile interfaces.
Research on BPM at IDC seems to corroborate some of Appian's perspectives on how BPM will evolve this year. "In 2011, we expect to see transformative technologies make the critical transition from early adopter status to early mainstream adoption," said Frank Gens, senior vice president and chief analyst at IDC. "As a result, we'll see… mobility, cloud-based application and service delivery, and value-generating overlays of social business and pervasive analytics."
Learn and Explore More from Appian's Vision for 'BPM in 2011'

Appian: What Customers Want from BPM in 2011
Theirs is a real pent-up demand for BPM that can help companies make quick and accurate decisions, so long as the demands on IT or the end user aren't too high, Malcolm Ross, Appian's Director, Product Management told IDN.

"Customers first want to get BPM projects going quickly, without the need for a lot of coding or infrastructure, so they want to see BPM in the cloud can work for them," Ross said. "But, they don't just want to see a demo. They want to try out BPM in the cloud for themselves, with real projects for their own company." Appian's engagement approach tackled this hurdle by offering customers a free trial. "Without instant availability, you cannot capture their interest," Ross added.

But in 2011, making BPM a low-cost, low-hassle project is table stakes, Ross added. These days, once a prospect sees that BPM in the cloud can offer a range of BPM functionality for modeling, running, monitoring and executing processes, Ross said "that's when the really interesting conversations begin."
"Our goals with this version are to make BPM more proactive, collaborative and on-going. In fact, our CEO said he wants to make Appian BPM addictive.
Malcolm Ross
Director, Product Management
Appian
Throughout last year, Appian had a range of "interesting conversations" with customers and prospects that prompted the company to have its engineers explore how BPM could more effectively use mobile and social technologies for real-time BPM collaboration and decision-making, Ross told IDN.

Inside Appian's Enhanced Mobile BPM Support
"We're hearing about requests for mobile IT at almost every account we visit," Ross said. "They'll say, 'This mobile app looks very cool and I know my boss will probably want something like this, but I also need a guru to help me figure out the business cases, and how I can support it.' So, mobile architecture is one of their biggest concerns, and they'll ask us if they need a VPN or a new firewall configuration," Ross told IDN.

Because Appian can offer all the BPM architecture they need for mobile from the cloud 99.9 percent uptime, "we can eliminate all those concerns and get to the heart of what the application should do," Ross added.

Appian's support for mobile BPM offers native client applications for the Apple iPhone, iPad, and RIM BlackBerry devices. Support for Google Android devices is on the way.

For its approach to delivering 'mobile BPM' solution, Appian worked with some of its existing BPM customers and prospects. "We have a whole class of companies that don't have traditional desk-bound workers—their employees are often on the road or mobile," Ross said. Among these companies were: Archstone Apartments, a properties management firm and psHealth, a provider of in-home health care services.

For mobile users, Appian "can combine a lot of data in a single screen, and it will be driven by the targets end user have," Ross told IDN. "You can even personalize or subscribe to an event stream for just the data you want, exchange messages with other stakeholders on just those events, get triggered alerts when milestones are met or missed, and take appropriate actions."

Appian plans further mobile improvements, Soon, Appian mobile forms will be able to validate the information inside the form. The forms will also offer mobile-unique fields, allowing users to take photos, add them to a form and even tag them with GPS location information.

Using 'Social BPM' to Deliver
Real-Time Process, Event Collaboration
But taking BPM mobile and making it real-time capable required more than support for smartphone devices or mobile-enabled forms, Ross said.

"We quickly learned that customers also wanted a smarter interface design that would let mobile users quickly check on the status of an event, participate and communicate with managers," Ross told IDN. Enter Appian Tempo, a business-savvy approach to using social networking to support real-time BPM.

"Businesses have been struggling with the best way to use social capabilities for business outcomes," Ross said. "What we found was that many 'social' solutions offer communications capabilities but without any context or any ability to drive communications to a business outcome such as helping with customer service or doing problem resolution. So, before we launched social, we discovered that social needed a 'guard-rail' of some kind to keep it on track to promote a business outcome."

To do this, Appian's context-sensitive social capabilities, dubbed Appian Tempo, blends the best of event notification, case management and status updates with easy-to-use communications.
Appian's approach to social BPM leverages event feeds to deliver supplementary data directly to the user's social interface from other databases (such as customer order number, amount of order, invoice overdue status, etc.) Using the Appian Orchestration engine, companies can tap into data and feeds from SAP and salesforce.com using Appian's ready-to-install application adapters (or have developers with SOA and web services skills assemble simple-to-build custom adapters).
Appian: BPM's New 'Long Tail'
Supports Business-Critical Collaboration
Combining mobile and social represents what Appian sees as the emerging 'long tail of business processes.'

Ross explained this new 'BPM long tail' this way:

"There is a whole category of business processes and activities that are simply less defined, and need to be more collaborative," he said. "We've seen in the last two years, as financial situations changed, some processes that used to be fixed, sometimes needed changes based on events or even individual clients. And, it's these 'less-defined' processes that can create high-value to companies, but automating BPM didn't always give customers the flexibility they needed to address them. Our approach to 'social BPM' is delivering that flexibility.

Ross summarizes Appian's work in mobile, cloud and social as creating an always-on environment for all types of business users.

"Our goals with this version are to make BPM more proactive, collaborative and on-going," Ross said. "In fact, our CEO said he wants to make Appian BPM addictive because it's just so easy and useful for all stakeholders – where they can instantly and easily check in, update and understand all the processes that are important to them."