OutSystems Brings AI, Updated Toolsets to Its Low-Code App Platform
OutSystems is adding AI services to its low-code platform to allow users of any skill level to deliver a wide range of application projects quickly. IDN explores the updates with OutSystem's Mike Hughes.
by Vance McCarthy
Tags: AI, development, deployment, low-code, ML, OutSystems,
Mike Hughes
senior director
product marketing

"AI Assist brings artificial intelligence to every phase of the app lifecycle, from initial creation through future changes post-launch."
Enterprise Integration Summit

Integration Powers Digital Transformation for APIs, Apps, Data & Cloud
An Online Conference
OutSystems is enhancing its low-code app development platform with AI services, along with other new tools and capabilities to allow users to deliver a wide range of application projects quickly.
The added intelligence and tool updates will enable less technical users to build solutions to modernize legacy app, create process workflow apps and improve customer experience, according to OutSystems execs.
OutSystems CEO and Founder Paulo Rosado explained why the company invested in new technologies to speed and simplify app development.
"Building and changing applications at speed and scale continues to be a painfully complex process for most organizations. Traditional technology stacks are getting more complex, atomized, and challenging to implement while traditional development remains overly manual, disconnected, and rigid," Rosado said in a statement.
In specific, OutSystems enriched its collaboration tools so that now they can automate and augment critical phases of ALM (application lifecycle management):
Among the more notable OutSystems additions are:
AI Assist - OutSystems has fused AI into its platform to automate, guide, and validate development throughout the complete application lifecycle. OutSystems' approach to AI is designed to help a full range of users across skill levels -- from professional developers to business analysts.
"AI Assist brings artificial intelligence to every phase of the app lifecycle, from initial creation through future changes post-launch," Senior Director of Product Marketing, Mike Hughes told IDN. "AI Assist automates and simplifies the creation of complex, quality applications and significantly decreases the amount of time it takes to build and make changes over time."
OutSystems' AI Assist capabilities fall into three buckets:
Guidance: Just-in-time help and orientation, eliminating stuck moments and enabling developers with less skill to move quickly and learn as they develop. For example, as a developer is working in the IDE, auto-suggest and auto-fill are continually helping accelerate the development process. When developers search for components they need, AI Assist intelligently suggests results based on typical developer patterns.

Automation: Accelerating common operations and removing tedious work. For example, intelligently identifying opportunities for refactoring and providing guidance to increase reusability across applications.

Validation: Proactively detecting and helping to fix bad practices or patterns. For example, AI is infused into the OutSystems Architecture Dashboard, a tool that enables architects to ensure architectural best practices are being applied across a portfolio of OutSystems applications. AI helps categorize and label components in complex architectures to help increase understanding and identify areas where best practices are not being followed and recommend remediation approaches.
OutSystems uses AI to Future-Proof Apps
OutSystems is also using AI to help future-proof apps built with the low-code platform.
"Two of the biggest challenges with application development are keeping up with new technologies and keeping up with ever-changing business imperatives – both of which require applications to continuously adapt," said Goncalo Gaiolas, OutSystems vice president of product. "The OutSystems platform makes new, valuable technologies accessible to developers, and our platform is designed from the ground up to make sure applications can change as dynamically as the needs of the most complex business."
OutSystems' use of AI to support tools and an underlying agile architecture enables the "continuous introduction of features and capabilities," Gaiolas noted. This lets OutSystems help customers deliver apps capable of evolving as quickly as their business needs change.
One aspect of this AI-powered approach to ever-green apps is TrueChange, a patented AI-powered engine created to help companies manage their ever-evolving needs and inevitable change.
TrueChange uses AI to help developers address the complexities created by ever-changing software requirements. TrueChange checks for bugs and architecture errors, analyzes the impact of changes on component and application dependencies, provides team and architectural governance and can monitor performance in real-time. "As a result, developers can build, manage, and change enterprise-critical applications or services – with zero friction, zero errors, zero lead time, and zero technical debt," according to the company.
Hughes described some of the benefits of this TrueChange technology.
"While developers are using the IDE, TrueChange is able to understand how each change impacts the various layers of an application - visual interface, logic, process, data," Hughes said.
He shared an example:
"Take something as simple as changing the column name in a database table. With traditional development, this change requires a developer to know all of the different layers of code that have to be updated. TrueChange helps to automatically refactor the code when changes like this occur, saving the developer time and ensuring bugs don't enter the code," he added.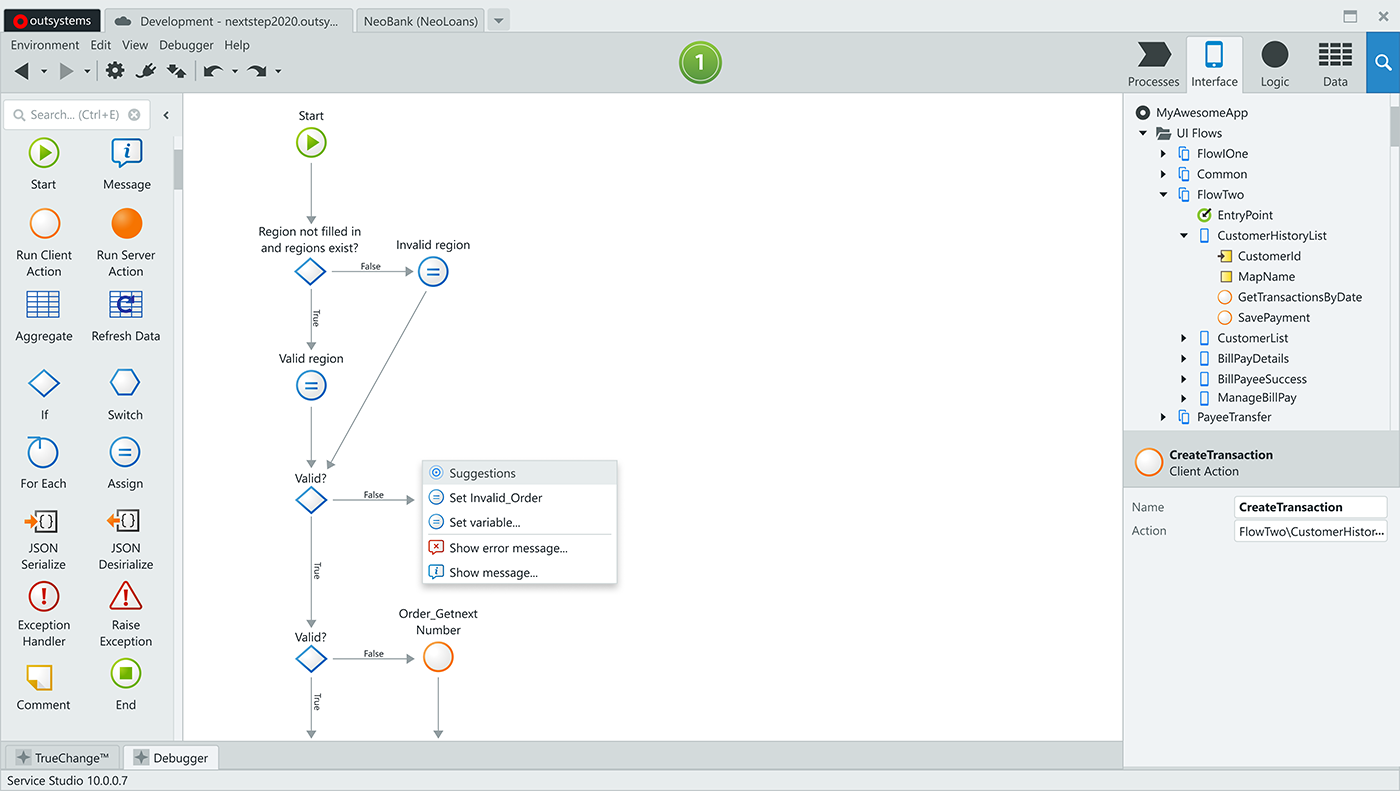 Builders – The OutSystems design time, called Service Studio, adds specialized visual toolsets called OutSystems Builders. These toolsets are optimized for particular aspects of the development cycle, as well as for team collaboration.
Among the new builders are:
Workflow Builder to enable the "visual mapping" of complex business processes and the automated creation of high-performance, workflow-based applications.

Experience Builder enables developers to prototype user-friendly mobile applications rapidly. These apps leverage common patterns and flows for speed in development and deployment and turn them into production-ready apps.

Integration Builder reduces the complexity of using integration to extend critical legacy systems, such as SAP and Salesforce.

Machine Learning Builder allows developers to create custom AI applications with rich, personalized experiences easily. ML with OutSystems can be used to analyze customers' behavior, which in turn can be used to improve a chatbot experience.
"Pure no code/low code solutions are easy to use but lack capability, while traditional development is powerful but lacks ease of use and agility," said Rosado. "OutSystems delivers the best of both worlds: high-productivity tools that automate and simplify complexity, with the power and expressiveness of traditional development. This approach radically transforms the way our customers build, deploy, and most importantly, evolve their critical applications."