Ahana Rolls of Presto-as-a-Service To Promote Self-Service SQL Analytics
Ahana has launched a cloud-based managed service to simplify the deployment, management and integration of Presto. IDN speaks with Ahana co-founder Dipti Borkar about its Presto-as-a-Service approach to promote self-service SQL analytics.
by Vance McCarthy
Tags: Ahana, analytics, AWS, cloud, data warehouse, Presto, SQL,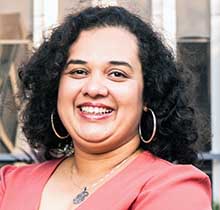 Dipti Borkar
co-founder


"Ahana Cloud gives you Presto as a Cloud Data Warehouse but in an open, disaggregated stack."
Enterprise Integration Summit

Integration Powers Digital Transformation for APIs, Apps, Data & Cloud
An Online Conference
Ahana is launching a cloud-based managed service designed to simplify the deployment, management and integration of Presto, the popular open source distributed SQL query engine.
Ahana Cloud for Presto makes it easy to integrate with data catalogs, databases and data lakes. The offering is first available for services running on Amazon Web Services (AWS). The approach, which Ahana calls Presto-as-a-Service, provides a cloud-native managed service optimized specifically for Presto, according to Ahana's chief product officer and co-founder Dipti Borkar.
For simplicity and control, Ahana Cloud for Presto is deployed within a user's AWS account, which gives customers "complete control and visibility of clusters and their data," she added.
"Ahana Cloud gives you Presto as a Cloud Data Warehouse but in an open, disaggregated stack. It integrates the catalog with the data lake by default. And then enables you to bring your own tools and data sources," Borkar told IDN.
Borkar also spelled out in detail to IDN her views on the need for the Ahana solution for Presto.
Every company is looking to drive more value from their data, or to be data-driven. Smaller enterprises and smaller companies can have just as much data as bigger companies, but they may not have as many cloud and data platform engineers as their larger counterparts. So instead of spending time on maintaining distributed systems, they can focus on differentiated value, or helping their company extract valuable insights.

Becoming an expert in Presto is not easy, nor is it differentiated. We used to run our own data centers but that was undifferentiated value. So cloud services have made it, so we don't need to rack and stack servers, storage, and networking anymore.

In a similar way, Ahana Cloud for Presto takes out the devops, integration, and connectivity work out of managing clusters of Presto with data lakes and databases, so you don't have to become an expert at that level.
As the Presto market continues to grow exponentially, Ahana's mission is to simplify interactive analytics as well as foster growth and evangelize the PrestoDB community, she added.
Borkar also described some popular implementation profiles and use cases for how Ahana can simplify Presto's adoption.
"Organizations increasingly need self-service SQL analytics, and Ahana Cloud for Presto can now simplify and unify data analytics so users can query data directly in place across a range of data sources on AWS including Amazon Simple Storage Service (Amazon S3), Amazon Relational Database Service (Amazon RDS) and others - without the need to move or copy the data.

While Presto is one of the fastest-growing open source projects in data analytics, it is still a complicated distributed data system with extensive tuning and integration required. This tends to make Presto deployments expensive and achievable mostly by large Internet companies like Facebook, Uber and Twitter.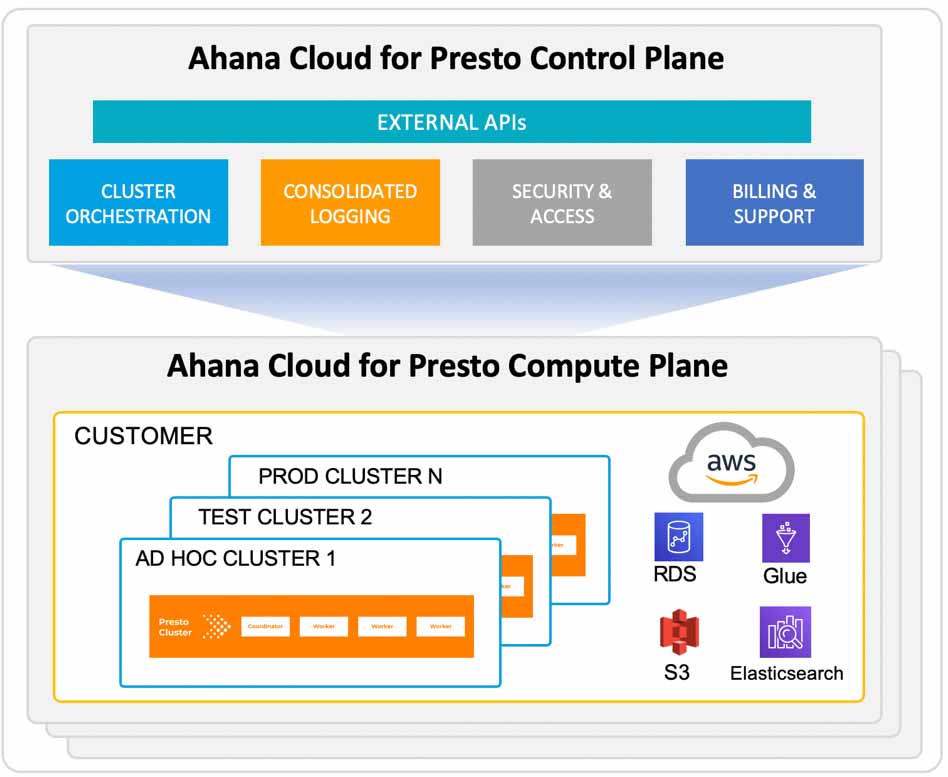 Under the covers, the architecture of Ahana Cloud for Presto service allows AWS cloud and data platform teams to provide self-service, SQL analytics for their organization's analysts and scientists. As a cloud-native solution, it uses containers, Amazon Elastic Kubernetes Service (Amazon EKS), and is easily procured with Pay-As-You-Go (PAYGO) pricing in AWS Marketplace.
Ahana Cloud for Presto offers these features:
An easy-to-use console for creation, deployment and management of a multi-cluster compute plane. It is developed with the emerging best practice of an in-virtual private cloud (VPC) deployment on AWS
Support for Amazon S3, Amazon RDS for MySQL, Amazon RDS for PostgreSQL, among others
Built-in hosted Hive Metastore that manages metadata for data stored in Amazon S3 data lakes. Aldo included is support for user-managed Hive Metastores and Amazon Glue
A wide range of security capabilities, including a fully-protected compute plane
Cloud-native highly scalable and available containerized environment deployed on Amazon EKS
Integration with any business intelligence and dashboarding tool or data science notebook
Borkar also shared more detail on how Ahana works.
The Ahana architecture includes two core components: the Ahana Control Plane and the Ahana Compute Plane.

Ahana's Control Plane is a multi-tenant application that allows users to login using Amazon's Single Sign-on service, Cognito into the Ahana Management Console. Once registered, users can deploy Ahana's Compute Plane in their own account using Amazon's recommended approach of cross account access via external ID.

The compute plane leverages Presto containers scheduled with Amazon EKS. This is handled under-the-hood. We don't think you need to be an expert in both Presto and Kubernetes to get to the fast, federated SQL analytics that Presto provides.
One analyst finds high merit in the Ahana approach to reducing complexity of using Presto, especially as demand grows for business analytics from distributed data.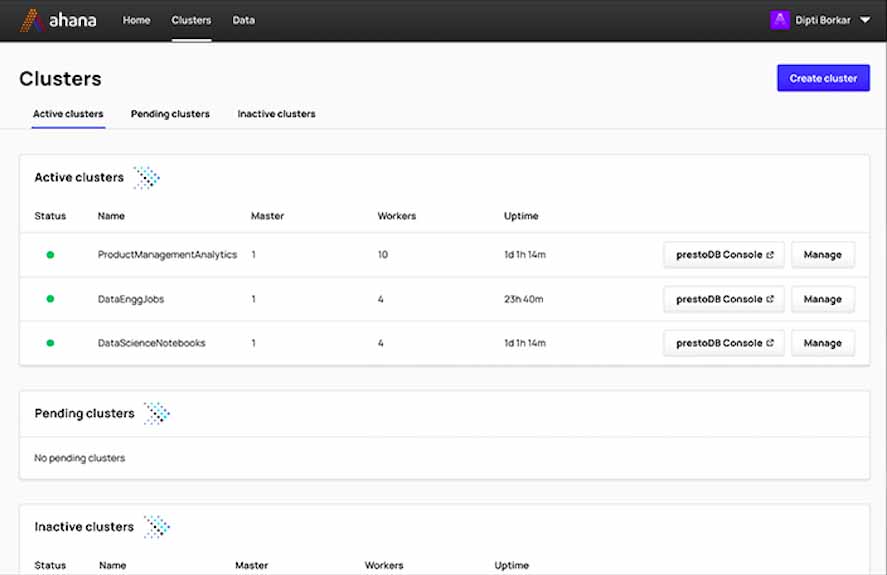 "Companies want ad hoc SQL analytics to enable faster data-driven innovation, but with data increasingly spread across multiple data lakes and databases in the cloud, there is just too much complexity," said Mike Leone, senior analyst, ESG. "Ahana's cloud native managed service for Presto has potential to offer users a fast, federated, OSS-based analytics solution with an intuitive UI that helps to simplify ramp up and ongoing operations."
Ahana Cloud for Presto is now in early access, with general availability is expected by the end of 2020. Ahana Cloud for Presto will be elastically priced based on usage, with pay-as-you-go annual options via AWS Marketplace.
Ahana Cloud for Presto initially is available for AWS, with support for Microsoft Azure and Google Cloud to be added in the future, according to Borkar.