OutSystems Invests in AI To Deliver More Automation, Richer Experiences for Low-Code Apps
OutSystems is adding AI to its low-code app development platform to help a wider range of developers build engaging apps and experiences quickly and easily – without AI/ML or data science skills. IDN talks with OutSystems' head of artificial intelligence António Alegria.
by Vance McCarthy
Tags: AI, apps, automation, low-code, machine learning, OutSystems,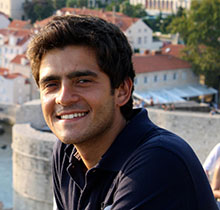 António Alegria
Head of Artificial Intelligence


"We have AI research and engineering working close to product development to achieve the best possible usability of the AI capabilities."
Intelligent Enterprise Summit

Analytics, Apps & Data for Success in the Digital Enterprise
Online Conference
OutSystems is adding AI to its low-code app development platform to help a broader range of developers build engaging apps and experiences quickly and easily – without AI/ML or data science skills.
The OutSystems' initiatives are the first of what will likely be a running list of AI innovations, as the company has created a new R&D group called OutSystems.AI. It's led by OutSystems head of artificial intelligence António Alegria.
"Companies want to adopt AI as a strategic enabler of efficiency and new revenue. But most have trouble getting access to data science talent, access to data or understand the possibilities and use cases," Alegria said. "The combination of low-code and AI addresses the single biggest challenge holding these companies back—the shortage of skills,"
OutSystems' AI initiatives come as a Gartner analyst report finds despite AI's explosive growth, only about one-third of organizations have AI in use.
OutSystems' recipe for accelerating AI adoption is to marry AI/ML technologies with low-code.
In specific, OutSystems lets developers more easily work with algorithms and machine learning models, eliminating the need to become skilled in data science talent, Alegria said. These de facto AI automation features are in addition to OutSystems' rich set of low-code capabilities.
Inside OutSystems AI R&D and Product Initiatives
"We have organized ourselves to have AI research and engineering working close to product development to achieve the best possible usability of the AI capabilities," he told IDN. The goal is to deliver seamless AI capabilities to developers – without the need for them to become (or work with) a skilled data scientist, he added.
OutSystems.AI is pushing research into active tools and support in the OutSystems platform. To date, it has provided intuitive tools, in-depth documentation and easy-to-follow use cases that can serve as templates and guides for new AI projects, Alegria said.
So far, OutSystems' AI R&D has resulted in tools to help developers quickly build voice-capable functionality for virtual assistants (such as those from Google, Apple Siri, and Amazon Alexa). It also supports chatbots for Facebook Messenger, Cortana, Skype, and others, he added.
"Generally, the AI capabilities we offer enable you to leverage pre-trained algorithms and we also make it easy to integrate custom machine learning models with connectors (such as Microsoft's Azure ML connector), This, in turn, makes using machine learning models seamless within OutSystems' visual development language.
"The way we surface these capabilities currently in the product is directly in our developer environment – [OutSystems] Service Studio – via inline recommendations on what the next development step should be. We have several ongoing initiatives to expand these capabilities: from design to development; and quality to architecture," he said.
Inside OutSystems Two-Pronged AI Approach
Algeria shared with us the high-level vision for OutSystems.AI R&D group, as well as the first OutSystems' first set of AI commercial technologies to be added into OutSystems' low-code app development platform.
He detailed the OutSystems.AI group's two-pronged focus, which tackles different use cases for AI.
One, which OutSystems calls AI-Assisted Development aims to augment developers with AI across the software development lifecycle.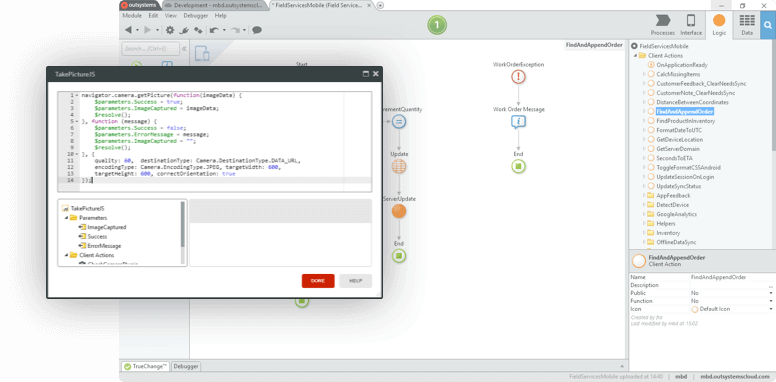 "Our goal is to imbue our product with an artificial expert that supports developers each step of the way, making them more productive, achieve higher quality, and lower the learning curve for novices,"Alegria told IDN. The user experience of AI assistive capabilities is actually a big part of our research and experimentation, he added.
The second, AI Automation, uses AI/ML to promote more innovate apps and user experiences themselves – without developers needing to have data science skills.
Here, Alegria said, OutSystems intends to "help businesses adopt AI faster in multiple use cases," including increase efficiency with automation, provide intelligent insights and increase revenues through what Alegria called " personalization and acquisition optimizations."
Due to OutSystems' dual approach, just how the AI technologies get surfaced in the product can differ, Alegria said.
That said, in all cases the intent is to make both the AI Assistance and Automation experience "as seamless and natural for novices and experts -- so we allow them to keep using their natural workflow while we augment it with giving the right suggestions at the right time or automating certain steps in a way that is understood by them," he told IDN.
OutSystems Most Recent AI Components Focus on Automated Engagement
Alegria shared details on two of OutSystems.AI most recent initiatives. His descriptions give a give a taste for what the company has in mind for how AI + low-code can power more automation, innovation and ease-of-use:
For Conversational Experiences, with OutSystems.AI Chatbot, businesses can drive efficiency and increase customer satisfaction by automating initial interactions with chatbots and equip employees with up-to-date information. The entire premise, Alegria said, to make it easy to share information and files through chat, inside an app or in a variety of text and voice channels (e.g. WhatsApp, Facebook Messenger, Skype).

For Text & Speech Automation and Insights, users can easily use the text or speech data in their app to better enable critical interactions. These could be to speed up resolution of a support ticket, improve conversations between customers and support agents. The OutSystems AI for text and speech insights can even "glean critical information such as sentiment you can use to automate decisions or provide insights to agents so they can make more informed decisions, faster," he added.
OutSystems can also leverage pre-trained, best-in-class models for its AI components. "These new, high-level components package everything organizations need to implement rich use cases from end to end. As a result, many more companies can easily adopt AI and machine learning to positively impact their business," Alegria added.
Beyond customers, the push to simply AI is also having a big impact for OutSystems partners.
OutSystems' partner IG&H, uses OutSystems low-code platform for apps in the financial, retail, and healthcare markets. "The new AI capabilities from OutSystems will enable us to add new dimensions to the solutions we provide to our clients in these industries and others," said Daniel Kuhlmann, a senior OutSystems developer at IG&H, in a statement.
Alegria also shared a glimpse into what's next.
"You're going to see our offerings continue to evolve with the ultimate goal of shattering all barriers for effectively adopting AI in your applications, leveraging the best-in-class pre-trained models, to custom use cases requiring custom machine learning capabilities," he told IDN.
The OutSystems.AI R&D investments come as Gartner predicted in a recent report, "By 2020, customers will manage 85% of their relationship with the enterprise without interacting with a human."