MicroStrategy 2019 Brings AI/ML & Sematic Technologies to BI, Analytics
MicroStrategy is kicking off the new year with a huge update to its long-time BI and analytics platform. MicroStrategy 2019 aims to deliver new levels of intelligence, self-service and mobility. IDN talks about MicroStrategy's latest version with CMO Marge Breya.
by Vance McCarthy
January 28, 2019
Tags: analytics, BI, data, integration, MicroStrategy,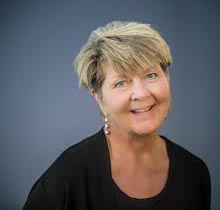 Marge Breya
CMO
senior executive vp


"I think about all the features we've brought together in MicroStrategy 2019 working together as a data utility."
Intelligent Data
Summit

Analytics, Apps & Data for Success in the Digital Enterprise
Online Conference
MicroStrategy is kicking off the new year with a huge update to its long-time BI and analytics platform – with updates to deliver new levels of intelligence, self-service and mobility.
The new version, dubbed MicroStrategy 2019, sports advances in AI, integration, auto-discovery across multiple data sources and a semantics recommendation engine.
Feature-wise, MicroStrategy 2019 sports an eye-popping number of updates – in the hundreds. Collectively, they enable speed and trust on high data volumes, for thousands of users, senior executive vice president and CMO Marge Breya.
The updated architecture leverages features for AI and self-service across a multi-node, in-memory architecture to support intelligence in sub-second responses.
[Perhaps not surprisingly, the release of MicroStrategy 2019 comes as research suggests that fewer than one-third of organizations are able to extract new value and insights from their exploding data stores and analytics apps, according to MicroStrategy's vice president of product marketing Vijay Anand.]
MicroStrategy 2019's core mission is to cut through these obstacles, Breya said, She pointed to three main areas that highlight benefits from the latest release – from both a technological and business point of view.
I. HyperIntelligence - One of the main ideas behind MicroStrategy 2019's approach is to use what it called HyperIntelligence to bring more self-service and auto-discovery to users who need quick and simple access to information dozens of times a day.
With a simple mouse-over, HyperIntelligence lets users access information, data and even KPIs about a wide range of areas -- customers, products, people, and more. No clicks or queries. Just by hovering over highlighted keywords, users see a content-rich 'HyperCard' pops up with a wide range of information, Breya told IDN.
The HyperIntelligence technology simply scans a page and automatically identifies words on the page where deeper information is available. What makes HyperCards particularly valuable is that they can 'pop up' from just about any underlying workspace – websites, email, or enterprise web apps such as Salesforce or Office 365, Breya told IDN.
The HyperCard's information is not just quick – it's deep. The data that populates the HyperCard is drawn from across a wide range of enterprise data assets – on-prem apps, data stores, websites (such a LinkedIn, Google Search, etc.) or cloud-based apps (Salesforce.com, Marketo, etc.).
Breya shared a use case: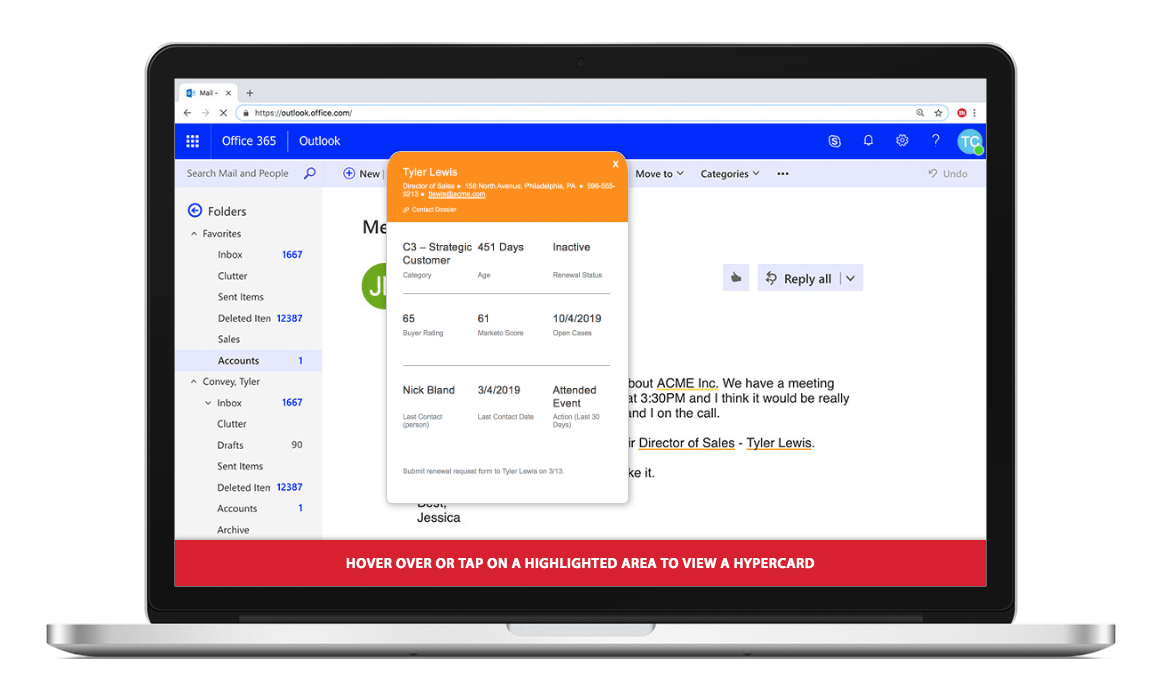 An organization can deploy a "customer" HyperCard to their sales representatives, for example. From any highlighted spot from the app (or web page, SaaS, database, etc.) where the user is working, a list of relevant information just appears. HyperCards can include name / address, order status, recent sales data, important KPIs and even next best action.
This simplicity and depth of information from HyperCards is opening up a lot of 'what if' type thinking among early adopters, Breya added.
"We're seeing with HyperCards that people are actually thinking about what kind of 'Dream Card' they could create. What is that dream piece or set of information that would help you do a better job or be that best performer?" she said. "Putting that kind of information in the hands of workers, - instant, accurate and with zero clicks is driving that kind of imagination about using data – and when that gets unlocked, it's pretty amazing."
MicroStrategy's Founder and CEO Michael J. Saylor put it this way: "With HyperIntelligence, information is self-evident. It naturally surfaces intelligence about customers, products, and employees -- with zero clicks -- at a glance on any screen, by voice or even through the lens of a camera."
One early customer noted how easily HyperCards are to build and deploy. "We built a card that included critical KPIs sourced from multiple databases and applications and had it in our users' hands – all in under 30 minutes," said Arnaud Droissart, common procurement program lead at Engie, a natural gas distribution company.
Under the covers, among the MicroStrategy capabilities that make HyperIntelligence so easy to implement are the platform's large connector library. This contains a set of more than 200 connectors that interface with a range of on-prem and cloud resources, and then retrieve data from those sources.
Also important to HyperCards appeal is the fact that they can enforce data governance and access rules. Users' privilege rights are checked before the data is presented, thanks to the deep integration HyperIntelligence has with MicroStrategy's platform services. This ensures data security and governance are enforced, Breya said.
At least one analyst is already seeing the impact of HyperCards.
David Menninger, senior vice president at Ventana Research said in a statement: "MicroStrategy's HyperIntelligence [brings] information to users as they are going about their day-to-day activities. There is no switching contexts so it allows more continuous and uninterrupted thought processes and decision-making."
II. Federated Analytics - MicroStrategy 2019's federated analytics provides analysts and business users easy access to reliable and up-to-date information. The information can be correlated from diverse enterprise data sources – and displayed in an easy-to-consume single portal UX.
It also enriches metadata content with real-time location intelligence and both content and system usage telemetry.
Under the covers, 'federated analysts' combines MicroStrategy 2019's library of 200+ connectors (discussed above) alongside new features that intelligently blend dispersed enterprise data into up-to-date, unified views. One powerful ingredient is MicroStrategy's newly-launched Enterprise Semantic Graph, a specially-developed metadata foundation.
"Enterprise Semantic Graph creates a robust business glossary, and then indexes all that information. It also consolidates all of the separate [data] sources, so that you can get that single version of truth," Breya said. "This allows us to gather and consolidate disparate sources to data - spanning all the information available throughout the enterprise - and deliver a single version of truth to an individual user."
ESG also offers intelligent recommendations - similar to what one might see from Amazon or Netflix. "Our Enterprise Semantic Graph takes its name from the 'knowledge graph' from the consumer world," Breya told IDN. "So, just like with Netflix we make recommendations for the content that user needs."
Using AI-type capabilities, information is tailored to the user persona based on the user's content usage, queries, reports and similar activities, she added. In short, EGS can refine results to a specific user by leveraging machine learning / AI capabilities to match a users' current query to prior actions and trends, she added.
Moreover, organizations can now connect other popular tools, including Microsoft Power BI, Tableau and Qlik to MicroStrategy 2019 platform.
'Every company is going to have a bunch of different kind of user preference tools. What we've done is make it so that any of the tools your employees already love, can use that tool on top of [MicroStrategy's] curated, trusted scalable platform," Breya said.
Being able to fully deliver end-to-end information – from the edge data source to the users UI/UX requires a lot of smarts in the middle tier -- data correlation, governance and security. So, IDN asked Breya where MicroStrategy sees itself in this architecture.
"We were one of the inventors of that middle, so to speak. And so for decades we've been in that business. So, I think our semantic graph is just the next step as the translation between all of the data sources -- and how a business user can get access to it all," Breya said.
Referring to the hyperintelligence, federated analytics and the extra deep support for data integration and governance, Breya summed up the MicroStrategy 2019 release this way.
"I think about all the features we've brought together in MicroStrategy 2019 working as a data utility," she said. "The semantic graph gives business users a way to logically get at the right information. And we also enforce the right security model, etc. And this all happens across multiple data sources and multiple devices."
III. Next wave of mobility.
Speaking of multiple devices, MicroStrategy 2019 also goes deep to support the next wave of mobile BI and analytics apps.
Among them, a feature the company calls "mobile dossiers." These are "interactive books of analytics" that can render on iOS and Android smartphones and tablets. These use Natural Language Querying (NLQ), which lets analysts quickly build visualizations to find insights just by typing a Google-like question into MicroStrategy.
MicroStrategy also wants to make it easy for both developers and non-technical users to build them For example, no code drag-and-drop capabilities will let business users mobilize their apps and processes.
For developers, new SDKs for iOS and Android extend MicroStrategy content into their custom apps and record the transaction using XCode or Java-Script.
Developers also have other important tools and open platform features, including Data Connector API; Mobile API for iOS and Android; Visualization SDK; among others. Developers can also leverage MicroStrategy APIs to integrate with Amazon Alexa and other voice-controlled applications, Breya noted.
How MicroStrategy 2019 'Resets' the Quest for Self-Service BI, Knowledge
In an important way, the approaches in MicroStrategy 2019 open a new dimension in the discussion over the best way to deliver self-service.
"We believe 'self-evident information' trumps self-service. That's where everywhere you look, you're getting all the info you need," and in the context the uses most needs for value, Breya said.

"Over the last few years, there's been this whole notion of self-service. The idea is everyone should: Grow your own report. Do your own visualization. Grab your own data," she said. That all may sound good on paper, but Breya pointed out there is evidence that suggests this 'freelance' way of doing self-service can actually do more harm than good.
"Increasingly this way of doing self-service has led to a lot of misinformation," Breya told IDN. "Whether it's because folks grab data from unsecured source, or they are emailing data within spreadsheets to one another -- or just using out of date and an old information.
So, for self-service to be purely productive – and not counter-productive, she suggests it needs some guardrails. Useful self-service means "you've got to have end-to-end data set that curated up-to-date and secure, " Breya said.
MicroStrategy 2019 delivers a combination of ease-of-use, wide-ranging data access, AI and guardrails. The result: an architecture that provides a more streamlined and reliable end-to-end way to obtain, correlate, deliver and govern the information users need, Breya said.