API's 'Big Mo' Continues in 2018; Jitterbit Survey Reveals New Opportunities, Wrinkles
Momentum for APIs continues to grow, with an exciting expansion in use cases, according to a survey from Jitterbit. That said, the survey also reveals that many API adopters continue to search for better ways to create, implement and manage them IDN speaks with two Jitterbit execs.
by Vance McCarthy
Tags: AI, API management, analytics, cloud, integration, iPaaS, Jitterbit,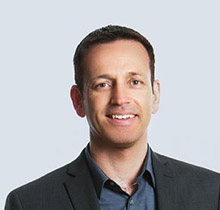 Simon Peel
senior vice president
of products


"Most developers think they have to create and manage APIs all themselves, and even do it by hand. But today, graphical implementations and automation can remove the need. . . for hand-coding."
APIs continue to penetrate the mainstream. But, the latest API studies reveal that even as companies see increasing value in APIs, and adopt them at a faster rate, they continue to struggle when it comes to implementing efficient and sustainable ways to create and manage them.
That's one of the good news-bad news findings from a recent survey from Jitterbit, a provider of API and integration solutions.
Jitterbit's "2018 State of API Integration Report" is based on responses from more than 450 companies, ranging from under 100 employees to more than 5,000 employees across more than a dozen verticals. IDN spoke with a couple of Jitterbit execs to review the mainstreaming of APIS -- and other notable findings.
The Mainstreaming of APIs – Momentum Continues To Grow
"The one thing that really stuck out for us in the survey results were the fact that you had 64% of companies already leveraging APIs in some manner -- either internally or externally. That was a pretty interesting finding," Dan Oxenburgh, Jitterbit's vice president of marketing told IDN.
Internal APIs are focused on making it easier to integrate app, data, and even business processes to get more value from on-prem and cloud technologies. External APIs look to open up new business opportunities, such as through new or larger partner ecosystems, as well as new products and revenue channels, he added.
But beyond the raw numbers, Oxenburgh also noted that stakeholders across a company are learning the power of APIs. "What I found especially interesting was we found not just IT or developers, but sales and marketing folks knew about the value of APIs. So, [API awareness] went way beyond tech heads."
On just this point, Jitterbit's reports drilled down more on how APIs are developing a favorable reputation among business users – not simply developers or IT.
"Many businesses are looking to stay on the cutting edge and break away from competitors by leveraging APIs. . . Respondents anticipated the benefits from APIs including increasing ROI from their existing investments, bringing differentiated offerings to market faster, growing their ecosystem and attracting new partners, and creating new revenue channels."
Jitterbit's Simon Peel, chief strategy officer and CMO, added some perspective to this finding.
"Over the last year, we've found business users may not know exactly what APIs are. But, they are aware of the benefits, and think [APIs] are some way to integrate," he said. "That comes I think from Salesforce," he said, where business users know they need some types of connectivity between Salesforce and other systems, such as Marketo. "Many in business know one way you can connect to Salesforce is through APIs," Peel said.
Jitterbit's survey highlighted other major API trends likely to echo throughout 2018.
CLOUD-CON
Integration & APIs

Enterprise-Grade Integration Across Cloud and On-Premise
Online Conference
I. The Breakneck Speed of Cloud Adoption.
The survey found amazing unanimous agreement when it comes to cloud. Every single respondent – fully 100% -- said they are leveraging the cloud in at least one way. Nearly three-fourths (74 percent) said they have at least three systems deployed in the cloud, with cloud adoption only intensifying. Notably, 42 percent plan on doubling their cloud deployments in the coming year.
The report put it this way:
"Data has a weight to it and where it lands, it typically stays. It's not easy to move petabytes of data from one place to another."

According to Accenture, achieving these benefits [from cloud adoption] requires pushing through one major obstacle: integration. "After the company has spun up and absorbed these new concepts and developed a portfolio of cloud-based capabilities, it needs to integrate them within the portfolio itself and across the organization's legacy environment.
While this growth in cloud adoption would seem to set the stage for companies to focus on more streamlined and easy-to-deploy integrations. At the 50,000-foot level, this might seem a logical assumption. But the Jitterbit survey found the practical reality is a bit different.
II. Integration Strategies for Cloud are 'Lacking'
Despite this love affair with cloud, "integration strategies are lacking," the survey found. Notable examples from the survey include:
More than 40% of respondents currently write code or manually enter data between systems.

Further, only one-third (33 percent) of enterprises currently use a cloud-based integration platform, preferring to continue to use on-prem integration solutions.
"For many, I think it's just that integration has always been done on-premise," Oxenburgh said. "It's just a lack of knowledge about the fact there's a better way to do it today with cloud-based integration," also known as iPaaS (integration-platform as a service).

Peel highlighted potential benefits from cloud-based iPaaS using a common use case:
A company has multiple cloud systems, such as Marketo and Salesforce to better integrate marketing and sales. It also has critical on-premise systems it wants to bring into the mix. This concept of what Pell called 'composition of platforms' needs to use integration to optimize the ways these systems can work together for the best outcome – to the customer and the company, Peel said.
He described the problem and detailed how Jitterbit has gone about to solve it using cloud-based integration.
"Cloud applications need a deeper way to tie all their capabilities together. It's not just data. There are business processes that go between [cloud and on-premise apps] and there are decisions to be made about how to best have them talk with each other," Peel said. "There's thought behind it: How do I choose which fields? How do I choose which data? How do I do 'if this, then that' to move data or trigger the next event?"
An iPaaS approach gives IT more control and visibility over these types of granular integrations. An iPaaS, such as the one from Jitterbit, "doesn't just take everything out of Marketo and shove 100% of it into Salesforce," he added.
III. API Tasks Continue To Strain Developers and IT
Yet another finding in the Jitterbit survey is that "the integration burden falls to IT" and "API creation and management is falling to developers." These facts show that despite the growing adoption of simple-to-use APIs, it's still up to IT (and developers) to create integrations and keep them running.
About half of organizations surveyed look to Central IT to integrate their systems. With most IT organizations backlogged and struggling to keep up with today's self-service deployment of "best of breed" cloud platforms, it is little wonder that a majority of respondents said they do not have a defined integration strategy.

Almost 1 in 5 companies currently leverage valuable development resources to code integrations.

A majority of organizations leveraging APIs today rely on their developers to both write and manage these APIs. 90% of respondents lean on their development teams or outside resources to code APIs from scratch.

Already burdened with coding integrations between an increasing number of new cloud applications, organizations are placing additional demands on their developers to create and manage APIs for the business.
To illustrate this point, the survey also found only 30 percent use API management tools to maintain them. And, perhaps just as eye-opening, only one-in-ten leverage enterprise iPaaS to both create and manage APIs for rapid deployment and scalability without burning through enormous IT resources.
"We see many companies using API technologies, so we wanted to know if they are leveraging the simplicity they offer," Oxenburgh said. The survey found the answer to be – not really, no.
As Oxenburgh put it: Even those companies who are excited to use APIs more and more "are still turning right back to the two groups that already have so much on their plate – developers and IT. They're saying to this already-overworked group, "Hey guys, we need you to take care of not just integration, but we also need you to create and manage all these APIs."
Hope for Easing API Stress, Strain on Developers and IT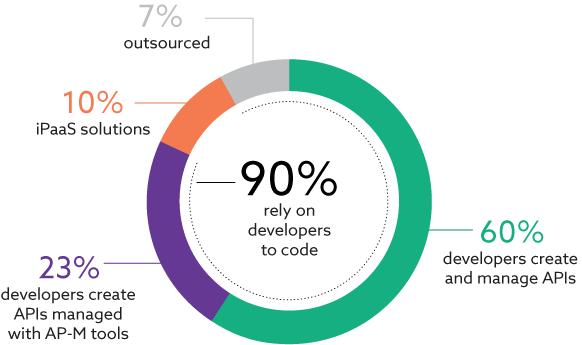 Peel said modern innovations for API-related tasks means they no longer need to be left to developers and IT. "Our survey found most developers think they have to create and manage APIs all themselves, and even do it by hand. But today, graphical implementation and automation can remove a lot of the need for written requirements and hand-coding for each API," he added. This automation is significant, as it can eliminate the need to write up to millions of lines of code per API, he noted.
Further, by connecting APIs and iPaaS with innovation and automation, it's more possible than ever to get IT, developers and non-technical business users to collaborate on integration, he added.
"The reason is that [with APIs and iPaaS] integration is being made more graphical," Peel said. He pointed to Jitterbit as an example, where it allows business users to drag-and-drop process flows and even specific data fields between applications and/or data sources by simply using a mouse to connect Salesforce with another outside app.
"You and I might look at this and say, 'That's integration.' But, business users will say, 'No, that's actually automating business processes,'" something business users know how to do today, Peel told IDN. At Jitterbit "what we're trying to do is get the developer and the businessperson together in front of a screen where [the integration task] makes sense to both parties," Peel said.
"The most interesting part of this bringing together of IT and business users is "APIs make that possible. That said, Jitterbit cautions against business users doing all integration on their own. They can take over a lot of what developers and IT do now, but those skilled staff members will still need to be involved – just take a lot less time. It's more like business-IT-developer collaboration is the driving imperative.
"We're not trying to make integration something where the business guy tries to define requirements, the developer doesn't understand the business -- and they're both look at each other saying, 'Well, how are we going to do this?' Instead, we're saying, both can look at the screen graphically and say, 'Okay. I see. We're going to start [this way] and it makes sense to both IT and business., Peel added.
IV. AI and Integration
The Jitterbit report ends with a truly eye-popping finding about the converges of AI and integration – what Jitterbit execs call 'infusing' AI into business processes, apps and analytics.
4 out 5 companies are currently using or plan to infuse artificial intelligence into their processes.

Companies believe that predictive analytics is the type of intelligence that would benefit them most by almost two-fold over other results. Even so, nearly half responded that they believed they would gain additional value from chatbots, virtual assistants and sentiment analysis. In the new global economy, it is perhaps not surprising that 1 in 3 suggested both written and verbal language translation would help them enter and support markets around the world.
"What really stuck out for us was that 4 out of 5 companies were currently leveraging AI -- or planning to this year," Oxenburgh said. In specific, 35 percent of respondents now infuse AI into business processes and another 43 percent plan to do so in the next year, he told IDN.
The number one sector was predictive analytics, he added. That said, chatbot, virtual assistants and even sentiment analysis also showed up on respondents' radar as targets for AI, he added.
"We're starting a big push to work with AI vendors and to explain to them how they can use integration to infuse their version of AI into business processes behind the scenes," Pell added. Integration is going to prove important to AI adoption, he said, "because people don't want to learn another 50 tools. But, they do want the goodness that you can have from AI [and AI tooling]."
This connection between and AI may not be obvious to most companies looking to adopt AI or machine learning – but the awakening is coming.
"The people who spend the most time thinking about AI at a deep level understand that delivering AI value quickly will turn out to be an integration problem. That's because AI will not be stand-alone, AI will be fused into their important systems, whether it be Salesforce, HubSpot, Marketo to make these systems more intelligent," Peel noted.
In fact, there's recent research to support Peel's observation.
He cited a recent Gartner study on machine learning asked some 700 IT professionals what they expect to focus on. Integration was one of the top ranked items. "Integration ranked almost double over the time people expect to spend on design or consulting. That's exciting," Peel said.