Appdome Can Add Security, Identity and EMM Services to Mobile Apps with a Few Mouse Clicks – and No Coding
Integration is proving a key to speed up mobile app rollouts. Appdome's mobile integration platform can add security, identity and management to any mobile-ready app in under 30 seconds – with mouseclicks, no coding. IDN talks with Appdome CEO Tom Tovar.
by Vance McCarthy
Tags: Android, Appdome, EMM, identity, integration, iOS, microservices, mobile, security,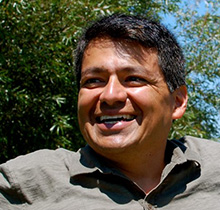 Tom Tovar
CEO


"Appdome Fusion literally 'fuses' the mobile app with third-party services or SDKs -- without the need for coding."
Mobile + IoT Summit

Your Guide to Building the Connected World
An Online Conference
One of the biggest problems facing enterprises going mobile in 2018 is much the same problem it was in 2017. Too many apps lacking critical services before they can launch – and not enough resource (budget, time, or developers).
An innovative mobile integration platform from Appdome aims to tackle the issue. Appdome aims to help companies accelerate the rollout of mobile apps by making it easier to add third party services such as security, identity and mobile management – all without coding.
"Appdome enables the rapid integration of multiple third-party functions to apps, shortening the deployment cycle and connecting mobile apps to other services in a codeless operation. Tom Tovar, CEO of Appdome told IDN, "It's really as easy as a 1-click operation. No source code or development expertise is required."
"Appdome works as a SaaS-based mobile integration workflow platform in the cloud, Tovar said. It sports an easy-to-use microservice architecture presented behind an easy to use web front end. Developers simply upload their .ipa (for iOS apps) or APK (for Android apps) to Appdome. One this mobile app code is in the Appdome environment, users simply select the services they want to add – via the click-friendly Appdome UI, he said.
Appdome was designed to solve two main problems, according to Tovar:
Developers are looking for a faster, more efficient, more productive ways of getting services in the apps right.
Companies often want to add services to third-party apps, but they don't have source code access
"Appdome's combination of a microservices architecture with a simple web GUI creates an automated integration capability which the company calls 'Fusion,' it treats the services (or SDKs) to be added to mobile apps as 'classes of discrete objects or functions within [an application] model,'" he told IDN.
"Put simply, Appdome Fusion literally fuses the mobile app with services or SDKs without the need for coding," Tovar said. "This makes it as easy as possible for customers to enhance existing mobile apps with a wide variety of best-of-breed solutions with simple mouse clicks."
"Appdome technology does not require source-code implementation," Tovar said. "Everything is done at the binary level." The net result is users get a solution that is much more stable, much more ready for large-scale environments.
Once the user selects the add-on features they want, Appdome also ensures all the additional capabilities required to launch and run those added services are also automatically integrated with the app. The result is a new app binary, which can run on iOS or Android, Tovar said. This detailed approach under-the-covers creates a tight-yet-flexible bond between the existing mobile app and a range of new functionality (service, SDK, etc.), he added.
This Appdome capability brings up an important point. This 'code-free' capability applies to both the mobile app, as well as any third-party vendor service a company want to add to their apps, Tovar said. Further, to make the simple click-driven integration happen, Appdome intelligently creates microservices adapters (MSA), which are designed to work with each granular function within an SDK or service class.
Tovar shared an example:
"A user may want to add an identity to their app. Appdome may have hundreds of MSAs for an identity service we're working with, and this lets the user add this service to their mobile app without coding. Instead, the user clicks a button 'Fuse My App,' along with "some basic configuration," Tovar said

At that point, Appdome dynamically generates a code base based on these user choices to implement those choices. "About 22 seconds later the user gets a full implementation of that SDK into that application, as though the developer had manually coded that to the application itself. In effect, Appdome dynamically generates the code needed to add that service to the app from those adapters."
Besides integrating software services into a mobile app, Appdome can also add other "app-hardening technologies," Tovar added. "So we seal the application with things like anti-tampering, anti-debugging, total code obfuscation (to obfuscate the entire binary). We encrypt strings and preferences and things of that nature -- all that's kind of packaged up."
In addition to saving on time and the need for developer talent, Tovar said customers are finding other benefits - among them: fewer errors in coding, lower IT support burdens and faster time-to-market.
Appdome provides access to a library of popular services, all MSA-enabled so they can be quickly integrated (via mouse clicks) to home-grown or third party apps. Among them: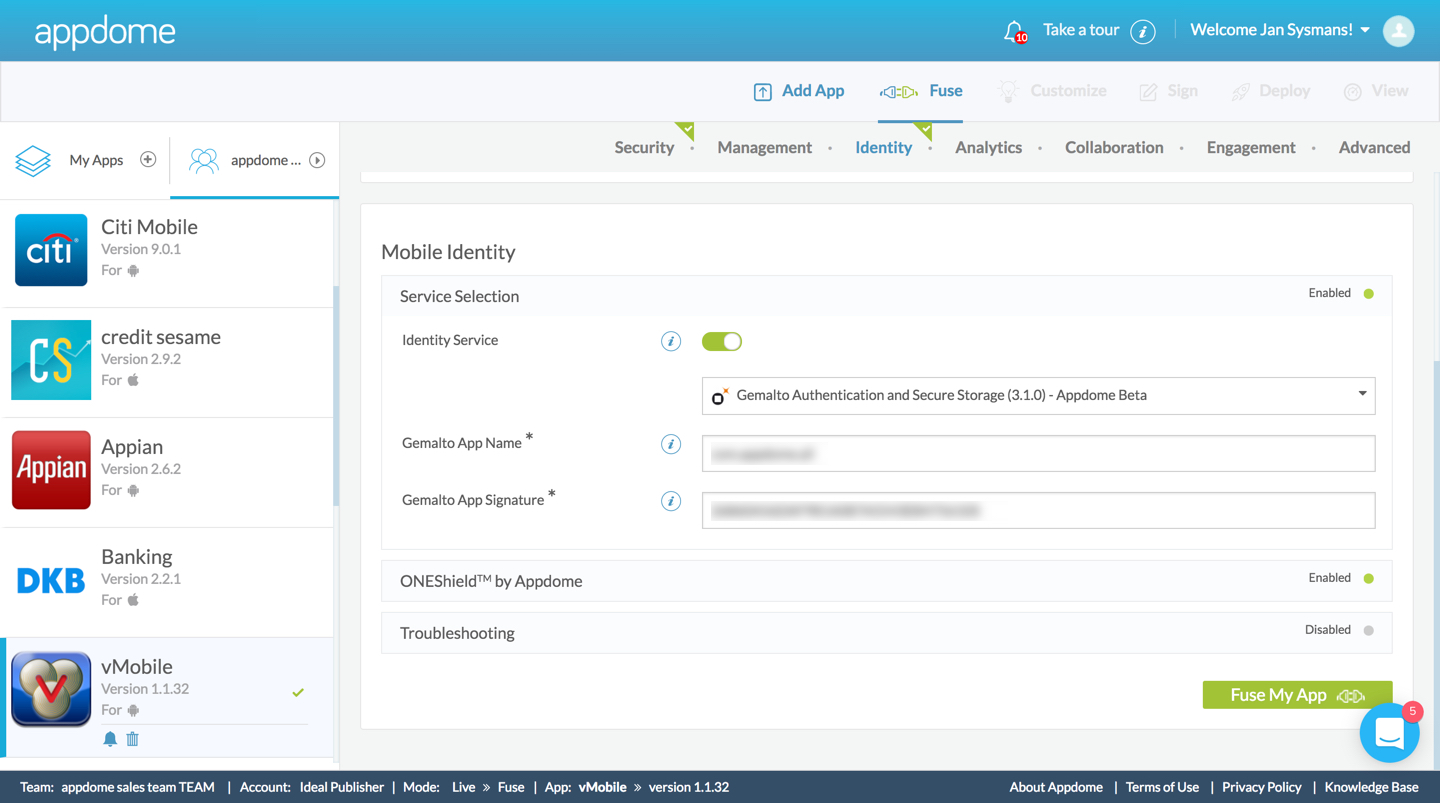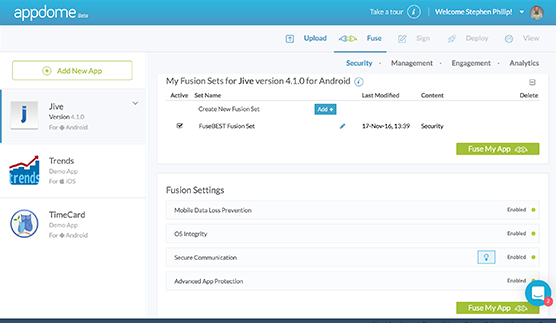 Appdome Security Suite
ONEShield
TOTALCode Obfuscation
Appdome Mobility Suite
BoostEMM
Mobile App Pre-Authentication
Single Sign-On
3rd party mobile services and SDKs now in production also include:
ONE-AppConfig by Appdome MDM
BlackBerry Dynamics EMM
Airwatch EMM
MobileIron EMM
IBM MaaS360 EMM
Microsoft InTune EMM
Appaloosa MAM
Synchronoss EMM
Gemalto PKI Authentication
BehavioSec app learning and tracking
F5 Anti-Bot
Critterciscm stats and analytics
BlackBerry Enterprise Messaging Service
Appdome is likely to recruit more software add-ons as third-parties discover they too can benefit from Appdome's no-code approach.
"Through our relationship with Appdome, Gemalto's MobilePKI SDK can now be fully embedded into any application in a matter of seconds. This is a big advantage for developers who want to quickly build a sophisticated security solution without additional software installation or heavy customization," said Francois Lasnier, senior vice president of authentication products at Gemalto.

Gregory Vigroux, Gemalto's mobile security solution marketing manager told IDN, "We had to do absolutely no coding ourselves [to work on the Appdome platform], and it has greatly improved our reach with customers. It dramatically reduces the sales process, so that customers can subscribe to Gemalto today -- and tomorrow deploy the app into production."
"Every app on the planet is compatible with Appdome today. For home-grown apps, developers simply upload their .ipa or ADK. For third party apps, Tovar recommends customers work directly with the ISVs to get access to the binaries. "There's no work on the part of the ISV in order to make that app ready. All that customers need to do is reach out to their ISV of choice as the licensee and customer of that service and request access to the binaries.," he told IDN.
Analysts are also seeing benefits in this type of technology. For example, an analyst report on MAM from Gartner recently noted, "Multivendor app augmentation — or introducing new features and new capabilities into existing consumer and enterprise apps — is an emerging class of MAM tools that inject management and security controls from multiple vendors into enterprise apps."