10 Years After the iPhone, Axway Survey Reveals Top Mobile User Requests – and How APIs Can Deliver Them
To commemorate the iPhone's 10th anniversary, Axway commissioned a survey to examine the state of smartphones -- and what's next on mobile users' wishlists. IDN talks with an Axway exec about APIs big role in the future of mobile apps.
by Vance McCarthy and Yves de Montcheuil (@ydemontcheuil)
Tags: APIs, apps, Axway, iPhone, mobile, survey,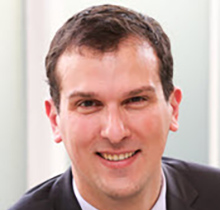 Stephane Castellani
senior director
product marketing


"APIs can extend battery life for mobile users. Also, APIs have a direct impact on app performance."
CLOUD-CON
Integration & APIs

Enterprise-Grade Integration Across Cloud and On-Premise
Online Conference
Coinciding with the 10th anniversary of the launch of iPhone, Axway commissioned a survey to examine the state of smartphones, and perhaps more importantly what's next on mobile users' wishlists.
"We decided to examine the role smartphones now play in our daily lives with mobile apps and APIs that create immersive experiences and increasingly convenient services," explained Jean-Marc Lazzari, chief executive at Axway. "We see this trend as the inherent evolution and growth of customer experience networks and the smartphone will be the key."
Shipments for smartphones are expected to reach almost 1.9 billion by 2018, a tenfold increase from the amount of shipments in 2009, said Shravanthi Reddy, Axway's product marketing director for enterprise application development solutions in a blog post.
This means almost one-third (31 percent) of the world's population will have a smartphone by the end of this year, she added, a figure that was at less than 10 percent in 2011.
With this acceleration of smartphone adoption, Axway Reddy also pointed out in his blog
To meet the growing needs of the consumer and to survive and thrive among the competition, smartphones are going to get even smarter in future. What's more, they're going to change the way we experience the actual world, transforming our surroundings into an ever-connected, informational environment
Following from this theme, Axway's survey also explored the growing sophistication of smartphone use – and the inevitable demand for new capabilities among the growing user base.
Axway CEO Lazzari offered his views on the impact of smartphones on digital transformation in a written comment:
People often talk about digital transformation, but in the case of the iPhone it really did change the game by not only redefining the mobile phone, but also the way we all experience digital services in today's demanding experience economy that is blurring our personal and professional lives.
Axway's Smartphone Survey Reveals Ties Between Users' Wishlists and APIs
Axway commissioned international research firm Research+Data Insights (RDI) to conduct the online survey, which gathered responses from 1,200 smartphone users in the United States who use Apple, Android and Windows devices.
Most notably, the survey found that consumers value data security and privacy over cool new apps and features, prefer mobile apps to new voice activated services like Siri and Alexa, want to send messages instead of talking, and believe that extended battery life is the key to enhancing the mobile user experience.
In more detail, the survey explored the following areas.
Security and Privacy: the survey found that data security and privacy is top of consumer's wish list for future smartphone updates. 69 percent of smartphone owners want smartphone development to focus on data security and privacy as opposed to cool new apps and features.

Apps: while the industry conversation increasingly focuses on voice-activated services such as chatbots, the survey found consumers do not want to give up their mobile apps. 62 percent of respondents said they would not give up all their mobile apps for a voice-activated service like Siri that works perfectly every time.

Usage patterns: Over the last 10 years the smartphone has unified a range of different consumer devices - everything from music players to games consoles and maps - and redefined the very definition of a phone. The survey asked consumers to rank the top ways they use their smartphone. While 70 percent cited messaging as a top use case, only 62 percent cited phone calls. Email (54 percent), social networking (51 percent) and camera (37 percent) were also in the top five use cases.

Desired improvements: To determine what consumers think is going to make the most difference to the mobile experience, the survey asked consumers what would be top of their wish list for improving the smartphone experience in the future. Battery power was far and away the top priority for consumers with almost half (48 percent) putting it at the top of their wish list. Next were wireless charging (15 percent), increased durability (10 percent) and greater connectivity with other devices (8 percent).
While consumers of mobile apps aren't aware of APIs, they can have two, even three, profound impacts on the quality and usefulness of a mobile app, Stephane Castellani, Axway's senior director of product marketing told IDN.
In specific, APIs can optimize caching for end user experience and energy consumption. "APIs can have a very real impact on how much energy an app consumes in operation. So, written correctly, APIs, can extend battery life for mobile users. Also, APIs have a direct impact on app performance," Castellani told IDN.
API design and operations are key to delivering on these two critical benefits for reasons of just how most mobile apps work. "What many don't know is the most energy an app requires comes from the call [from the local device] back to the network," he said. So, writing the best APIs – and knowing when not to call back to the network – almost always help with high-performance and long battery life, Castellani explained.
"Just as developing a web front end and a mobile front end are different, we believe APIs suit different app needs. APIs built with Axway can optimize the mobile payload and also define and detect what [backend] connections are most important," he said.
But beyond that sometimes the best approach to an API is to know when not to use one at all. "Intelligent caching should also be part of mobile app development," Castellani also noted. "Unless you're doing something like [stock] trading, where you need real-time data, apps can leverage local storage and get cached data." The result is also better performance (and user experience) and low energy use, he added.
Beyond these two core considerations, there is a third aspect of APIs that benefits mobile app: responsiveness and innovation.
Today companies need a flexible, quick-to-adapt app infrastructure for designing and delivering mobile apps, he said. "The one constant we see from this survey, and our own customer experiences, is that users are always looking for more, faster and better. Companies need a flexible platform that allows developers to more quickly react to customer needs, as well as business goals. APIs are crucial to that ability."
To illustrate that constant push to 'What's the next cool app?' the survey also asked what the smartphone would replace within the next two years,
Topping the list: ATM cards (37 percent), followed by tablets and laptops (28 percent and 27 percent respectively), and even car keys (21 percent).
Complete survey results can be viewed through an infographic on Axway's site.
Axway is holding Axway Spark 2017, a half-day virtual event worldwide on November 16.