Jitterbit's Latest Cloud Integration Update Takes 'Citizen Integrator' To a New Level
Jitterbit's latest cloud integration platform update, Harmony Winter '17, takes self-service integration to a new level -- with a simple interface, smart recipes and more. It's all designed to help turn non-technical users into powerful 'citizen' integrators. Jitterbit execs tell IDN why without self-service integration, the tasks that will build out the digital enterprise just won't scale.
by Vance McCarthy
Tags: APIs, citizen integrator, cloud, connectors, IFTTT, integration, iPaaS, JDBC, Jitterbit, SaaS, self-service, ODBC, REST, UI,
Andrew Leigh
vice president


"Companies must find new ways to build thousands more integrations going forward. The only way [to scale] is to enable the business users to do the connectivity themselves."
CLOUD-CON
Integration & Web APIs

Enterprise-Grade Integration Across Cloud and On-Premise
Online Conference
Jitterbit's latest update to its cloud integration offering takes self-service integration to a new level with an interface that lets non-technical users easily handle a collection of key integration functions.
Jitterbit's latest iPaaS (integration platform as a service) update takes the concept of citizen integrator seriously – putting the name right in the offering. Harmony Winter '17 Citizen Integrator, combines consumer-level ease-of-use with a rich set of functionality that can deliver sophisticated integrations for a wide range of cloud and on-premise apps. Beyond making it easy to design integration, Harmony Winter '17 also sports centralized management and monitoring to support ongoing IT governance.
"Jitterbit's iPaaS combines a do-it-yourself integration experience for everyday business users with a powerful design experience for developers, all running together on a single cloud platform," Andrew Leigh, Jitterbit's vice president for marketing and alliances told IDN.
This iPaaS approach scales to delivering integration to hundreds (thousands) of non-technical users. It also provides a single platform that gives IT what it needs – the ability to maintain centralized governance and control over the integrations.
Inside Jitterbit's Self-Service Upgrades To Enpower 'Citizen Integrators'
Jitterbit calls its new layman interface the 'Citizen Experience.' It leverages the powerful wave of API-driven development with an intelligent platform that lets IT and non-IT users visualize and collaborate on how integration works for company assets – apps, data and services. Leigh took us on a tour inside Harmony Winter '17.
"APIs are quickly becoming the connective fabric of business," Leigh told IDN. "IT departments need new ways to provide employees with certified ways to quickly connect APIs at a pace never before possible. We'll see that trend continue in 2017 as business users need to become more empowered to mix and match their applications and data, and control the connections between applications."
APIs alone are not enough to empower an army of 'citizen integrators,' he added. They also need "a platform to allow IT departments and CIOs to see and understand the API connections that are created across all users of their systems."
Because Jitterbit's 'Citizen Experience' is built to leverage a single platform, it also gives IT departments a central place to govern all connections and integration projects.
Jitterbit's 'Citizen Experience' tool is built to work like IFTTT, a tool that lets consumers bring services together into their own personal applet, Leigh said. In that context, many Jitterbit users have already shown they have the skills to be 'citizen integrators,' and he explained how.
"Many users have used consumer integration self-service tools on their own in their personal lives like IFTTT. For these users, the Jitterbit 'Citizen Experience' will be very easy to use," Leigh told IDN. "It consists of a set of application icons users can filter and list available recipes for that app." Jitterbit also makes it easy for users to get started, having created 50 'recipes' for popular integration workflows in this first release.
Jitterbit believes so strongly in this 'citizen integrator' persona that the company plans to release more than 1000 recipes by the end of this year, he added. "Any Jitterbit integration project can now become a recipe. We heard from our customers that prebuilt solutions and recipes were their preference when initiating an integration project" he added.
These pre-packaged recipes can be sealed and made broadly available to a large base of employees, partners and customers as part of a managed collaboration between integration experts and non-technical users.
Under the covers, Leigh took us through the two keys to Jitterbit's ability to empower self-service with its interface and huge recipe cookbook.
Features of Jitterbit's cloud-based iPaaS architecture. "What's unique is all recipes and integration projects can now be developed and shared via the same cloud platform because they share a common definition based on Jitterbit's Jitterpack technology. This delivers a more collaborative and sophisticated 'citizen' option that can span more enterprise needs including hybrid integration and even API management," Leigh said.
Further, the Jitterbit Integration Environment (JIE) uses a standards-based approach that includes native support for all the major transports and protocols needed to communicate and connect to popular enterprise systems. Among these capabilities:
ODBC / JBDC connectivity to all major databases
Widely used internet protocols (e.g. HTTP(S), FTP, S/FTP, SMTP and POP3)
Complete XML and Web Services support and Hosted Web Services, which lets Jitterbit receive messages triggered by events.
Jiterbit's design-time technology, Jitterbit Studio. Recipes are "created" with Jitterbit Studio, which provides the same experience for integration developers that has been used by both ISVs and the internal enterprise IT organizations for a decade, he added.
Jitterbit Says without 'Citizen Integrators' the Digital Business Just Won't Scale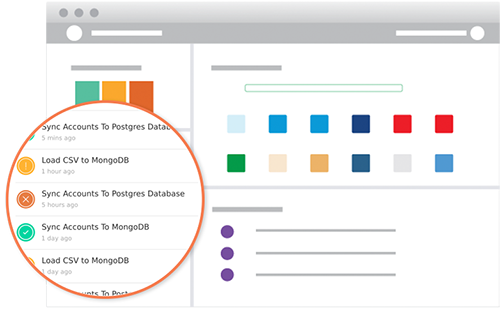 The 'citizen integrator' is a phrase used by some analysts to describe a powerful self-service option for integration. That said, many non-IT or business users still find concepts of integration tough to master – or don't think integration should be part of their job.
We asked Jitterbit about why they are so bullish about the 'citizen integrator,' and what add-ons in Harmony Winter '12 will make the 'citizen integrator' a real phenomenon.

The over-arching reason Jitterbit execs are so bullish about the success of the 'citizen integrator' is one harsh reality: Without the citizen integrator, the digital enterprise (and their apps and data need for integration) simply won't scale.
Jitterbit CEO George Gallegos put it directly this way: "The ability to scale out technology quickly can be the difference between winning or losing with digital business. Jitterbit's new platform empowers companies to succeed with fast, flexible and secure integrations across the entire organization."
For Leigh, 'scale+iPaaS+recipes' is simply part of the equation needed for digital business success. "Scale is the missing link as companies must find new ways to build thousands more integrations going forward. The only way [to scale] is to enable the business users to do the connectivity themselves," Leigh said.
"Traditional integration approaches fail to meet modern businesses' need to scale out integration capacity to handle the thousands of connections required to support digital business. The answer is to scale out integration capabilities [using an iPaaS] to all employees, expanding access beyond the domain of a limited group of integrators that's common today," he added.
It's not just enterprise IT looking for scale – it's system integrators, consultants, SaaS providers and traditional ISVs, Jitterbit's vice president for engineering, Ilya Pupko, added. "We heard from several ISV and some SIs that they needed a way to offer integration directly to their customers but they did not want to build it themselves."
For Jitterbit, the growing demand for easier integration – fueled by the reality that integration is at the heart of many digital business projects -- means that 'these citizen integrators' will drive scale, productivity and success. Jitterbit execs point to a growing recognition by analysts of this reality.
"Gartner defines citizen integrators as: 'business users with no specific IT competencies…", Leigh noted, "which also describe (perhaps not coincidently) many companies' top 'power users' of popular business apps (CRM, marketing, productivity apps)."
He added, "these power users are from the business – not IT or developers. As competitive companies continue their transformation to become digital businesses, I believe business users are the only way to reach the scale of connectivity required for digital business."
Leigh further noted often these 'power users' can't afford to wait for IT when they need a solution. "Given that urge by 'power users' to just fix-the-problem, companies will "find ways to empower [their] business users to connect information from across edge systems and core business systems, because information delivers more value when it's not stuck in silos," he said.
Then, there's the undeniable influence from the 'consumerization of IT,' he added. Consumers are used to easy access to powerful content and capabilities -- YouTube, Facebook, Snapchat, Pinterest, Uber – even their favorite mobile banking app.
"People have consumer mindsets outside of their workplaces, accustomed to one-click access to anything they want. They have rapidly adopted integration technologies that make it simple to connect everything from music to TV, social apps, calendaring and everything in between. There is no reason why consumers shouldn't demand that same do-it-yourself integration in the workplace for the applications they use most often," he added.
Other Jitterbit iPaaS Updates Support an End-to-End 'Integration Lifecycle'
"Beyond making integration easier for non-IT 'citizen integrators,' Jitterbit also answered other big requests from users / prospects," Pupko said. Many of these respond to the need to ensure integrity across the 'lifecycle' of an integration with monitoring, management and governance features, he added.
"Many, if not most, of our clients continue to maintain on-premises systems and thus run in a hybrid mode, with the Jitterbit Agent directly installed within the client network," Pupko stated. "One of the benefits they get from this hybrid model is offsetting of some of the certain key functionality (such as resilience HA, failover, load balancing, backup, monitoring, etc) from the 'local' agent, back to Jitterbit Cloud," he added.
"In Winter 2017, we have expanded this set of features and are now allowing customers to enable full remote management of the local agents, such as ability to drain stop any of the agents under their control, to even remotely re-configuring them, again, without ever having to access the actual local box," Pupko said.

Jitterbit's iPaaS can now also remotely manage and audit production projects without ever having to open Jitterbit Studio up. Pupko shared an example of why this feature was a top ask from customers.
"One such use case is a large enterprise where the 'development' team does the authoring of the projects, but another team does the actual QA, and yet another deploys to production and manages production projects (not just environments/servers)," he said.
"This new set of functionality automatically backs up previous versions of already deployed projects, inquiries for any configuration changes (i.e. production Oracle login changed), and then deploys the project to any number of environments all in one easy step, without any impact to the project design, let alone ever having to open Jitterbit Studio. It also automatically audits for any and all changes, so customers are able to go back and see who modified what, when, and how, as well as provide such audits for their own compliance and certification," Pupko added.
Other notable upgrades to the Jitterbit Harmony Winter 17 include
Operations Management: New enhancements throughout the platform for customized configuration of collection, presentation, and notification of activities, errors, and other logged information.
Project Management and Control: New tools and features to help customers deploy, manage, test and audit integration projects to avoid costly mistakes ahead of production.
Design: New features that extend and flex integration designs, including scripting functions, expanded global variable support, and more.
Expanded Connectivity: New capabilities added to existing NetSuite, Salesforce, SAP, Workday, Web Services, OData and JMS connectors.
Scalability and Performance: More than 60 performance enhancements to enable bigger loads and more integrations.
Jitterbit 'Harmony Winter '17 is immediately available now. Current Jitterbit users are automatically updated. New users can try Jitterbit Winter Harmony free for 30 days.