Survey: Lack of Attention To "People Issues" Can Derail Your Digital Transformation Project
Digital transformation can seem like a challenging juggling act – bringing together new technologies, data, integration and security for the business and the customer – all without breaking today's systems. But, a SADA Systems survey reveals people issues -- or 'change management' -- also can be a big drag on digital success.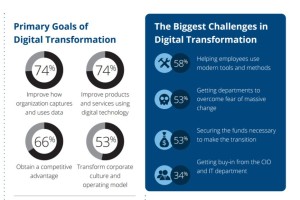 Digital transformation can seem like a challenging juggling act – bringing together new technologies, data, integration and security for the business and the customer – all without breaking today's systems.
That said, a survey from SADA Systems reveals some often-overlooked people problems – fear of change, poor teamwork and lack of training -- can also be a big drag on digital success.
SADA Systems 2016 Digital Transformation Survey polled 350 IT professionals found digital transformation is a high-priority, but even then, such projects don't always go so well. One noteworthy survey stat: Only one-in-four (23%) IT departments said they were "satisfied" with the outcome of their digital transformation project.
Among the top problems cited in the survey: a lack of people training (31 percent) and even lack of total buy-in where 27% of IT staff admitted that some on the team didn't want to make the transition in the first place.
So, to SADA execs, evidence from the survey reveals a successful digital transformation requires attention (and budget) for both technology AND people. The latter can be addressed with a "change management' plan.
In support of this conclusion, SADA's survey found that among those groups where digital transformation projects faced some challenges, fewer than one-in-five (18%) had allocated budget for 'change management' staff support. SADA's survey further helped pinpoint areas where "change management' can especially smooth digital transformation projects:
57% said their biggest challenge was helping employees use modern tools and methods.
53% said their biggest challenge in completing a digital transformation was getting non-IT departments to overcome a fear of "massive change."
While digital transformation was an "extremely high" priority (49%), many projects suffered from poor internal communication, education and training.
More than one-fourth (27%) said their digital transformations "would have gone better" had their organizations focused more on insuring communication between IT staff and employees.
22% said there should have been better training and education of employees.
14% "complained" about a lack of technical support for the use of new digital tools and operational methods.
"We weren't surprised to find that companies are aggressively pursuing digital transformations, but we didn't expect as much concern in the areas of education, training, communication and adoption," says Tom Marek, Practice Director for the Microsoft Enterprise Solutions group at SADA Systems.
"Digital transformations are too expensive, time-consuming and important to be left to chance. Companies must constantly work with employees to help them understand and use new tools and methods. This isn't the sexiest part of the transition, but nothing matters more in terms of a positive outcome," he said.
To Marek, the survey shows that companies must be willing to commit to heavy-lifting when it comes to "change management" – not just technology spend. The two investments working together "ensure a smooth and successful transition," he said.
Marek shared some practical advice, based on SADA's experience with customers, as well as customer insight they gathered from their recent survey:
"In order to get digital transformation right, IT must work closely with line-of-business leaders to truly understand the needs of end users. Every minute spent on this task is worth it. The result will be faster application development and a quicker path to the final goal of a usable service for business.

We also believe strongly that digital transformation continues long after new services are rolled out. This includes change management specialists, who offer custom training and guidance around each new tool, as well as support for end users who encounter problems.

In the end, the best way for companies to overcome a massive fear of change when pursuing digital transformation is to provide small, quick wins to end users. Show them prototypes of the solution and walk them through the designs. Ultimately, you are working towards securing champions internally that will help you roll out the new toolset and become a sort of 'internal shadow support team' that can help their peers with the change.
Bearing out SADA's survey conclusions, a recent Gartner report found that successful 'change' initiatives require IT investments be backed-up by time and money to support communications, training and processes for people. In fact, Gartner went so far as to suggest that for every $1 invested in innovation; companies should budget an addition $7 more to support and deliver core execution.
SADA Systems, Inc. is a California-based business and technology services firm with expertise in cloud platform migration, application development, managed services and change management.