Software AG Updates Apama Open Source Streaming Platform To Accelerate IoT Apps
Software AG is adding a new IoT Analytics Kit to its Apama Streaming Analytics platform to help developers more easily build and launch Internet of Things apps. The offering will a free add-on to Apama's open source community edition.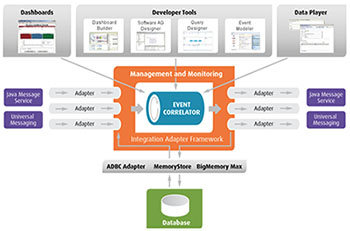 Software AG is offering a no-fee open source solution to help developers seeking to more easily climb aboard the fast-rolling train for Internet of Things apps. Software AG is adding a new IoT Analytics Kit to the open source community edition of its Apama Streaming Analytics platform.
The Apama Community Edition's new IoT Analytics Kit aims to let developers build and deploy streaming analytics apps that tap into data from IoT devices and endpoints, according to Jeremy Hill, Software AG's global director of product marketing & strategy.
It also acts as an ARM-based "edge' gateway or device, Hill said, adding "Apama Community Edition contains most of the functionality and features of the premium version and enables developers to develop and run small- to medium-sized scale proof-of-concepts, projects and applications."
Key Benefits of the Apama Streaming Analytics Platform
Predict what is likely to happen next: Identify and act on future risks and opportunities using predictive analytics. Leverage historical and real-time data to forecast what's ahead. Drive higher-quality business results, by improving speed, content quality and accuracy of decisions.
Increase operational visibility: Gain a continual view of your processes. Monitor SLAs continually and predict when they may be breached. Correlate events from many sources, breaking down organizational silos. All in all, your organization can filter, aggregate, analyze and present on a continual real-time basis.
Make instant decisions at scale: Respond immediately to millions of customer interactions, identify and prevent fraud, stay in continual compliance with risk controls and regulations, maximize electronic trading opportunities, analyze and act on Internet of Things (IoT) sensor streams.
Empower business and IT: IT users can increase their efficiency by using the leading solution in its space rather than low-level coding. Business colleagues gain the autonomy to create and parameterize streaming analytics scenarios. The platform's support of extreme scale and performance on commodity hardware enables more use cases with a lower TCO.
A key kick-starter to Software AG's IoT Analytics Kit are project samples, complete documentation and reusable event-based analytics microservices which developers can use (and reuse) to build rich and smart IoT applications, Hill noted.
Examples of Apama's analytic microservices for IoT apps include ability to: calculate a 'normal' range of numeric values; create an alert when target ranges have been exceeded or breached. Other data-sensitive analytics microservices are available for threshold breach, missing data, quasher, variance, and gradient, he added.
Software AG's IoT analytics kit for apps comes as companies are increasingly looking for faster and easier ways to extract meaningful insights from exploding volumes of streaming IoT of data they can access.
A post on Apama's open source project's web site describes IoT use cases for streaming analytics:
Streaming analytics enable organizations to monitor large volumes of information in real-time to spot significant yet complex patterns of events. This allows you to respond to them intelligently and immediately while it's still possible to do something to influence the outcome.

An example of this might be a water supplier measuring water flow in the water mains. By looking for differences in water flowing in and out of different parts of the system, they can spot and locate water leakages and burst pipes instantly. This provides the opportunity to temporarily reduce the water pressure in that part of the network to reduce water loss while sending a team to fix the leak before a member of the public notices it.
Apama Community Edition with the IoT Analytics Kit runs on Raspberry Pi and comes with a plug-in that leverages the GPIO (General Purpose Input/Output) pin on the Raspberry Pi computer. This allows other devices to connect seamlessly, Hill added. Apama Community Edition and the IoT Analytics Kit ships free under the Apache License v2.0.
Under the covers, Software AG's Apama Streaming Analytics platform is built on an in-memory architecture that enables real-time processing of large data data volumes, including streaming. The platform can capture data from any device with low latency. Then, it performs analytics on this streaming data, including referencing historic information where necessary, to identify business patterns that have happened or are about to happen.
The Apama Streaming Analytics platform's visualizations and visual analytics provide powerful support for making sense from IoT data and streams for both human and automated intelligent actions, thanks to some powerful capabilities, including:
Rich analytics, including filtering, correlation, aggregation and pattern detection with time and location constraints
Predictive analytics support to speed deployment of predictive analytics models
Enrichment of streaming data, adding context from historical data for deeper, richer analytics
Visual tooling, real-time visualizations for business end users, s analysts
High-performance messaging for mobile, web and IoT, along with support for MQTT and AMQP standards and protocols
Support for extreme scale and performance, In-memory architecture
Operationalization of predictive models
Flexible deployment -- on local, server or cloud platforms
The Apama Core Community Edition Runtime allows developers to build applications on top of Apama Community Edition and then distribute these applications free of charge.
Developers can learn more about Apama Community Edition and the IoT Analytics Kit.