MapR Looks To Accelerate Analytics Apps; Adds Event-Driven Microservices to Converged Data Platform
Analytics apps are in high-demand. MapR Technologies aims to make it easier and faster to build and launch these apps, by bringing event-driven microservices to its Converged Data Platform.
by Vance McCarthy
Tags: analytics, APIs, apps, big data, blueprint, converged data platform, data, developers, Hadoop, JSON, MapR, microservices, streaming,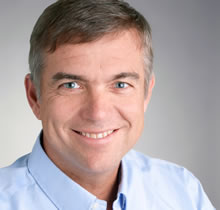 Jack Norris
senior vice president


"MapR's approach to microservices will make it faster and easier for developers to leverage data and events."
Enterprise Security
Summitt

Secure Apps, Data and End Users for the Digital Enterprise
January 26, 2017
An Online Conference
Most every company investing in business analytics continues to look for new ways to work with growing data varieties in huge volumes - and across far-flung locations. That said, these same firms are still finding it hard to keep up with exploding demand for faster -- even real-time - analytics apps to drive the business.
Engineers at MapR Technologies have devised a solution to this vexing problem by turning to an innovative approach: Microservices.
Specifically, MapR is bringing event-driven microservices to its Converged Data Platform, which unifies Hadoop, traditional datastores, streaming data and events. These new microservices and accompanying APIs are designed to remove complexity and accelerate many key tasks for analytics app developers, IT operations and even analytics end users.
"How data is shared, managed, protected, and delivered is a major constraint to many companies' ability to deliver effective analytics apps. With these microservices for the Converged Data Platform, we've really focused on improving what is now a highly-complex and time-consuming development process," Jack Norris, MapR's senior vice president for data and applications told IDN.
By improving the development process, Norris says MapR's approach of microservices + CDP will also benefit other stakeholders. "Our approach to microservices will make it faster and easier for developers to leverage data and events, particularly for real-time and mission-critical apps, many other benefits kick in down the line -- for deployment, monitoring and managing these apps," Norris added.
Thanks to microservices and accompanying APIs, MapR exposes a wide variety of capabilities to developers. This removes much of the underlying complexity of working with data, and makes it so much easier to tap into many CDP capabilities. Further, it's easy for these microservices to work together to drive event-driven outcomes, thanks to the CDP framework, he stated.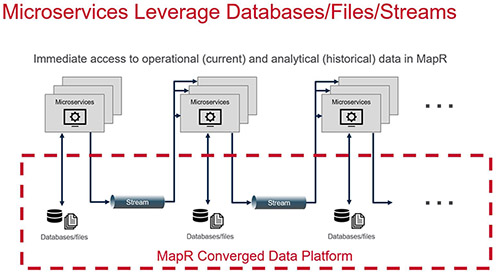 Norris pointed to 3 key advantages MapR's recipe of event-driven microservices + CDP brings o analytics apps.
Agile Microservices App Development: Thanks to integrated file, database, and streams functionality, requiring fewer lines of code.
Simplified Monitoring/Management: Easier maintenance across entire deployment lifecycle, including application/data versioning.
Publish-Subscribe Framework: Low latency messaging as the foundation of microservices.
These and other features will benefit key stakeholders across the analytics apps lifecycle, he added.
For Developers: Faster and easier ways to combine file, database, document, and streaming analytics functionality in their apps. "With a single line of code, developers can easily persist complex data types with JSON in MapR-DB, so they can focus on developing innovative features," Norris said. "We saw customers spending 50% of their time working with JSON files and loading them into MapR DB. So, we said let's make this simpler."

Developers can also use microservices to easily combine machine learning and analytic functions directly on the data, Norris added. Further, they can readily design apps that can access and work with data, no matter the physically location. "A developer doesn't have to understand how to get data or changes. All that can be grouped into a microservice volume, and you can version the microservice and all the dependent data," he said.

For Testing: Microservices support a wide array of sandbox testing (including A-B and multivariate) to enable rapid machine learning model development and optimization. Microservices-specific volumes are also available for application versioning, simplifying the development lifecycle and production deployment.

For Provisioning: MapR is combining the power of microservices with containers. For this group, MapR's microservices will work with CDP's support for agile and containerized app development on Docker. "This approach makes it easy to move and lift from dev to production," Norris added.

For IT Operations: Customizable dashboards are on offer, with a rich set of easy-to-implement capabilities to monitor and manage cluster hardware and software operations, utilization, and service logs, he added. Microservices also add support for complex hybrid cloud (multi-cloud) use cases, thanks to CDP's capabilities for global message service, global data namespace, bidirectional data flows (with loop detection), and elastic scale.

For End Users: Developers can now think a lot more about ways to improve the customer experience, and not need to focus lots of time on all the complicated backend tasks, Norris said.

"With a little more time and energy to focus on end users, we're expecting IT can have more end-user drive conversations," he said, sharing a few examples, such as: How can developers improve the ways end users work with [analytics] apps? Could we experiment with new data feeds or data source? Should we trigger more interesting events based on the data?
To further boost the value from microservices, MapR is also delivering a Converged Application Blueprint to help speed the development of innovative applications. Included in the Blueprint is application source code to demonstrate how microservices combine to form a converged application that captures high speed streaming data, persists the data for historical analysis, and provides real-time analytics.
The blueprint's goal is to give developers a guide to help them bridge continuous operations and analytics more quickly and effectively, Norris added. It includes: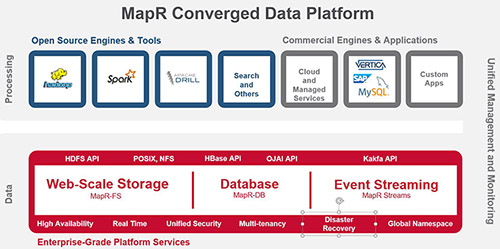 Example applications with source (available for commercial use)
Architecture guides, including for microservices
Community-supported best practices; Shared expertise
At least one analyst agreed that by adding microservices to its underlying CDP, MapR is creating a strong synergy of technologies to address some key barriers to better (and faster) analytics.
"How [data] is shared, managed, protected, and delivered is a major constraint to the successful creation and deployment of applications, particularly real-time and mission-critical applications. The key is to combine operations with analytic processing," according to Robin Bloor, chief analyst and co-founder of Bloor Group.
Under the covers, MapR's microservices are designed leverage file, database, and even streaming services. They also take advantage of CDP's publish-and-subscribe framework to integrate both data-in-motion and data-at-rest.
End users are looking forward to digging into MapR's latest analytics technologies.
Manny Puentes, CTO, Altitude Digital: a firm offering a video advertising platform. He wants to quickly develop enhancements and deliver data agility to customers. "Event-driven microservices provide a critical capability to help us be more agile, adapt quickly and drive value to our customers," he said in a statement.
MapR Converged Data Platform, both the community edition and enterprise edition, are available now with event-driven microservices.