Azuqua Helps IT Regain Agility and Control Over Complex Software Workflows
Azuqua is shipping an update to the integration platform to give IT more control over software in a hybrid world. Azuqua orchestrates all software -- packaged, cloud and custom-built – as well as the data it includes.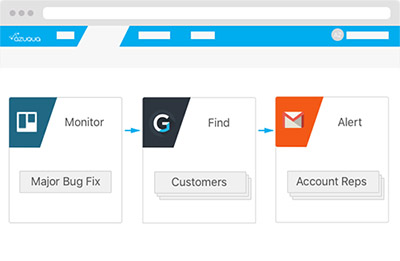 The hybrid IT world, driven in large part by cloud-based SaaS applications that require little more than a credit card swipe to implement, has created a fragmented ecosystem of critical data. Even as business teams look to take more control, their moves are creating disparate resources that now can't be governed by long-successful IT-built workflows.
Azuqua is shipping an update to the Azuqua integration platform to put IT back in control of these workflows. It will orchestrate all software – packaged, cloud, custom-built -- used by the enterprise, as well as the data it contains. The result: Azuqua brings together best-in-class tools in a cohesive and manageable way, according to Azuqua's CEO Nikhil Hasija.
The Azuqua platform is provided as a subscription and runs in the cloud, but offers on-premises connectors to unify all enterprise software resources.
"Azuqua now allows IT to govern how the business teams use commercial cloud apps, access critical data, and even leverage homegrown software on their own. Not only does IT become a more efficient and therefore trusted owner of software, developers can also build their own apps faster with Azuqua. We're helping enterprises create more responsive IT infrastructures," Hasija said in a statement.
The latest features of the Azuqua platform include:
Custom API Integration: easily connect to any custom built API
Scheduled FLOs: workflows that are scheduled to run periodically. Great for weekly data syncs for reporting, hourly systems checks, quarterly reviews, etc.
List Processing: actions for each record in a list. The list might include all stakeholders on a project that need to be notified whenever a task is completed or a list of customers that need to be segmented for a specific email.
File Handling: automatically append, migrate, update, and extract files in any SaaS application that can receive it (like a Salesforce documents library or a Jira project) and synchronize files with a file management tool (e.g. Box, Dropbox, Egnyte).
Specifically, the Azuqua platform adds functionality to let IT teams connect commercial cloud applications with internal systems and microservices. The capability is not simply a point-to-point integration approach, but empowers enterprises to create custom, complex workflows and integrations, Hasija added. This approach allows IT to quickly build enterprise applications, manage critical IT infrastructure, and govern software within lines of business, he said.
In a post on the company's blog, Hasija provided more background on the changes that were brought to market with this new version:
"We've revamped Azuqua's technology in order to further develop our product by improving usability, restructure the foundation to better handle the scale that we're now operating at, meet the reliability requirements of our customers as we grow, and to bring you many new features that you've been asking for."
"Azuqua's primary focus is on delivering the solution that your specific business needs: no matter how complex, custom, or critical the scenario," he added in a statement.
The Azuqua platform is articulated around a concept of FLO - a workflow built on Azuqua. Each FLO has one event that starts it and can perform any number of the following tasks:
Synchronize Data Across Apps: provide up-to-the-minute accurate data to each application.

Automate Critical Workflows: eliminate the lag between getting information from one department to the next and improve the quality of that information.

Unified Views for Easy-to-Know ROI: pull in data from everywhere and puts it into the system that you use to report in the way that you need to.
Azuqua offers a free 14-day trial of their platform.