Kony's Latest Update to MobileFabric Tackles Mobile, IoT Backlogs & Complexity with Microservices, Business Objects
Kony Inc. latest updates to its MobileFabric MBaaS brings tackles two of the biggest causes of backlogs for mobile and IoT projects. IDN speaks with Kony's Burley Kawasaki to understand the power of how microservices and business objects speed and simplify development, and promote reuse.
by Vance McCarthy
Tags: analytics, APIs, apps, backlogs, Kony, IoT, MBaaS, microservices, middleware, mobile, MobileFabric, objects, REST, security,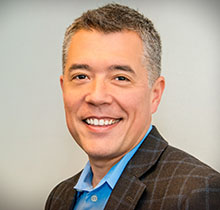 Burley Kawasaki
senior vice president


"Kony is offering a new level of abstraction that takes traditional MBaaS complexity out of the way. This means your app developers can just focus on the application."
Mobile + IoT Summit

Your Guide to Building the Connected World
September 29, 2016
An Online Conference
Kony Inc. is supercharging its MBaaS to tackle head-on two of the biggest causes of slow progress and backlogs in mobile and IoT app development -- too much complex coding and not enough reuse.
"Even using APIs, writing mobile apps remains complex, and often requires a lot of developer effort to write app logic on the client and map to the backend," Kony senior vice president Burley Kawasaki told IDN.
To address these issues, Kony MobileFabric 7.0 is bringing together three powerful technologies -- microservices, models and objects. Engineered to work together, Kawasaki said these three allied technologies provide developers a low-code, model-driven approach that removes many hassles and complexities – including working with multiple APIs, invoking integration, doing data transformations and many other gnarly issues.
The result: Far less complex coding, far more reuse and faster builds, integrations and deployments for mobile apps, he said.
"Kony is offering a new level of abstraction that takes traditional MBaaS complexity out of the way. This means the majority of your app developers are now freed up because they don't need to know the intricacies of SAP BAPIs or web service APIs. Rather than focus on low-level integration and transformational code. They can just focus on the application," Kawasaki explained.
Kony MobileFabric works by enabling developers to quickly define or automatically generate application data models -- and then map those to a set of backend content sources for rapid data integration, modeling and object development.
Inside Kony's Push to Modernize MBaaS into a Modern Mobile App Factory
Bottom line, Kony engineers set out to deliver a foundation platform that brings together all the best of assembly-line types of efficiency and automation to mobile and IoT apps. As mobile apps become so much more crucial to businesses, and with IoT coming on fast, it's time mobile app technologies take the next step to remove a lot of the deep-in-the-weeds programming that can delay, or even derail, a project, Kawasaki told IDN.
"To eliminate the spaghetti mess of point-to-point integrations, we need a common foundation, a platform of mobile middleware that provides easy access to data or business processes for mobile app developers," Kawasaki told IDN. For Kony, a driving architectural approach to this goal is to decouple the front-end UI and UX from the back-end concerns -- and make it far easier from front-end developers to request, identify, access and integrate their cool apps with needed backend data, services and processes.
With that context, Kawasaki took us through Kony MobileFabric's recipe for the next-gen of mobile and IoT success:
"First, one needs a consistent way to pull together all your enterprise data into a reasonable API set that exposes and optimizes them for mobile," he said, adding "But that's just the first step."
Beyond this, users will want to combine their data and processes with new mobile-centric services, which are what Kawasaki called "super important so your developer doesn't have to build them from scratch." Even beyond these considerations, we also want to orchestrate all these assets.
Kony MobileFabric's incorporation of microservices, models and business objects is not just a big science project. Kawasaki shared that Kony was driven to take on looking at ways to improve MBaaS architectures after discussions with long-time users, who shared some of their suggestions for improvement.
Talking to customers, Kony found that while stand-alone APIs had some benefits to mobile app developers, more could be done to boost productivity and accelerate mobile app launches.
"We were seeing people benefit from APIs and by having better tools or services. But that just didn't translate into as much speed or reuse as we thought. So, we discovered that [developers] can build on low-level, granular backend REST objects or APIs to get some advantages. But, in the end, much of the complexity to the application developer still remained," Kawasaki said.
At its heart, Kony MobileFabric's inclusion of microservices and object technologies, presents a new standards-based reference architecture for what Kawasaki called a 'mobile app factory'.
"History has shown – from mainframe to client server to web – that model-driven approaches provide the fastest and most efficient application outcomes for business. Kony MobileFabric 7 provides modular app assembly capabilities [to allow] 'app factories' to meet your business demands," said Dave Shirk, president of products, strategy and marketing at Kony in a statement.
Technically speaking, to smooth app development, Kony MobileFabric 7.0 can automatically generate proxies or stubs to complicated objects that might entail using multiple APIs or services from different locations, he said. "So, the client developers don't need to know the entire complexity of semantics of the backend system. They just link to the higher-level object," such as customer, product or whatever.
Beyond microservices, the Kony MobileFabric 7.0 sets out a standard architecture that includes a wide range of other functionality crucial to the mobile lifecycle, Kawasaki said, including: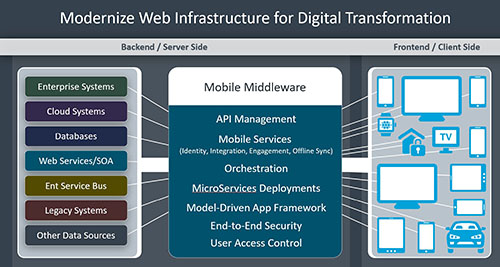 API Management
Mobile Services (identity, integration, offline synch)
Orchestration
Microservices Deployment
Model-Driven App Framework
Analytics
Management
Built-in End-to-End Security (including SSO, Identity Management, User Access Controls)
"Mobile apps have hit maturity. Companies build their businesses on them. So, today companies are actively looking for best practices, reliability and consistency," Kawasaki told IDN. "To us that means we need to take out some of the 'art' [in mobile app development], and bring in some 'science.'"
"Innovation is great, but it should be focused on user experience, what the user touches and feels. Not on how developers connect to the backend. That should be easier and more efficient," Kawasaki added, and shared an example:
Say a developer wants to build a 'look-up' function for a mobile app. With only a collection of discreet APIs, developers would still have to write a lot of application code to make multiple API calls -- and then likely stitch together multiple APIs from different backends and put all that data or workflow into a format the app could use, Kawasaki said.
Perhaps even better for ROI from mobile apps, Kony's approach to 'business objects' means that IT and business can better collaborate to create reuseable abstract objects that accurately reflect those components of a mobile app that business focuses on – and developers will like use again and again (customer, product, account, etc.).
Under the covers, Kony MobileFabric 7 provides a platform for a set of enterprise-grade mobile infrastructure services that can be more easily integrated to drive mobile app front ends.
The approach used in Kony Mobilefabric 7 enables developers to define or automatically generate application data models and then map them to a set of backend content sources for rapid data integration, modeling and object development.
"Kony is providing a radically new approach to mobile application development with the next generation of application services, and a new model that leverages object-based techniques," said Dave Shirk, president of Products, Strategy and Marketing, Kony, Inc.
"History has shown – from mainframe to client server to web – that model-driven approaches provide the fastest and most efficient application outcomes for business. Kony MobileFabric 7 provides modular app assembly capabilities [to allow] 'app factories' to meet business demands. This is a huge advancement for enterprise mobility."
Kony MobileFabric Also Ready for IoT
Internet of Things is also part of Kony's vision for microservices, Kawasaki added. Some 80% of organizations have IoT projects today, and many are already driving top-line revenue.
Mobile app architectures of today are not built to anticipate all of today's modern mobile app needs, and new ones right around the corner," Kawasaki said. "You have to anticipate a range of devices and a range of experiences, such as watches, and all variety of personal devices – even kiosks or cars."
"The starting point to a lot of IoT apps will be extending your mobility infrastructure. We've added capabilities [to Kony MobileFabric] to talk to intelligent devices via HTTP or CoAP protocols," he said. This lets users combine IoT data with data from backend systems, and allows mobile users to engage and interact with all that data right from their apps. "Mobile apps will be an important window for IoT" and MobileFabric's latest updates have IoT support in mind, Kawasaki added.
Kony's addition of IoT support to MobileFabric comes as the company released a survey that found mobile developers admit to facing obstacles when writing apps for wearables and connected devices,
In a survey of more than 230 app designers and developers, Kony found approximately two-thirds of them admitting working on IoT apps "is a challenge" – or will be one for them within 12 months.
Two reasons were cited as main causes of frustration, each scoring more than 60%:
Complexity (both design and development)
Lack of clear vision among all stakeholders
Other obstacles were also mentioned by respondents, including:
Poor communication between (front end) developers and (backend) IT (40%)
Lack of resources (37%)
Complexity of omni-channel design & development (37%)
Lack of vision:(approx 25%)
"Forward-thinking enterprises are eager to take advantage of the wealth of new devices and form factors entering the market today, but capitalizing on these innovations remains a challenge for today's mobile app design and development teams. To meet this demand, designers and developers need next-generation creative tools that allow them to more easily adapt their apps to a broader range of interfaces, screen sizes, and capabilities, Kony's Shirk added in a statement.
To access the full report visit: The Next Frontier in Cross-platform Mobile Development: Wearables and Connected Devices
A test drive or free trial of Kony Mobilefabric is available.