Latest Syncfusion Upgrade Accelerates Any Time, Anywhere Enterprise Dashboards for Real-Time Business
Aiming to make it easier for IT to provide dashboards for real-time business, Syncfusion, Inc. is shipping a major update to their Syncfusion Dashboard Platform. IDN looks at the latest upgrades.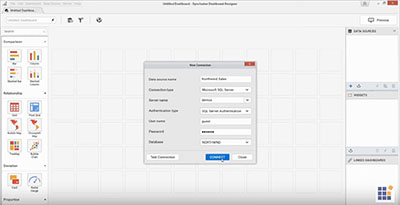 In the age of data and analytics, companies no longer have the time or inclination to build hand-crafted static dashboards that can take days to implement. Users want their data now. They expect to see quick refreshes (or real-time views) from anywhere.
Aiming to make it easier for IT to provide dashboards for real-time business, Syncfusion, Inc. is shipping a major update to their Syncfusion Dashboard Platform. The latest version sports visuals with a modern design and mobile functionality," said Daniel Jebaraj, vice president at Syncfusion. "Dashboards created with the platform represent the current trends of 2016 and are perfectly at home on today's devices," he stated.
Jebaraj explained why the latest edition of the Syncfusion Dashboard Platform is "transformational" for consumers of data and analytics.
"It is becoming increasingly vital for companies to deploy dashboards across the breadth and depth of their organizations. . . Today, these dashboards are perhaps the most important piece of software deployed, since they allow stakeholders to get a reading on vital metrics at any time."
A blog post at the site details how Syncfusion's updates make it much easier to get consolidated views via the simple import a wide array of datasets – from various locations - into the dashboard platform.
"Create in half the time with a drag-and-drop designer. Pull your data from a growing list of sources. Share with your peers—or the whole world—with just a few clicks," wrote Syncfusion's digital strategist Jordan Chavis.
Beyond ease-of-use, Syncfusion's latest dashboard platform sports other enterprise-focused benefits, including a more modern design, improved security, support for big data – and most importantly to many customers – more speed, Jebaraj added..
One Syncfusion customer in the oil and gas industry used the product to modernize a system it had in place to display failures in automated testing. The prior system was just too slow for the customers' need for quicker results, according to Jebaraj. Using the Syncfusion Dashboard Platform, this customer can now generate reports in seconds – rather than up to 45 minutes to generate a single report, he added.
Key Features of Syncfusion Dashboard Platform
Wide Variety of Data Sources: All the commonly used data sources, including Microsoft Excel, CSV, SQL Server, Spark SQL, Oracle, MySQL, SQLite, Access, Salesforce, JSON, Microsoft Azure Table storage and RESTful web services are supported.
Analyze Big Data: Connect to all data with live querying of Hadoop. Integrate SQL query engines like Spark and Hive in combination with the Syncfusion Big Data Platform.
Business User Friendly: The drag-and-drop friendly dashboard designer application makes it possible for business users to compose and publish dashboards without any help from IT.
Rich Selection of Widgets: All the widgets commonly used in business dashboards, including a variety of charts, gauges, maps, treemaps, and grids have been included.
HTML5 Powered: Dashboards are rendered using HTML5 so the only requirement for end users to view dashboards is to have a modern browser installed.
Embed Dashboards Within Your Applications: Syncfusion Dashboard Platform ships with a powerful server application for managing and sharing dashboards.
Data Stays in Servers: The dashboard server can be hosted within a local network or on secure cloud servers so all data remains secure.
A free trial of the Syncfusion Dashboard Platform is available here. For small organizations, the platform is available at no cost under the Syncfusion Community License