BigPanda Adds Search, Integrations To Help IT Ops Control 'Monitoring Chaos'
With more data to keep track of – and more monitoring tools that often don't talk to one another – it can be hard for IT to quickly pinpoint the root cause of an alert. BigPanda's latest rollout adds scale and new integrations with popular tools to speed 'mean time to resolution.'
When a problem materializes in a datacenter it's not always clear when or where the failure occurred. As a result IT operations teams may frantically search through tens of thousands of alerts from multiple tools to identify the root cause.
BigPanda is updating its Alert Correlation Platform, to help IT better navigate and manage the explosion of IT data they receive while maintaining a healthy infrastructure at scale.
BigPanda attacks head-on one of the more challenging problems on today's expanding digital and hybrid infrastructure. With substantially more data to keep track of - along with multiple tools that often don't talk to one another - it can be difficult and time-consuming to pinpoint the real root cause of an alert. In fact, it often can feel like looking for a needle in a haystack.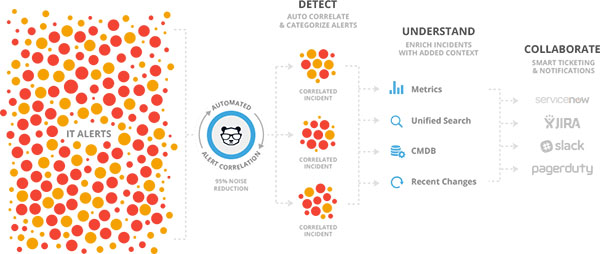 BigPanda's CEO, Assaf Resnick, stated the company's Alert Correlation Platform sports features to let enterprise IT improve existing operational processes to better unify and visualize monitoring data across their organizations. The platform offers capabilities to drastically reduce 'mean time to resolution' and increase overall uptime, he added.
In specific, BigPanda's latest platform features are Unified Search and Incident Dashboards.
Unified Search is a new way for Ops teams to access alert data from all of their monitoring sources, eliminating the need to conduct parallel investigations within each monitoring tool.

Using BigPanda Unified Search Ops teams can avoid time-consuming and often-frustrating searches. Users can search historical alerts even if the original monitoring tool does not retain that data and automatically find related incidents that were previously resolved or may still be open.

Incident Dashboards provide an at-a-glance representation of operational health. The new feature allows organizations to visualize the health of applications, services, and infrastructure areas with personalized dashboards that enable them to be aware of and respond more quickly to issues that can impact the business.

This also helps Ops teams answer questions about the overall health of their operations and environments, and compare them to historical trends. Each dashboard can be customized with specific indicators including incident counts by status, the percentage increase or decrease of active incidents, and how the volume of active incidents changed over time.
BigPanda uses data science to analyze massive volumes of IT alerts from fragmented clouds, applications and systems and turn them into actionable insights.
In a recent blog post, BigPanda's Mala Ramakrishnan, senior director of product marketing, described what the company means by Alert Correlation Platform:
To maintain operational visibility in modern IT environments, companies are abandoning monolithic monitoring solutions from legacy vendors in favor of a modern set of "best of breed" monitoring tools. Today's average IT monitoring stack consists of about 6-8 tools, including at least one from each of the following categories: systems monitoring, end user monitoring, application performance monitoring (APM), error detection, log analytics, chat, and ticketing.

When service disruptions occur, operations engineers face a flood of alerts across different layers of the IT stack with no fast way to figure out what's really going on. Customers are left stranded while IT professionals struggle to detect, triage and remediate urgent issues. Downtime abounds which negatively impacts revenue, performance, and brand loyalty.

Alert Correlation Platforms are a proven solution to this challenge. They intelligently gather alerts from fragmented monitoring tools and deliver high-level insights that operations teams can quickly understand and act upon. Correlating alerts accelerates incident resolution, which leads to less downtime and happier customers. Investing in the right alert correlation platform may very well determine how much time your CEO spends apologizing on social channels to customers about unresolved outages.
BigPanda's Latest Integrations To Correlate Views, Tracking
BigPanda builds upon a long list of integrated modern and legacy tools, adding integrations with Atlassian JIRA Software and HipChat, as well as Splunk and Datadog:
Atlassian's JIRA Software and HipChat: BigPanda enables users to automatically create tickets based on intelligent correlated incidents, which helps them save time, reduce ticket clutter, and get a real-time view of what's happening so they can deliver better customer service and more reliable apps. In the latest release, BigPanda supports a two-way integration with JIRA Software. This means customers who track development tasks now have the ability to automatically resolve BigPanda incidents when JIRA tickets are closed.
Splunk: BigPanda's aggregation engine normalizes alerts into a single consolidated incident management center and analyzes all alert streams in real time, intelligently grouping them into a simplified list of high-level incidents. This allows the Ops teams to detect critical issues faster. The BigPanda App for Splunk is now available in the Splunkbase App Store.
Datadog: BigPanda's integration with Datadog's cloud monitoring service makes it easier to combine the two systems and synchronize Datadog alerts with BigPanda incidents. BigPanda features like Environments, AutoShare rules, and Operational Analytics can now be used to help Datadog customers monitor infrastructure and reduce the time required to investigate and resolve issues.

BigPanda already offers integrations with popular tools, including Amazon CloudWatch, Nagios, New Relic, AppDynamics, Pingdom, SolarWinds and Site24x7
A free 21-day trial of BigPanda can be requested here.