Couchbase Update Aims at Simplifying the Transition from Relational to NoSQL
To help meet growing demands from enterprise IT for easier ways to adopt non-relational databases, Couchbase, a leading NoSQL provider, is shipping a new release of its server technology with some eye-catching features.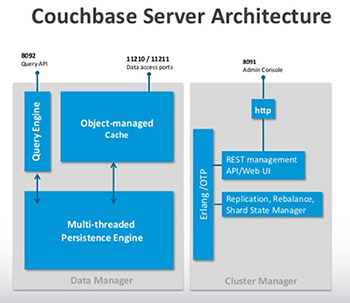 To help meet growing demands from enterprise IT for easier ways to adopt non-relational databases, Couchbase, a leading NoSQL provider, is shipping a new release of its server technology with some eye-catching features.
Couchbase Server 4.5 is designed to enable enterprises to adopt NoSQL by leveraging their SQL experience and RDMBS technologies. It comes with an enhanced version of the Couchbase SQL-based query language (dubbed N1QL, pronounced "nickel"). It also sports new graphical tooling to let users visually explore data models and quickly build ad hoc queries.
The latest update follows Couchbase's GA launch of Couchbase Spark Connector. Couchbase NoSQL database together with Apache Spark stream processing enables applications to get smarter, faster. (See below)
Couchbase's latest release also offers more performance, security and support for popular container architectures.
Put it all together, and Couchbase 4.5 will make it easier for enterprises to undergo digital transformation – especially thanks to features that let IT leverage their vast amounts of current SQL-based skills and technology investments in relational database technology, according to Ravi Mayuram, Couchbase's senior vice president of products and engineering.
The Couchbase Server 4.5 technical documentation highlights the value of N1QL for developers:
Couchbase Server can be queried by using N1QL, an expressive, powerful, and complete SQL dialect for querying, transforming, and manipulating JSON data. As SQL, it's immediately familiar to developers, who can quickly get started developing rich applications. Unlike other NoSQL databases, Couchbase supports JOIN operations, which enables a wide range of data models. To help users develop rich applications with agility, N1QL is supported by a rich index infrastructure and also has extensions that allow it to handle heterogeneous documents with nested structures. N1QL is accessible to a full range of tools for analytics and data integration via JDBC and ODBC, such as Microsoft Excel, Tableau.
Couchbase's N1QL Query Language Smooths Transition to NoSQL
Couchbase just recently introduced its N1QL query language, first available in Counchbase Server 4.0. It is designed to allow developers and admins use their existing SQL skills to access and query JSON data. Couchbase Server 4.5 builds on N1QL, adding features that make it easier for users to introduce NoSQL into their existing architecture:
Query Workbench – A built-in query editor for writing and executing queries in N1QL and immediately viewing the results. Query Workbench makes it fast and easy to run ad-hoc queries on the fly.
Auto schema discovery – Allows data modelers to visually explore and understand the shape of their data, and lets admins easily manage data even as it quickly changes. This makes it easy to evolve from the structure of relational to the more flexible JSON format.
Query monitoring and profiling – Admins can monitor individual queries and the nodes running queries to discover diagnostic and performance details, enabling faster troubleshooting.
Couchbase Server 4.5 Boosts Performance, Security and More
Beyond N1QL enhancements, Couchbase Server 4.5 includes several performance improvements, valuable for many use cases that use complex queries. Among them:
Memory-optimized global indexes – Lets developers build global indexes using a highly optimized, in-memory and lock-free data structure. This delivers faster, fresher indexes and high performance queries under very high data modification rates.

Array indexing – N1QL's support of array processing within queries has been extended – now it's possible to create an index of array elements ranging from plain scalar values to complex arrays or JSON objects deeply nested in the array, further improving query performance.

Flexible Joins – N1QL has been extended to support new query optimizations that more efficiently handle joins, increasing performance of these queries by orders of magnitude.

Fast partial reads and writes with JSON documents – Allows data in a document to be added, removed or modified within a document – without the application having to read and write the entire document. This results in better network utilization and faster reads and updates for large documents.
Couchbase Server 4.5 also has improved security, including the use of X.509 certificates. This provides strong and trusted on-the-wire encryption for client-server communications. The upgrade also offers role-based access control (RBAC) for administrators.
For modern application architectures, Couchbase Server 4.5 also includes production certified support for Docker and Red Hat OpenShift container platforms to promote scale and performance.
Couchbase Server 4.5 is available for download.
Couchbase Powers Lightning-Fast Data Exchange Between NoSQL and Spark
The Couchbase Spark Connector enables ultra-fast streaming data exchange between Couchbase NoSQL and Apache Spark – reducing time to insight and time to action.
Joining the two popular big data technologies will make it easier to quickly deliver analytics through web, mobile and IoT applications, according to Couchbase director of Big Data product management Will Gardella.
Web, mobile and IoT applications store and process massive amounts of data, Gardella pointed out. When effectively leveraged, these huge data volumes can deliver great customer experiences and create enormous competitive advantages. Apache Spark can quickly and scalably extract data insights, while the Couchbase operational database platform can quickly turn those insights into action.
"The Spark data processing engine and Couchbase NoSQL database are a natural fit to perform end-to-end, real-time data analytics. Integrating these two memory-centric technologies via the Couchbase Spark Connector provides a compelling Big Data solution that can dramatically improve overall business success for Digital Economy businesses," Gardella said in a statement.
Execs from Databricks, the team that created Apache Spark, praised the work by Couchbase.
"By combining the power of open source Apache Spark with Couchbase, organizations will be able to exponentially increase the value derived from their Big Data," said John Tripier, senior director of business development at Databricks. "We are excited to see Couchbase extending the power of Apache Spark, by making it easier and faster for their customers to gain performance advantages from the insights they derive from their Big Data initiatives."
The Couchbase-Spark integration supports a number of popular use cases for using quickly-available analytics and insights. These include: real-time coupons and product recommendations; fraud detection; IoT sensor-driven failure detection, intrusion detection for security needs and more.
The Couchbase Spark Connector is available for download.