SmartBear Updates Ready! API Testing Solution for Microsoft Developers; Extends API Virtualization
With APIs a key aspect of digital business projects, SmartBear Software is shipping an update to its Ready! API 1.8 testing framework with support for Visual Studio developers, along with other new features.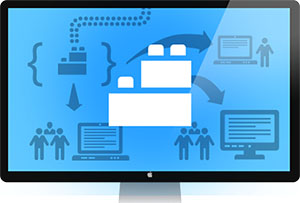 Now that APIs have become a key enabler of the digital economy, SmartBear Software is doing what it can to help developers of all stripes ensure quality of their APIs by bringing its Ready! API testing framework to API developers using the most popular coding languages in the world.
SmartBear's Ready! API 1.8 testing framework adds support that lets Visual Studio developers using the .NET Framework to test and ensure quality of their APIs – directly from within their development environment, according to SmartBear vice president John Purcell.
As testing obligations continue to spread throughout API development and test organizations, it's not reasonable to force developers to change how they work with the tools they know, Purcell noted. In fact, the opposite must happen: the tool should support these new API-focused trends, he added.
SmartBear's API tools help teams deliver accurate, fast, and secure APIs via functional testing, performance testing and post-deployment monitoring. The addition of API testing capabilities for Microsoft developers follows similar in-workspace functionality Ready! API added for Java developers using popular tools, including Eclipse and IntelliJ, among others.
In a recent blog, SmartBear product marketing manager Nikhil Kaul, detailed the benefits of providing API support across multiple developer environments:
Having a test framework that scales across operating system and devices is critical. To reduce maintenance costs and create solid test automation strategy, focus on creating more unit tests, followed by API tests, and then fewer UI tests. In case you are someone looking for insights into how to go about building a test design, this could be a good starting point.

Most importantly, many of these applications you deploy on .NET core will have numerous API dependencies. As a result, API functional, load, and security testing should be a part of your strategy.
Other Ready! API 1.8 Upgrades
The latest Ready! API 1.8 upgrade also includes key improvements to both desktop and server components to simplify and improve API quality. Organizations can:
Move to more comprehensive, multi-component, real-world API testing by importing simple tests into SoapUI NG Pro.
Eliminate inter-organizational dependencies by putting API virtualization in the hands of every developer and intuitively manage more granular routing rules across ever-larger numbers of Virts in ServiceV Pro.
Acknowledge everyone is accountable for API security and make it easy to quickly find and diagnose security vulnerabilities at a deeper level using Secure Pro.
Ready! API is designed to provide a rich "API lifecycle' approach to API testing. It delivers a rich set of capabilities that let users visualize, validate functionality, virtualize them for agile testing and monitor them for availability and high-performance.
As a result, users receive these benefits to their API testing practices:
Projects: create and maintain all the information relating to projects (tests, API configurations, tools, etc.) in one place. All of the Ready! API tools work seamlessly with projects as defined here.
Metrics and Reporting: Ready! API uses a central reporting function to support all of its tools, ensure availability of the best and most current data, no matter which actions the API is performing.
Plugin Manager: Ready! API's plugin architecture makes extending the tool fast and easy. Use the plugin browser to find and install all available plugins, or use the Java/Groovy based framework to build one's own.
Script Support: Ready! API provides many options for scripting, using either Groovy or JavaScript as the scripting language. Script support and management is central to the platform and can be leveraged across all tools.
Discovery: watch HTTP traffic in the Ready! API internal browser or through an external browser using a proxy. Ready! API will capture REST traffic within that activity and write it to a traffic log that can be browsed through.
A free trial of SmartBear's Ready! API is available.