Senet's Foundry Services Accelerate Time to Market for Long-Range, Low-Power IoT Solutions
With IoT expected to hit 50 billion devices by 2020, some say the sector needs better development support for producing low-power, long-range IoT solutions -- and at a fast clip. Senet is launching The Foundry, a set of tools and expert services to help developers rapidly design and launch such IoT projects.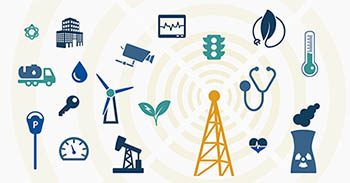 In the next decade, an estimated 50 billion devices will need to communicate with each other. By 2020, Internet of Things (IoT) device connectivity will grow to an estimated 70% of all connected devices, eclipsing PCs, tablets and smartphones combined.
A dedicated communication infrastructure is therefore a must for industries that needs low cost connectivity for smart devices, sensors and actuators across a wide geographical area.
Senet, a North American provider of public network for IoT applications, has released The Foundry, a suite of IoT-focused development services for developers of sensor-based solutions.
Senet owns and operates the first and only networks in North America that are certified by the FCC (Federal Communications Commission) to be defined as LPWAN: LoRa (Long Range) based, low-power, wide-area networks. To familiarize developers with innovative LPWAN technology, Senet's The Foundry solution offers a one-stop solution to help them create and launch LoRa-compliant IoT products quickly and efficiently, according to Senet CEO and president George Dannecker.
Senet's latest services pay special attention to provide information and techniques that will help IoT-focused developers overcome certain challenges and accelerate the launch of commercial LoRa-based LPWAN projects, he added.
Both start-ups and large enterprise firms are finding it hard to find IoT developers who can deliver "vertically complete" solutions. Senet's offerings aim to help companies bridge this talent gap, by reducing the skill and time IoT solutions now require, according to Dannecker.
Senet's CTO and vice president of engineering Dave Kjendal detailed some of the technology challenges of the IoT stack in a recent blog post:
If we look carefully at IoT solutions, we see not a single technology, but a solution stack. In the most basic deconstruction, this stack is comprised of three layers: Applications, Connectivity and Physical Infrastructure. In order to achieve maximal scale benefits (price, availability, reliability) the Connectivity layer must provide an open, standards-based interface to both the Applications and the Physical Infrastructure. Without this, each solution is a vertically integrated solution, at a distinct economic disadvantage to solutions able to leverage shared building blocks. We can deconstruct the Application and Physical layers and see similar benefits

No one argues the value leveraging Web standards (HTML, CSS, etc.) provides in terms of cross-platform availability and elastic scalability. Similarly, hardware platforms needing fast time-to-market and competitive pricing, will take advantage of standard building blocks (storage, CPU, connectors) enabled by open standards. So generally, standards ultimately allow us to build solutions more rapidly, with better pricing structures and better longevity in the market – after we pay the initial "price" of drafting and ratifying it.
As designed by Senet, The Foundry services include training, development tools, a network sandbox, and technical consulting services that help IoT solution developers create and launch LoRa-compliant IoT products and applications. Senet's Foundry Services can address hardware and firmware issue.
The Foundry uses a four-step development program, which includes:
Introductory LPWAN and LoRaWAN Training Lab – two days
Product Ideation and Design Kickoff – one week
Full Product Development Consulting – two months
Certification Readiness (LoRaWAN and FCC) – one week (each)
The Foundry is offered at Senet's corporate headquarters in Portsmouth, New Hampshire.