3scale Ships 'Dockerized' API Gateway; Ready-To-Run on Red Hat OpenShift
The worlds of API management, cloud, microservices and containers continue to meld as 3scale is shipping a Dockerized version of its nginx-based API gateway ready-to-run on the Red Hat OpenShift V3 PaaS.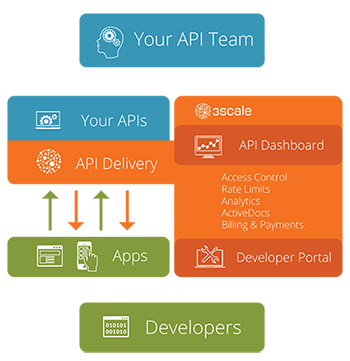 The worlds of API management, cloud, microservices and containers continue to meld as 3scale is shipping a Dockerized version of its nginx-based API gateway ready-to-run on the Red Hat OpenShift V3 PaaS.
"The combined power of PaaS, containers, microservices, DevOps, and API management supports enterprise agility and bi-modal IT," said Steven Willmott, 3scale's CEO in a statement. The addition of a Dockerized version of the 3Scale API Management platform also provides a new level of consistency for using APIs (and the services APIs make available) across hybrid, cloud and on-premises, he added.
In fact, the 3scale / Red Hat OpenShift approach provides benefits to multiple API stakeholders, including devs, IT admins and IT ops. Notably, developers can consistently create applications from microservices between environments – no matter where those resources are hosted.
Customers using OpenShift can quickly deploy the 3scale API Gateway with just a few clicks, Willmott added. It also means fewer manual steps between develop, test and launch, reducing errors, while infusing the use of APIs with greater flexibility and control, Willmott added.
In a blog post, 3scale's API Market Development Director, Manfred Bortenschlager, detailed the benefits of 3scale's latest release.
Now, any application written on OpenShift can automatically scale up based on demand and can easily be moved to another environment that supports the same languages, preventing vendor dependency and freeing customers from lock-in.

The new Docker image of the 3scale API Gateway provides complete flexibility on deployment options, including the free and open source version of OpenShift Origin. This adds OpenShift to the already broad range of deployment options for the 3scale API Gateway, allowing customers to choose the method that best suits their needs.
3scale API Management provides:
Power to consistently create apps from microservices between environments wherever they are hosted
Allows customers to do tasks in more contained and simple ways, helping reduce errors and eliminate complex steps for configuration and deployment
Lets users manage and distribute gateways wherever they are needed – local, cloud or on-premises – all with the same software stack
Provides a platform for DevOps automation and configuration management
The 3scale API Gateway is designed for API providers using Red Hat OpenShift V3, many who have different instances running in hybrid, cloud or in on-premises environments. Target users also include those migrating from one environment to another.
"This integration (between 3scale and OpenShift) was a logical next step in our collaboration with Red Hat to offer a full-stack API solution, and it's in line with our recent decision to join OpenShift Commons to contribute to the growth of the OpenShift ecosystem," Willmott added.
Red Hat execs are also happy about the latest OpenShift partner. "We are pleased to collaborate with 3scale as they build a container application platform into their cloud strategy and give customers access to the power of Linux containers at scale in a DevOps environment," said Julio Tapia, director, OpenShift Ecosystem, Red Hat. "OpenShift Enterprise enables wider choices for enterprises adopting a container architecture," he added.
Inside the 3scale API Management Platform
3scale offers multiple options for implementing traffic management with the 3scale API Gateway on RedHat OpenShift.
Users can deploy a 3scale API Gateway, which is a customized reverse proxy between the client application and your API backend. The gateway then handles authorization of incoming calls and traffic reporting.

Or users can integrate using a software plugin embedded in your API application code. Native-language plugins manage request authorization and reporting via 3scale's Service Management API.
Along with the ability to set user rate limits, a developer portal and dashboards, notable features with 3scale's API solutions include:
API traffic control in the data flow – Protects backend API servers with strict traffic control on incoming and outgoing traffic. 3scale can protect individual methods, distribute calls to multiple backends and keep tabs on all traffic. The result is not a simple 'firewall,' but a central view that puts traffic control direct in the data flow.
Access control – Manages who gets access to APIs, when, for what types of apps and for how long (or how much traffic) Controls and policies are centrally set up for all APIs.
Security – Lets admins choose authentication type for securing public, private or internal APIs. 3scale offer a range of authentication patterns and credentials to choose from, including unique API keys and OAuth tokens.
ActiveDocs – Provides documentation in a manner that is interactive, intuitive, and clear. Based on the Swagger Framework, developers can explore APIs live from documentation web pages. By adding a Swagger-compliant spec to an API, and then adding this to the admin portal, the API documentation is immediately available (using the developer portal).
Analytics – Lets stakeholders capture and share insights on API traffic details and program outcomes via a user-friendly dashboard. Users can also set (and monitor) alerts on traffic flow. Traffic analytics are available by account, application, or service.
The Dockerized version of 3scale for OpenShift is available now to API providers on all 3scale plans.