Perfecto Mobile Expands Support for 'Digital Enterprise' with Latest Upgrades to Continuous Quality Lab
To help enterprises cope with need to deliver high-quality experiences for mobile and web apps, Perfecto Mobile has updated its Continuous Quality Lab (CQL) cloud-based testing solution.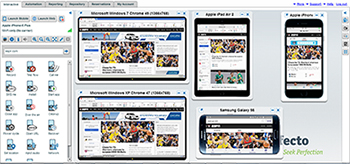 Delivering high-quality experiences for web and mobile apps is no easy feat for enterprises as the number and variety of platforms continues to grow.
To help enterprises cope, Perfecto Mobile is shipping its latest version of its Continuous Quality Lab (CQL), a cloud-based testing solution that works across mobile and web apps across tablets, smartphones, browsers and desktops.
Perfecto's CQL update lets development teams test real end-user conditions for this variety using a single strategy, according to Eran Yaniv, CEO of Perfecto. Teams can execute and analyze manual, automated and performance tests for digital channels -- side-by-side across desktop browsers and real (not simulated) mobile devices, he added.
CQL's updated set of test services underscores the growing reality that today's mobile apps are no longer operating in a silo. This variety is today a crucial part of supporting omni-channel solutions.
In an increasingly connected culture, users are choosing to engage via digital channels. Every touch point, from browsing a site on a tablet to making a purchase via a mobile app, serves as an opportunity to build upon customer brand loyalty or, alternatively, to tarnish a company's reputation with the delivery of a flawed experience. "With the latest version of the CQL that offers full testing for omni-channel and responsive web experiences, brands can continuously monitor, test and improve web and mobile properties to guarantee a consistent, seamless and high-quality digital experience," Yaniv indicated in a written statement.
A recent Perfecto blog post also details this omni-channel trend:
With the five most popular devices and operating systems accounting for more than 500 possible browser and device combinations alone, brands are challenged with providing a flawless omni-channel experience for users at any time and across any digital channel regardless of real world disruptors such as phone call interruptions and network changes that can slow down web performance.
Key features and benefits of Perfecto Continuous Quality Lab
One test strategy. This approach aims to speed app delivery. To accelerate the development process, a single test script can run on responsive websites, desktop browsers and real mobile device browsers. The CQL's platform-agnostic scripting of web apps across desktop browser/OS combinations and real devices/OS combinations shortens test cycles by running mobile and web assessments concurrently.
Side-by-side testing. To detect and resolve issues earlier, the CQL provides side-by-side analytics of digital test results to enable teams to quickly focus and triage platform specific challenges supported by visual logs with screenshots, video and device diagnostics.
Testing for real end-user conditions: CQL offers what the company calls a "wind tunnel" solution that optimizes testing for end-user conditions by defining and personifying end-user profiles, and by enabling testing across common scenarios such as degraded network conditions, conflicting applications and device interruptions.
Always-on, lab-based testing: The CQL's hybrid cloud-based testing infrastructure provides 24/7 access to secure browser/OS combinations and real devices, including access to the most recent browser updates, new devices and both the latest and legacy OSes. In addition, Perfecto CQL supports Selenium testing, letting users automate test scripts across mobile devices and browsers.
Learn more about a Perfecto Mobile free trial here.