Tibco's Nimbus Maps Offer Simple, Collaborative BPM for Digital Transformation
Tibco's latest BPM innovation aims to modernize business processes for today's information workers. Nimbus Maps takes the complexity out of BPM – and lets teams easily define, simplify and share smart, interactive processes apps – not just diagrams – with business users. IDN takes a tour of Nimbus Maps with Tibco's Rachel Brennan.
by Vance McCarthy
Tags: apps, BPM, cloud, Nimbus Maps, process, six sigma, Tibco, transformation, workflow,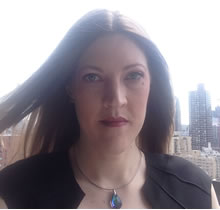 Rachel Brennan
director, product marketing
BPM & business solutions


"Nimbus Maps lets business users drive or improve any business process – just by focusing on four important questions."
BPM-CON

Move from Automation to Smart Apps, Processes and Platforms
May 26

Online Conference
The latest BPM innovation from Tibco aims to modernize business processes for today's information workers. Nimbus Maps takes the complexity out of BPM – and lets business teams easily define, simplify and share smart, interactive processes apps with business users.
Tibco's Nimbus Maps brings BPM to life for non-BPM professionals, and clears away the need for complex coding or notation language, such as BPMN, Rachel Brennan, Tibco's director of product marketing for BPM and business solutions told IDN.
Nimbus Maps does not replace or change Tibco's long-standing ActiveMatrix BPM product line or its go-to-market strategy. Rather, Nimbus Maps reflects what Brennan sees as an exciting growth opportunity for BPM.
"We're committed to traditional enterprise BPM professionals [with ActiveMatrix BPM]. But, we're also seeing a huge new business audience for BPM. But, these business users don't see a process problem, per se – they see a business problem. So, Nimbus Maps was designed for them," Brennan said.
Tibco's team designed Nimbus Maps with a focus on empowering business users to employ BPM techniques to help them drive better business outcomes – and not get stymied by a lack of expertise. Nimbus Maps is a cloud-based offering that couples its collaborative runtine with easy-to-use visual tools. "The idea driving Nimbus Maps is that a business user, without being a BPM expert or a PhD, can map their business in minutes and not need expensive consulting. Business users know best how their business works. We need to offer solutions to those users, as well." she said.
To bring business users into the BPM fold, Tibco's Nimbus Maps also flip the BPM paradigm a bit – by putting business outcomes (not BPM process models) front-and-center. "Every process should truly have an outcome at its heart," Brennan said. "So, Nimbus Maps let business experts easily map out processes and see just how their business works today."
In a formal statement, Tibco's CTO Matt Quinn described Nimbus Maps this way: "For successful business transformations of any kind, it is important that key decision-makers within an organization have a firm understanding of the activities taking place internally as well as externally. . . Nimbus Maps demonstrates our dedication to enabling the everyday businessperson to accomplish their digital transformation goals."
For all their business-friendliness, prospective users shouldn't think Nimbus Maps are just dumbed-down BPM, Brennan insisted. Quite the contrary, Nimbus Maps uses a collection of very powerful technologies to deliver on its 'process-power-to-the-people' philosophy, she told IDN.
Here are a few examples of the capabilities of Tibco's Nimbus Maps offers:
Thanks to a set of smart graphical tools, Nimbus Maps are easy and code-free to build. No need to know BPMN. Just build 'maps' of your process.
When completed, Nimbus Maps provide users live and interactive process apps that are easy to use for workers to follow workflows or processes.
Simple one-click access to just the right information workers need to complete a step or process. Nimbus Maps even provide users drilldowns to additional process maps that describe in precise detail how to accomplish a task or activity. Users can also one-click direct access to data, documents or web forms that may be needed.
Adjustable for business ROI, Nimbus Maps let non-BPM workers innovate a process. They can try out new steps or solutions to hit strategic goals, such as more customers, more revenue per-customer and so on.
Nimbus Maps are cloud-based, which means they keep everyone on the same page – in real-time. Even as proposed changes are made (to workflows, processes, forms or SaaS apps) updates are immediately available to all for comment (during trial) or for live operations.
Collaboration capabilities ensure success for 'next steps' – process deadlines, filing requirements, documentation, and compliance rules.
Process Should Shed the 'Six Sigma Stigma' to Meet Needs of Digital Transformation
While smart tools and agile clouds are key technologies enablers, Nimbus Maps also show off what might be called a 'back-to-basics' methodology to drive BPM value – especially in this era of digital transformation.
Brennan shares the thinking on how Nimbus Maps back-to-basics approach to BPM can empower business users in a recent blog post:
The shift in focus from physical assets and supply chains to intellectual property and information as a business' most valuable resource is the seed that started the digital business transformation. Process needs to shed the (Lean) Six Sigma Stigma and step into the spotlight for the next generation.

Process has long been associated only with standardization, operational efficiency, and extensive process improvement exercise. Process needs. . . a complete head-to-toe makeover [and] needs to start being associated with change, innovation, and unpredictable or opportunistic business situations – or it will be left behind.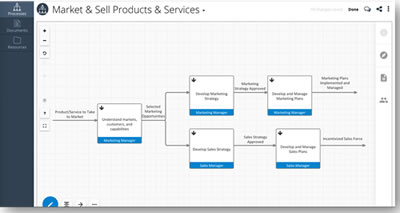 Brennan added: "With Nimbus Maps, we're starting that understanding process is a lot easier than some process discovery professionals may have led us to believe," she said. "Business users know best how the business works So, Nimbus Maps lets those business users drive or improve any business process – just by focusing on four important questions. "
Brennan listed those questions as:
What should be done?
Who should be doing it?
What do they need to do it?
What should their output be?
"These questions Nimbus Maps lets you ask and answer are really the key to business process," Brennan said.
Nimbus Maps Also Helps Companies Tackle Another BPM Challenge – Making Change
"One of the biggest barriers to making changes [in a business] is how to communicate those to your [employees] without miscommunication or delay. Nimbus Maps are not intimidating, easy to understand – and once you make changes, they can be easily seen and interacted with by everyone," she added.
As an example, suppose a company wants to change its process (and even forms) for travel reimbursements. Nimbus Maps tools let managers change the process with little more than drag-and-drop. Then, the new T&E form can be loaded into Nimbus Maps, where employees can download or click-through to a web-based form.
Nimbus Maps also provide the ability for the entire organization to leave feedback -- directly on a process map. This encourages comments from team members to share ideas if they find a problem or think of a way to do it better.
Nimbus Maps also lets users work on a separate version of the process and go back and forth on changes – even while a current version is published. To put everyone of the same page, maps can also define approvers and reviewers that sign off on all changes before being published.
If you think Nimbus Maps sounds like it should have come out of a VC-based start-up, rather than a 20+ year-old enterprise company, you're not wrong. "We're actually treating Nimbus Maps like a lean start-up within Tibco."
This Nimbus Maps version is Tibco's first rollout, so the scope of features was kept limited. "We're starting small so we make sure we understand the [market] opportunity and their needs," Brennan said.
As Tibco gets more feedback, they can add new features. In fact, Brennan and her team already have some ideas. And running on the cloud will make them easy to deliver. But, she wants to hear what her users are saying first, in true start-up fashion.
Sign up for a Nimbus Maps free trial. Tibco also has created a Nimbus maps user community.