BlueData Alleviates More Big Data Complexities; Spins Hadoop and Spark Clusters in Minutes
BlueData is shipping an update to its EPIC (Elastic Private Instant Clusters) platform. The Spring edition adds features to solve vexing challenges that can complicate and slow down Big Data deployments.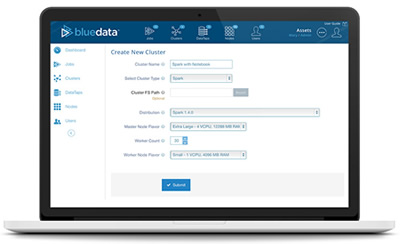 BlueData is shipping an update to its EPIC (Elastic Private Instant Clusters) platform. The Spring edition adds features to solve vexing challenges that can complicate and slow down Big Data deployments.
At its inception, BlueData's EPIC solution was designed as an easy-to-use Big Data as a Service (BDaaS) solution to let customers spin up Hadoop or Spark clusters in minutes. "Complexity remains a major barrier to adoption for Big Data technologies like Hadoop and Spark," Kumar Sreekanti, CEO of BlueData said in a statement.
To continue to ease deployment for Big Data infrastructure and applications, BlueData EPIC's Spring release leverages Docker containers to provide what Sreekanti describes as "a self-service BDaaS experience on-premises."
Along with its simplicity, BlueData EPIC continues to work with the data and analytical tools that data scientists need. The Spring release also brings two critical features for analytics during runtime operations – high levels of security and performance. The new release supports multi-tenant Big Data deployments with:
enterprise-class security
an ability to better meet QoS (quality of service) with resource allocation controls
governance for better auditing and regulatory compliance
granular controls for resource management controls, performance optimizations, and quota enforcement
By adding more flexibility, scale and control to EPIC, BlueData engineers aim to help customers support just about any Big Data use case and accelerate their deployments, Sreekanti added. "This new Spring release is another key milestone for us, solidifying BlueData's position as the leading infrastructure platform for Big-Data-as-a-Service in the enterprise," he added.
BlueData EPIC also adds deeper support for popular big data frameworks and applications, including Cloudera Navigator and Ranger (for data governance and security administration); HAWQ (for massively parallel processing analytics); and Geode [Gemfire] as well as Cassandra and Kafka (for real-time analytics).
Anant Chintamaneni, vice president of product at BlueData, put the latest EPIC Spring upgrades in context in a recent blog post:
The ever-evolving and expanding ecosystem of Big Data tools demands a highly flexible approach. Our goal is to make it as fast, simple, and cost-effective as possible for our customers to deploy their preferred Big Data applications in a true multi-tenant environment – and to enable rapid prototyping, testing, and development of emerging tools and frameworks as they become available. That's our vision for Big-Data-as-a-Service: a self-service, elastic, and secure platform for our customers to run the Big Data tools they need, when they need them, to accelerate time-to-insights.
Inside BlueData EPIC approach to Big Data as a Service
BlueData EPIC software platform provides 'Hadoop-as-a-Service' and/or 'Spark-as-a-Service' in an on-premises deployment model. Its main benefits include:
Deploy Big Data Clusters in Minutes. BlueData EPIC eliminates the complexity of Big Data infrastructure deployments. This ability to simplify Big data solutions gives all stakeholders the ability to instantly build and manage their Hadoop or Spark clusters in a virtualized environment running on Docker containers.

Reduce Complexity; Optimize Performance. EPIC unifies Big Data server, storage and management into a single, easy-to-use, multi-tenant platform that provides IT with control over the reservation of resources for different tenants and application-sensitive caching to maximize performance.

Increase Utilization; Get More Value. BlueData can save Big Data adopters up to 75 percent on the infrastructure and operational costs for their deployments. EPIC can improve hardware utilization, eliminate uncontrolled cluster sprawl and data duplication, and provide flexibility to mix and match different server generations.
The Spring release of the BlueData EPIC software platform is now available.