Wavefront Enlists Scale, Real-Time Analytics To Helps Companies Monitor & Troubleshoot Cloud-Driven 'Digital Transformation'
Wavefront is delivering massive scale, real-time analytics and responsive queries together to help companies with their digital transformation. IDN talks with Wavefront's CTO and Co-Founder Dev Nag about its cloud-based service to monitor and manage complex cloud and hybrid architectures.
by Vance McCarthy
Tags: ALM, analytics, capacity planning, cloud, console, hybrid, infrastructure, logging, metrics, microservices, monitor, performance, services, Wavefront,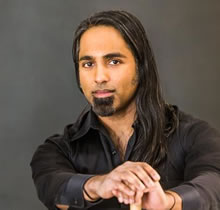 Dev Nag
CTO and Co-Founder


"Ten years ago, IT might worry about 4-5 apps. Now [it's] a complex distributed infrastructure running 400-500 microservices "
Enterprise Integration Summit

Powering Digital Transformation with APIs, Cloud, IoT, Mobile & SOA
An Online Conference
Many enterprises today are looking to copy the business success of digital giants such as Google, Salesforce and Uber. But to get there, execs often find they need to create or update an IT that uses a mix of a high-performance cloud, as well as new agile services for apps and data.
Wavefront is helping companies with their digital transformation by offering a cloud-based service to monitor and manage complex cloud and hybrid architectures and services. Wavefront unlocks visibility and control of these new IT architectures with real-time delivery of analytics from millions of data points, as well as intelligent, fast-response queries.
"We work with 100% cloud companies, as well as legacy companies moving to a hybrid cloud infrastructure," Wavefront CTO and Co-Founder Dev Nag told IDN. "For existing enterprises, we offer them a real value by helping them watch both sides of a hybrid infrastructure – on-premises and cloud. They can quickly unify all their data together into views and insights they can use."
Early adopters of Wavefront can use the solution to improve many IT and business tasks, including: application delivery, big data management, business metrics, cloud scale, DevOps collaboration, IoT and operational analytics.
Nag, who worked at Google in the early days, knows a lot about how to navigate the insides of these new cloud-based infrastructures. In fact, Wavefront is just out of stealth mode and already has attracted the attention – and won the confidence – of top SaaS customers such as WorkDay and Box. A growing list of conventional enterprise firms looking to move to the cloud are also on-board with Wavefront's solution.
What appeals to all these early customers is Wavefront's technology recipe for applying the lessons learned at Google and other cloud-based pioneers.
Wavefront 'Enterprise-ified' Google Techs To View, Troubleshoot Clouds
"Google defined a new software-defined infrastructure stack in the cloud, and came up with new ways to monitor and troubleshoot it for real-time operations," Nag said. Wavefront has 'enterprise-ified' those technologies, making them easier for companies to adopt."
Two crucial features that Google pioneered were high-performance cloud infrastructure that could scale to huge levels and then respond to queries in less than a second.
Wavefront modernizes these capabilities and makes them easier for enterprise IT to adopt. It lets cloud and hybrid cloud adopters tackle many issues to keep their cloud infrastructure high-performance, and achieve sub-second query responses when necessary.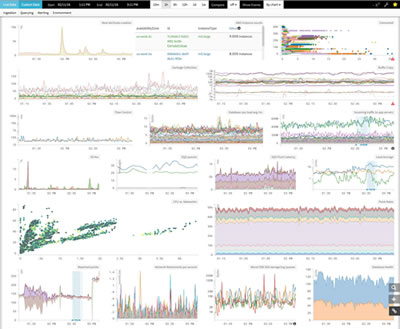 Wavefront's combo of scale and speed delivers a host of benefits across the operations life cycle, Nag said, allowing IT to accomplish many important tasks, including:
Prevent, detect and diagnose outages to maintain service continuity.
Supercharge traditional monitoring with real-time powerful analytics, as well as sub-second intelligent queries.
Promote better capacity planning and resource utilization.
Eliminate silos and leverage millions of data points thanks to a unified big data analytics platform.
Collaborate on data thanks to sharing and customizable dashboards (for IT and business stakeholders) across the organization.
Gain deep insights into UX by uncovering relationships between device, software, and end user.
Add it up and Wavefront helps companies deliver a fast and coordinated SWAT team-like level of response by multiple stakeholders. "You can't do old fashioned trending and have (stakeholders) look at charts. Both IT and business users need far more powerful analytics across the stack to know what is happening in real-time," Nag added.
A few notable highlights into how Wavefront's architecture components work together:
I. Speed & Scale for Complex, Distributed Infrastructures
For Wavefront, scale and intelligence add up to massive analytics capabilities. These will be increasingly crucial to firms adopting cloud and services architectures, Nag said. "Ten years ago, IT might worry about 4-5 apps. Now, they have to worry about a complex distributed infrastructure running with 400-500 microservices. Any one of them or any combination, might cause an issue. So speed and scale is important."
Wavefront's cloud service tackles most aspects of the operational life cycle, including detect, diagnose, validate and prevent issues. The only aspect Wavefront doesn't directly handle is remediation. "We can't make the public cloud reliable at the component level. It's not meant to be really," Nag told IDN. "But you can re-architect around (issues) when you can see exactly what the problem is and our sweet spot is to help let you do that as fast as possible."
As an example, Nag said a Wavefront user might discover that they may have trouble with one of their message queues, so to avoid trouble, they could choose to use two message queues.
One more thing: Rather than force customers to share multi-tenant capacity, Wavefront can offer customers their own private cloud-based cluster. "This gives customers complete data isolation and keeps them from feeling a slowdown that can happen when all customers are on a single pool of machines."
II. Smarter Big-Scale Analytics for Real-Time Dashboards, Customized Views
Wavefront analytics capabilities are also designed for massive scale. "We take millions of points per second across all levels with a whole suite of tools that discover, view, correlate and analyze the data based on needs of the business or IT user," Nag said. This creates what he calls 'a hierarchy of views,' using metrics across infrastructure, network, systems, apps and even individual devices and end users, he added.
This ability to rapidly capture and decipher data from so many areas can also power a huge number of dashboard views, customized for IT and business stakeholders. "Imagine a giant elephant, and everyone is looking at their parts of it – but these views are also part of one unified system with correlated data," Nag explained.
This ability to parse and view so many correlated views of infrastructure and services means that IT can look for performance issues, while business users look for lost revenue opportunities. This formula of making sense of data quickly gives rise to some interesting use cases.
"We have one customer with 600 users, but they have 800 dashboards," Nag said. "That's more than one dashboard per user, but it's to drive not just performance of the infrastructure – it's also for performance of the (SaaS) business."
III. Moving to 'Metrics' from 'Logs' for Business-Critical Resolutions
Unike traditional web log monitoring companies, Wavefront uses a 'metrics' approach. Metrics in effect work to give you a running tally of the value of a string of numbers. (Think of how a calculator adds up a number series. With each entry, you get the new subtotal.)
In comparison, logging resembles a long text line of numbers. It lists each one, but you don't get the running tally. A recent Wavefront blog post details this delta between metrics and logs.
Nag summarized that discussion for IDN. "In our view, logging is great for archive data to do troubleshooting and diagnostics later. But it just isn't meant for real-time analysis," he said. One reason: a log is 50 to 100 times bigger than metrics; and it can take that much more CPU processing and time to get a result. With logging, today's queries where you may be looking at hundreds of (components and services) can take 4-5 minutes, and that is getting to be too long."
"Metrics is much better suited to real-time analytics, Nag said. "And, we've spent three years working with metrics to solve two big problems for today's infrastructure: Data Complexity and Query Complexity. You can use much more data, and get results much faster than conventional logging."
"The basic trending and aggregation functionality that most analytics platforms have been offering don't help you manage a modern, dynamic stack – much less offer real-time insight," Nag said. "Wavefront offers a single pane of glass view into all of their data points, all of the time. With improved insight, companies can dramatically improve productivity and reliability, resulting in superior customer service."
A trial of Wavefront's cloud-based solution is available here.