Alfresco Open Source Updates Target Convergence of ECM, BPM
Alfresco Software's latest updates to its open source portfolio are targeting what the company sees as a convergence between Enterprise Content Management (ECM) and Business Process Management (BPM).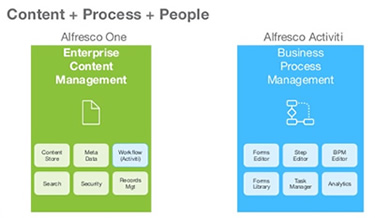 Alfresco Software's latest updates to its open source portfolio are targeting what the company sees as a convergence between Enterprise Content Management (ECM) and Business Process Management (BPM).
With its latest updates to Alfresco One (ECM) and Alfresco Activiti (BPM), the company aims to offer a unified solution that brings together process and content – and the people that work on such projects, according to Alfresco CEO and co-founder John Newton.
As a result, Alfresco's modern and deeper integrated architecture will deliver many key benefits of 'digital transformation,' including simplifying workflows and improving customer service, Newton noted. Moreover, Alfresco's ECM/BPM integration will be able to capture information about how flows and content work together to drive process improvement and even assist with compliance requirements, he added.
"Leading-edge companies will benefit from tight integration of ECM and BPM solutions that were designed and built to work together," Newton said.
As an example, he pointed to the task of processing a loan application, which involves a range of complex processes that are driven by the ability to accurately manage multiple documents and other data from applicants, as well as internally-created files.

"Because every piece of content is tied to a business process (and vice versa), an integrated content management and business process solution can deliver great value to enterprise and government," Newton explained in a statement. "This [latest level of Alfresco's deep] integration raises the bar across the industry and demonstrates. . .how content and processes need to be managed in today's business environment," Newton said.
In specific, Alfresco One 5.1 offers these new capabilities:
Easy Content Model Management that allows non-technical users the ability to configure Alfresco to their specific business data model in a "no code" environment that embeds more intelligence into the content being managed.
Smart Folders that make it easy for users to access content based on "what it is" rather than "where it is," providing a consumer-like "intelligent playlist" experience.
Additional APIs in the core platform that support broader customizations, system reliability and increased flexibility to address a multitude of use cases.
Improved usability and search capabilities powered by open-source SOLR technology with advanced administration options to support mass-scale deployments.
Updated iOS and Android mobile apps and SDK for further app customizations.
Support for native-cloud technologies, like Amazon Aurora.
For its part, Alfresco Activiti 1.4 adds these features:
An enhanced BPMN 2.0 process engine, which allows process forms improvement, process model creation and performance enhancements.
No-code development for business rules to automatically drive process decisions.
Tighter integration with cloud file sync-and-share solutions, which allows Alfresco to bring process to the cloud world.
Mobile support through a dedicated app.
"The integration of ECM and BPM in our platform. . . empower(s) user productivity with easy to use and easy to integrate solutions, achieving enterprise scale and control with platform modularity and security, and future-readying enterprises by building upon today's open standards," said Thomas DeMeo, Alfresco's vice president for product management.
One Alfresco customer is already seeing the value in tighter integration between ECM and BPM. "The new features in Alfresco One, specifically the ability to easily modify content models to address our unique needs. . .add great value to how our system analyst handles projects," said Gregory Richardson, a senior IT systems analyst with the City and County of Denver, Colo. His team is implementing Alfresco One and integrating it with Activiti, he said.
Also, at least one analyst sees merit in Alfresco's vision and approach. "ECM and BPM are converging into a market we refer to as PCM (Process and Collaboration Management)," wrote analyst Carl Lehmann in a recent report from 451 Research.
Readers can learn more about Alfresco ECM/BPM integration here.