Red Hat Updates CloudForms Hybrid Cloud Management Platform; Adds Support for Microsoft Azure, Containerization
Red Hat's latest upgrade to its CloudForms hybrid cloud management platform expands its collection of managed platforms to include Microsoft Azure, following the recent Red Hat / Microsoft partnership. CloudForms 4 also adds management support for container architectures and even self-service features.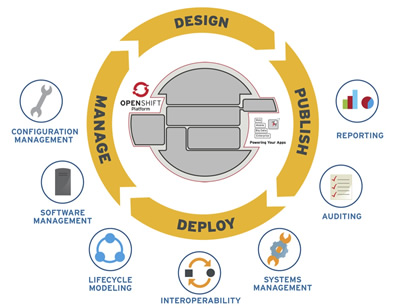 When Red Hat released CloudForms, it offered developers and IT admins the first open source cloud management platform to manage OpenStack infrastructure and workloads from a single platform. With CloudForms 4, the company continues to add functionality for the platforms and tools.
Notably, Red Hat's latest upgrade to its CloudForms hybrid cloud management platform expands its collection of managed platforms to now include Microsoft Azure, enabling Azure customers to manage those workloads and resources within a single platform. The additional support for Azure follows the recent Red Hat / Microsoft partnership.
CloudForms already provided a unified and consistent set of management capabilities across virtualization platforms including Red Hat Enterprise Virtualization, VMware vRealize, and Microsoft Hyper-V; private cloud platforms based on OpenStack; and public cloud platforms like Amazon Web Services.
CloudForms 4 can see and manage both the guest and host systems, allowing management of workloads and infrastructure within the same system.
Another major update for CloudForms is its support for cloud-centric containerization. As more enterprises plan to run their workloads inside containers, IT wants more ability to perform introspections into these new configurations.
To respond to this growing need, CloudForms 4 adds management for container architectures, giving customers visibility into workloads running in OpenShift Enterprise by Red Hat and the infrastructure hosting OpenShift. In this manner, CloudForms can manage the relationships from the container through the Platform-as-a-Service (PaaS) layer to the Infrastructure-as-a-Service (IaaS) layer or the physical host.
Scott McCarty, a Red Hat solutions architect, highlighted the importance of the support for containers in a recent blog post:
With the advent of Deep Container Inspection (DCI), a new level of analysis will be possible. The trust model will be much more sophisticated. Even though you may trust the upstream providers of your container images, with DCI, you will be able to verify the trust of container images even after local administrators or developers have made modifications.

CloudForms also adds self-service and operations visibility with new dashboards and charts within CloudForms. These will enable users to better see the relationships between different cloud platforms and container hosts running in production.
CloudForms is an open source project based on ManageIQ, and continues to attract contributions from non-Red Hat submitters as well. In fact, CloudForms 4 includes new contributions from:
Nuage Networks, which is building a provider for CloudForms to manage software-defined networking (SDN), planned for inclusion in a future CloudForms release.
Produban, the IT organization of Grupo Santander, is contributing improved chargeback and billing support to the ManageIQ project.
Booz Allen Hamilton, which contributed code to integrate Project Jellyfish, its open source cloud broker, with ManageIQ.
Jarid Cottrell, chief technologist at Booz Allen Hamilton, explained the contribution in a statement. "The integration of Project Jellyfish with ManageIQ is a testament to Booz Allen's long-standing relationship with Red Hat. We have worked together to advance and lead true end-to-end, open cloud solutions. Users will begin to see the integration of Project Jellyfish with ManageIQ in CloudForms 4's new self-service capabilities, with more exciting features planned for subsequent releases. Through our Strategic Alliance with Red Hat, we're engaging in more innovative ways of doing business, beyond the Project Jellyfish and ManageIQ collaboration."
Joe Fitzgerald, Red Hat vice president, management, summarized in a statement the benefits to the latest CloudForms release. "CloudForms 4 marks a milestone in hybrid cloud management. The addition of container management will enable CloudForms to provide a unified management experience across a wider variety of cloud platforms. We are also pleased to both continue building Red Hat's strategic relationship with Microsoft and meet customer requests by adding management capabilities for Microsoft Azure."
Red Hat CloudForms 4 is immediately available for customers with a subscription to download.