Built.io Flow Enters iPaaS Space with Support for IoT, Granular 'Connectors,' and a Low-Cost Pricing Model
Built.io is expanding its cloud-based portfolio with an iPaaS option. Built.io Flow sports at least two eye-catching features: special support for integrating Internet of Things projects and a new low-cost pricing model. IDN speaks with Built.io CTO Nishant Patel.
by Vance McCarthy
Tags: APIs, Built.io, cloud integration, connectors, DevOps, Docker, Flow, gateway, iPaaS, IoT, MBaaS, Node.js, REST, SaaS, services, workflows,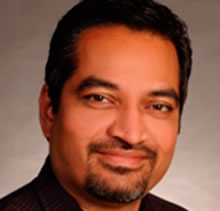 Nishant Patel
CTO


"Built.io Flow aims to help non-integration specialists connect software, systems, sensors and devices."
Built.io is expanding its cloud-based portfolio with an iPaaS (Integration Platform-as-a-Service) option. Built.io Flow sports at least two eye-catching features: special support for integrating Internet of Things projects and a new low-cost pricing model.
"Built.io Flow aims to help non-integration specialists connect software, systems, sensors and devices," Nishant Patel, Built.io's CTO, told IDN.
"In Built.io Flow, our engineers have included many features to make it easy for non-integrators to design, build, run and manage integrations," Patel told IDN. Built.io Flow has multiple components: Visual Workflow Designer, Activities, Triggers, Enterprise Gateway and Custom Logic Container. Like other Built.io offerings, Built.io Flow is fully cloud based. Users can design, develop, test and deploy in the cloud, without the need to install any local components.
As a result, Built.io Flow sports capabilities that simplify tasks across the entire integration lifecycle. It includes both pre-built connectors to popular apps, as well as tools for delivering custom integrations to a range of endpoints – from older legacy systems all the way to the latest IoT devices.
Pre-built integrations – Close to 500 pre-configured connectors and templates to support rapid integration for popular SaaS apps, including Salesforce, Marketo and Zendesk.
API builder – For custom integrations, this allows developers to author, combine, wrap and abstract multiple API calls into one single call. It also supports native and cross-platform development with SDKs and REST APIs.
Design complex multi-point integrations – An intuitive drag-and-drop visual designer instantly creates sophisticated workflows that orchestrate and automate complex business processes.
Workflows – Triggers for applications initiate workflows across unlimited, connected systems. Workflows are executed in isolated Docker containers, which are created during runtime and destroyed afterwards.
DevOps testing – Live 'trigger visualizations' allow developers to test, debug and run automated, real-time workflows.
Security – Built.io Flow's Enterprise Gateway securely connects firewalled systems to cloud and web-based services, as well the burgeoning world of mobile and IoT.
Monitoring & Management – 24x7 monitoring, management and SLA assurance, end-to-end security with enterprise authentication and optional encryption
Integration analytics – reporting on SLAs, scale, calls, latency, etc.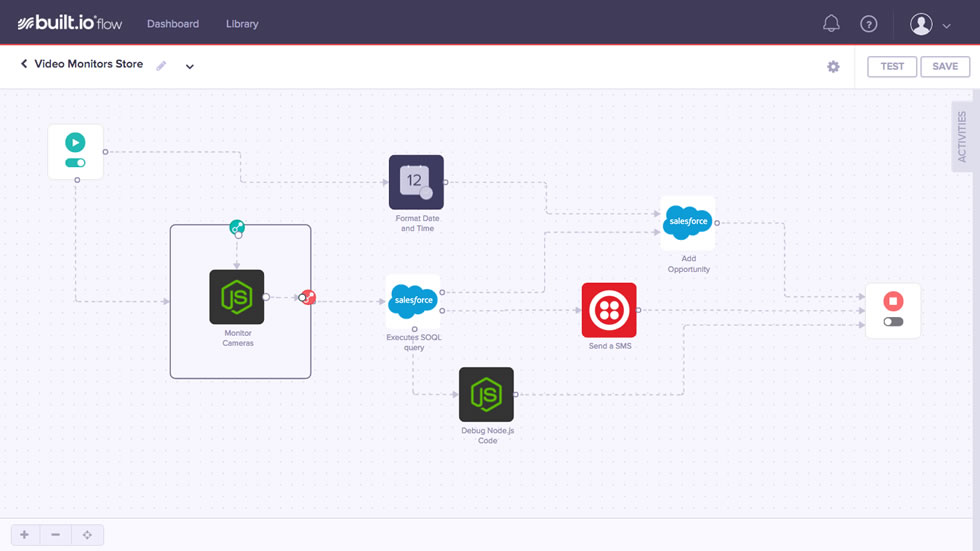 In designing Built.io Flow, company engineers also took input from customers of its Built.io Backend (Mobile Backend as a Service) and Built.io Contentstack (a mobile-first content management system running atop of Built.io Backend). "Revealing insights for how to turn traditional and mobile developers into integrators emerged," Patel added.
Insight #1 -- Traditional developers can be integration developers with good tools.
"Mobile app developers know JavaScript, but they are not classically-trained integrators. So, we provided a custom trigger to let mobile developers write integration logic using their current skills." This feature simplifies how mobile apps can be built to securely access and share data outside an app.
Built.io Flow allows developers to incorporate custom code (Node.js) to add or enhance the logic of a Workflow. Using node.js code blocks, developers can also incorporate workflows into any third party services that are not already included in pre-built integrations.
Insight #2 – iPaaS connectors can better respond to business needs when they're granular.
Built.io's definition of 'connectors' differs from other iPaaS providers, such as Boomi and SnapLogic. Notably, Built.io doesn't think of a 'connector' to Salesforce as simply just one giant connector. "Creating a lead in Salesforce is an activity that may be basically the same, but many companies have special ways they want to integrate with it [with other apps or data stores]," Patel explained. "So our approach is to give you wrappers that let each company do it the way they want. This accelerates integration, especially across multiple endpoints," he added.
Insight #3 – APIs will be crucial to custom integrations for legacy IoT.
Built.io Flow has tooling that lets developers easily define, create and run custom APIs. "Our way of working with APIs will speed up and simplify integration between any apps, data or endpoint," Patel told IDN.
Built.io Flow wraps REST APIs into so-called Activities (these become available in a library). To date, the company says their library contains thousands of activities, according to the Built.io website. Users create 'Workflows' by using the Visual Designer to connect activities / APIs and build logic around that connection. The logic can be as simple as an 'if-then' construct (similar to IFTTT) but also extends to highly sophisticated, intuitive logic that can execute across multiple branches, Patel said.
CLOUD-CON
Integration & Web APIs

Enterprise-Grade Integration Across Cloud and On-Premise
December 10

Online Conference
Insight #4 – Gateways work with APIs and URLs to simplify and scale integration security.
The Enterprise Gateway is designed to work in tandem with the connectors and API integrations to connect firewalled systems to a wide range of outside endpoints and apps, including SaaS, web services, mobile and IoT. As an example, a developer can wrap an old legacy application and expose all CRUD operations as APIs using unique URLs.
"For today, the low-hanging fruit is to help customers securely move records back and forth and keep their systems in sync. This can be for both historical and real-time data," Patel said. Nonetheless, the potential of this for API + URL + Enterprise Gateway equation is huge for IoT security, he added.
Insight #5 – A Recipe for 'Secure-and-Custom' APIs for IoT Integration.
"This Built.io Flow approach to secure and custom APIs looks to already be paying off for IoT projects," Patel confided. "For now, it looks like IoT will not be the same kind of endpoint as a traditional SaaS. So, users will need new types of tools to integrate all these different devices. We designed Built.io Flow so that anything with a digital heartbeat and an API can now participate in an app, a data integration project or even automating business processes," he said.
One potential client wants to integrate Salesforce with FitBit. "It was a small project, but for them, they felt the ROI could be huge, if the technology solution was right. When they looked at other [iPaaS] solutions, they found them just too complex." That prospective client is now working with Built.io Flow.
On top of that, the NBA's Sacramento Kings are working with Built.io Flow to support mobile and IoT integration for its new 'connected arena,' to be called Golden 1 Center. According to plans revealed by the Kings, the facility will let fans use mobile devices to order food to their seat, upgrade to a better section, navigate the stadium and interact with other fans and even players and the game itself. The facility will have a hyper-converged backbone of wired and wireless systems, data security, unified communications and collaboration, data center, IPTV and a wide variety of internet-based computing solutions.
Insight #6. iPaaS pricing should be based on load – not connectors.
"The Built.io Flow engine is designed to scale up and down on demand, based on load. That cloud-based equation scale – load should drive pricing," Patel said.
"Customers using iPaaS often pay for the connector, even if they only use it a few times. Our model doesn't monetize the connector. Instead, we have subscriptions based on load. We heard from customers, and they want pricing based on load. And, the more we looked at it, it makes sense. The cost of iPaaS is load, and so we're perfectly willing to pass on the value to the cloud to customers and only charge for what they use.

Built.io Flow pricing consumption-based plans start at $999 per month. Built.io Flow is available for a free 30-day trial.