Centrify Continues To Update Identity Management for Big Data with NoSQL Support
As companies continue to embrace big data, all types of sensitive and regulated data are new high-value targets for hackers. In response, Centrify is optimizing the 4As of identity and access management – authentication, authorization, auditing and assurance – for Hadoop and NoSQL.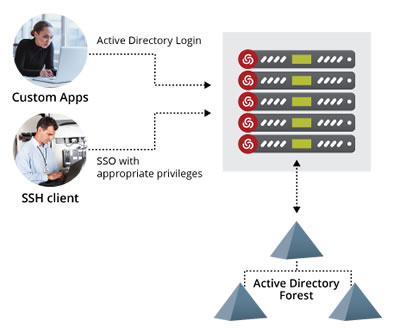 As companies continue to embrace big data, all types of sensitive and regulated data are being collected and stored at unprecedented volumes. Such data is also a high-value target for hackers. Centrify Corp. is adding NoSQL support to its Hadoop-ready identity management solution to secure these new types of data.
Centrify's big picture for big data is to optimizes the 4As of identity and access management – authentication, authorization, auditing and assurance – for Hadoop and NoSQL. As a result, Centrify is delivering well-known benefits of identity management security to work in hybrid IT environments. The approach also means security for Hadoop is easier to implement, as IT can leverage current skills and installed technologies, according to Bill Mann, Centrify's chief product officer.
"Centrify enables big data teams to reduce CapEx and OpEx by streamlining the process of securing access across big data and other core IT systems that require strict controls and enforcement of security policy," Mann said in a statement. "The updates for NoSQL and Hadoop come as industries such as retail, financial services, technology or telecommunications, look to collect and store personally identifiable information (PII), payment card information (PCI) and other sensitive data," he added.
The latest Centrify Server Suite delivers authentication, authorization and auditing for Hadoop and NoSQL. The associated Centrify Privilege Service delivers shared account password management and secure remote access for the underlying servers running both Hadoop and NoSQL. Notably, Centrify lets companies leverage their existing Active Directory infrastructure to extend security to NoSQL data.
Centrify Identity Management Brings Security Benefits to Big Data

Centrify designed its updates for Hadoop and NoSQL to help companies fight against some of big data top risks, including: creation of new application identity silos, runaway admin privileges and constrained abilities to meet compliance or mitigate risks.

Centrify's senior director for worldwide business development Ben Rice discussed the new security demands of big data, and how identity management can address them in a recent blog post.
All that data [we have an insatiable need for] must go somewhere, and these days it may go into a NoSQL database for easily solving the problem of storing, sorting, and getting value out of the troves of information that are created in the Internet of Things world.


Of course this also means that we are now responsible for securing these valuable data stores to make sure they are available for users and not vulnerable to cyberattack. The leading NoSQL vendors have all validated that their products integrate with Centrify to provide integration into Active Directory, Single Sign-On for end users and administrators, and audit of activity. This provides ease of integration into enterprise infrastructure, lower cost, increased efficiency, and greater levels of security for important data.
The Centrify approach allows companies to leverage identity management across the big data lifecycle to avoid many big data vulnerabilities. As a result, Centrify delivers these benefits:
Secure and simplify NoSQL environments – without hassle of deploying and managing new identity infrastructure. Centrify minimizes costs by eliminating the need for parallel identity management infrastructure – that may not be enterprise ready – and allows to leverage existing Active Directory skill sets.
Mitigate threats resulting from identity-related risks and address compliance and audit requirements. NoSQL infrastructures store the organization's most important data. Centrify controls access, manages privileges, audits activity and associates everything back to an individual, thereby making data more secure. Centrify delivers cost-effective compliance with reporting on who has access and who did what across the data environment.
Increase productivity and security via single sign-on for administrators and users. By extending the power of Active Directory's Kerberos and LDAP capabilities to NoSQL clusters, Centrify delivers authentication for administrators and users.
Centrify supports NoSQL databases from Couchbase, DataStax and MongoDB in the current release. NoSQL vendors heartily endorsed Centrify's approach as taking a lot of the hassle out of securing big data adoption and compliance.
Couchbase vice president Rod Hamlin noted, "With Centrify, we now offer our customers a seamless way to integrate Couchbase with Windows Active Directory, one of the most commonly used identity management technologies, and address customers' compliance needs by mitigating threats resulting from identity-related risks."
Readers can request a free trial of Centrify here