MapR Adds Native JSON Support for Hadoop; Drives Scale, Time-To-Value for Big Data Apps
Document databases are riding a huge spike in popular, thanks to an explosion in JSON use for web, mobile and Internet of Things. MapR is making sure big data users can easily go along for the ride, as it adds native JSON-support to its distro. IDN speaks with MapR's Jack Norris.
by Tom Donoghue
Tags: Analytics, big data, Cisco, Hadoop, JSON, insights, MapR, OJAI, NoSQL, security,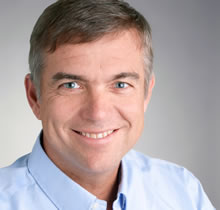 Jack Norris
chief marketing officer


"By adding native JSON support, MapR is delivering faster time-to-value by reducing the 'data-to-action' cycle."
Big Data in Motion Summit

Manage Expanding Data Volumes for Analytics & Operations
February 25, 2016

Online Conference
Document databases are riding a huge spike in popular, thanks to an explosion in JSON use for web, mobile and Internet of Things. The MapR Hadoop distro is making sure big data users – developers, architects and even business users – can go along for the ride and reap the benefits.
By adding native JSON-support to its distro's in-Hadoop document database, MapR looks to make it faster and easier to develop and launch big data apps with real-time, continuous access to larger data sets, MapR's chief marketing officer Jack Norris told IDN.
The move effectively brings a NoSQL document database closer to the company's versions of the Spark analytical engine and Hadoop. " By adding native JSON support, MapR lets companies stand up more business applications more quickly, and those apps can use more data sources," Norris told IDN. "Bottom line, we're delivering faster time-to-value by reducing the 'data-to-action' cycle."
The benefits will be accrue to developers, architects and end users, Norris said.
Developers gain the simplicity of using a 'self-describing' document to represent complex business object. This makes it easy to exchange data between apps because the schema is in the document and that makes it fairly simple to deal with sub-components. Relational models use complex schema and that translates to a complex query. To help non-Hadoop experts more easily build big data apps, MapR also includes language bindings for Java, Python and Node.js.
Architects will be able to avoid time-consuming configuration and assembly work. Big data architects looking to keep pace with growing business demands for Hadoop and NoSQL projects can often find themselves working on custom extensions for their architectures, Norris said. "Companies looking to do more complex data [analysis] or machine learning often find themselves looking to put separate technologies into HBase. Now, they don't have to move data or do any complicated intermediate work," he said. "Users can just use the same format schema and it's that simple. You don't move or deploy anything."
Business users also gain tangible benefits from these technology updates. Notably, users won't have to wait as long for new apps to launch thanks to less complexity for developers. End users should also discover their apps will run faster while being able to handle even more data volumes, due in large part to "less shuffling of data in and out of Hadoop," Norris added.
MapR's native JSON support also lets the company offer finer-grained security for more flexible access permissions. The inherent features of JSON documents mean that MapR can now support apps that can provide access control expressions at all sub-document levels. MapR also adds deep Apache Drill integration for agile, self-service analytics.
From a technology perspective, MapR is supporting JSON by enhancing its in-Hadoop (HBase) NoSQL database with native JSON format support inside its Hadoop distribution. Its JSON support is based on the Open JSON Application Interface (OJAI),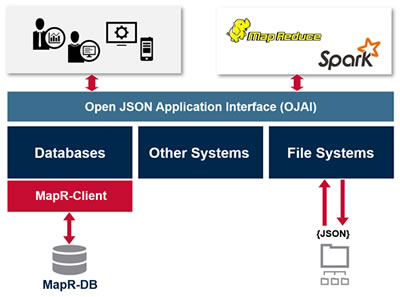 OJAI, developed by MapR, provides native integration of JSON-like document processing in Hadoop-style scale-out clusters. This new API is designed as a general purpose JSON API for all Hadoop systems and frameworks, according to Bharat Baddepudi, a principal software engineer at MapR
Deep under the covers, the MapR-DB adds a general purpose JSON access layer -- accessible across databases, file systems, and message streams. The approach enables a flexible and unified interface to work with big data, according to Norris. It also brings massive scale, with ability to support thousands of nodes per Hadoop cluster, with trillions of records per instance, he added.
MapR's latest innovations are capturing the attention of some large enterprise players.
An executive from Cisco Systems underscored the importance of MapR's latest support for JSON and OJAI. "This new release with the OJAI interface enables organizations to capture and analyze complex data types generated by the Internet of Things and the new generation of big data applications," said Raghunath Nambiar, Cisco's chief architect for big data solutions engineering in a statement. Combining MapR-DB with Cisco UCS provides a new level of continuous, large-scale analytics and faster time-to value for customers looking for big data results, he added.
Meanwhile, earlier this month, MapR announced that Oracle heavyweight sales exec Matt Mills would join the company as president and COO. Mills was a member of Oracle's executive committee, where he led an 8,000-person team largely driving Oracle enterprise sales.
In a candid Q&A with Fortune, Mills talked about his move to MapR.
When I joined Oracle, we were going through this whole evolution of moving to that next generation of platform. And it strikes me that MapR is at a similar point in time in its evolution. Those are the things that I hope to be able to bring to the team.
Mills will report to MapR co-founder and CEO John Schroeder.
MapR remains a privately-held firm. But the latest moves to boost the company's technology capabilities and sales activity are fueling sentiment MapR may be poised for an IPO in 2016.
A developer preview of the MapR document database is available. It uses the OJAI, JSON-based API to simplify big data app development – especially with complex, evolving, hierarchical data types.