BP Logix Process Director 4.0 Adds Real-Time, Ad Hoc Features To Better Meet Business Goals
This fall, BP Logix is shipping an update to its code-free platform to help companies better meet business goals. Process Director 4.0 adds easier ways to share data, design forms, set and adjust to goals even in ad-hoc and real-time situations. IDN speaks with BP Logix vice president Scott Menter.
by Vance McCarthy
Tags: ad hoc, BP Logix, BPM, case management, code-free, mobile, model, process, Process Director, real-time, workflow,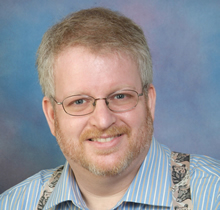 Scott Menter
vice president


"The question is: How quickly can a user go from thinking 'I need to do x' to actually doing 'x' "
BPM-CON

Move from Automation to Smart Apps, Processes & Platforms
October 29
Online Conference
As companies continue to look to use more BPM and workflow apps and data company-wide, BP Logix is shipping an update to its code-free platform to help not just create new workflow apps, but meet business goals.
BP Logix Process Director 4.0 pushes BPM beyond simply automated workflows, and adds easier ways to launch apps, share data, design forms, set and adjust to goals even in ad-hoc and real-time situations. The new capabilities built atop of the Process Director's code-free workflow automation and management software.
"With Process Director 4.0, we're adding features to let users more quickly and easily create apps that will actually help companies meet their goals." Scott Menter, BP Logix vice president for business solutions told IDN.
Menter put the latest update to the Process Director in context of the recent trends in BPM and case management. "Historically, process improvement and automation is where most of us in BPM came from, and for that we have electronic forms, logic and data associated with it. But even with all those pieces, you were mostly automating back office processes, such as time off reporting, invoice process and CapEx requests," Menter said. "But today, our customers are telling us they're looking for more to meet real-time business needs."

Under the covers, BP Logix Process Director 4.0's latest features include:
Data virtualization for easier gathering and sharing of data across multiple workflow apps
Goal-driven actions, to keep processes in line and projects on track
Enhanced ad hoc and real-time capabilities for Process Timeline BPM and workflow software.
Provide richer mobile UI/UX, with "multi-viewer" functionality and create multiple views of forms and apps to provide users the information they need
"We've always felt Process Director was designed to provide a platform to let users create business apps. Today, BPM is not just about ways to automate your back office, it's about helping companies adapt their processes to changing circumstances while staying on track," Menter noted. "Thanks to the way the BPM market has moved the last couple years, those ideas are easier to talk about now. "
Inside BP Logix Process Director 4.0 Upgraded Features for Real-Time Business
One key addition to Process Director 4.0 is its first formal data virtualization capability. The technology makes it much easier to create smart objects that can quickly and easily access the data needed for eforms and apps.
"BPM apps need to access data, which is often running around all sorts of places in your organization. By adding data virtualization, we really cut down the time it takes to get data into these apps," Menter emphasized. In specific, Process Director 4.0 lets designers create a data object once and reuse that for finding and fetching data for multiple apps.
Menter shared an example. "Let's say you have apps and forms that need to know the worker's boss, before they start an app or get permissions. By creating an object 'My Boss' that also has a small query associated with it, Process Director will go out and get that data wherever it is, and drop it right into that app," he said.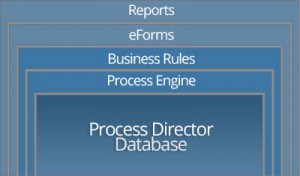 Another enhancement is technology to help make sure apps, people and companies meet goals – even when conditions change. The key to continuously staying on track to meet goals is to align goals with the business values of a set of tasks, as well as risks a company may face over time that such goals might be missed. "All companies set goals, but the question is how quickly can a user go from thinking 'I need to do x' to then actually doing 'x,' he explained.
Menter puts goals in the context of a popular use case: customer call centers. Most companies have the goal of staying within a certain performance range (either x minutes per call handled, or under x seconds for a call to be answered), he said.
To use BPM apps to help hit these goals, assigning business values are a great method, he added. "My goal depends on setting and measuring my business value. To get business values, objects [defined in Process Director] can gather data from various points. We can then generate tabular reports, knowledge trees or lists – whatever the customer chooses to check on performance and even a risk score, when the goal is in danger of not being hit," Menter told IDN.
Beyond just working with pre-set goals, Process Director 4.0 also adds on-the-fly features that will continually keep an eye out for changes, and help the company adjust to continually meet its goals – even in real-time. If a company's risk profile exceeds a certain threshold (and that the goal might be missed), Process Director 4.0 makes workflow apps aware of these changes and makes adjustments, also in real-time, if needed, he added.
The impact of all this, as seen in the call center example, is this: "If Process Director sees the call center is getting busy with a lot of calls and that the duration of those calls is growing longer, we've got the pieces in place to help companies make adjustments so they can keep hitting their goals and KPIs," Menter said.
Process Director 4.0 also sports improved case management capabilities. The release sports updates to its Process Timeline process intelligence engine, which provides process owners with key insights into the behavior of each process instance, deliver recommendations or even take action directly.
Following on in the theme for real-time responsiveness, Process Timeline adds support for event-driven workflows. In this capability, every segment and every activity within a Process Timeline is launched only when the specified set of conditions required for its execution have been met. (For example, a new email or document comes in that will affect a case, or move it to the next step.) This is combined with Process Timeline's ability to launch ad hoc activities, including the ability to invite other users to participate in or take ownership of activities, Menter added.
Finally, to promote more and wider mobile use, Process Director 4.0 also lets users specify multiple designs for a single e-form, where the appropriate version is shown based on the users' device or configuration. While people often think that mobile BPM is just about fitting the form on the right-sized screen, it's often more than that. A system doesn't know, for example, what data or what part of a form will be most important at a given time to a specific user, Menter said. "Now, we let you define more than one layout for a form or workflow app, and so now the company or the user can decide on-the-fly which view will be most helpful," he added.
Process Director is available as either on-prem software or as a cloud service. Readers can request a demo of Process Director 4.0 here.