Dell Boomi iPaaS Adds API Management; Delivers 'Unified Platform' for SaaS, On-Premise Integration
Dell Boomi is changing the face of iPaaS with a 'unified integration platform' that combines SaaS integration and API Management to integrate on-premises apps. To learn how Dell Boomi's 'services-based integration' provides this any-to-any integration on a single platform using identical tools, IDN talks with general manager Chris McNabb.
by Vance McCarthy
Tags: AtomSphere, APIs, Boomi, cloud integration, Dell, integration, iPaaS, JSON, MDM, mobile, REST, SaaS, services,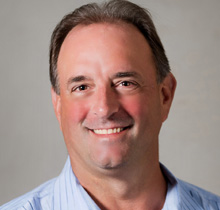 Chris McNabb
general manager

"Getting huge amounts of existing data out of their on-premises software, and sharing it, is a big hurdle for many customers."
Dell Boomi is adding API Management capabilities to its long-time iPaaS cloud integration platform for SaaS. By combining iPaaS and API Management, Dell Boomi can deliver a 'unified integration platform' that can simplify the sharing of any data with an external SaaS or internal on-premises endpoint.
Taking the broader view, Dell Boomi's latest upgrades demonstrate the power and extensibility of a 'services-based approach' for any-to-any integration, Dell Boomi general manager Chris McNabb told IDN.
"Since we first launched our iPaaS to help enterprises more easily integrate with SaaS, the number of endpoints has exploded," McNabb said. "Today, IT has to deal with many integrations, across cloud, social, mobile, aging legacy apps and even IoT [Internet of Things]." In just the six months since Dell Boomi unveiled its API Management solution more than 800 customers have adopted the technology, he added.
Dell Boomi's API Management takes a lifecycle approach, supporting creation, publishing and managing APIs.
Create - Create APIs from new or existing Boomi integration processes with full lifecycle management (versioning) through a visual interface that requires no coding.

McNabb shared with IDN the benefits to its 'unified' approach to developers working on both SaaS and / or on-prem integrations. "We designed the creation [phase] to work just like a build screen on our [iPaaS] integration platform. In fact, it uses a lot of the same technology. So, if I'm in my API Management platform, and I want to create a web service, I grab my database connector and I point it at the proprietary database. Then [my expert] says here is the query you need and I type that into my connector, give it credentials and publish it. That simple, it is available."

Publish - Publish APIs on-premises or in the cloud with comprehensive security capabilities and multiple authentication options.

"I can create and push a service that does something generically with a standard interface – and now all kinds of processes, user UIs, mobile apps, SaaS apps other legacy databases can all access or reuse the same service, McNabb explained. "With point-to-point, you have multiple copies and copy-paste for complexity. There is none of that with a services-based integration approach."

Manage - Centrally manage your API environment through traffic control and monitoring dashboards thanks to Dell Boomi's core management services. In addition, API gateway functionality provides a centralized, consistent method for authentication and accessibility for enterprise services, he added.
With so many other API Management solutions out there, we asked McNabb what factors are driving adoption of Dell Boomi's API Management offering.
"Getting the huge amounts of existing data out of their installed on-premises software, and sharing it with other apps and services, is a big hurdle for many of our customers. So, we largely focused our API Management on that main use case," McNabb said. Driven by this focus on on-prem integration, "we designed Dell Boomi API Management to let customers easily create and manage services to integrate all sorts of legacy software," including complicated COBOL mainframe apps and other in-house proprietary software apps, he added.
Another factor driving the early API Management adoption, McNabb said, is that current Dell Boomi iPaaS customers like the ease-of-use they've been getting for their cloud and SaaS integration. "When we talk to our current customers about our new API Management offering, the first thing they ask us is, 'Can you give us the same way to integrate our on-prem apps?' The answer is yes, he added.
Architecture, Benefits to Dell Boomi's Unified Integration Platform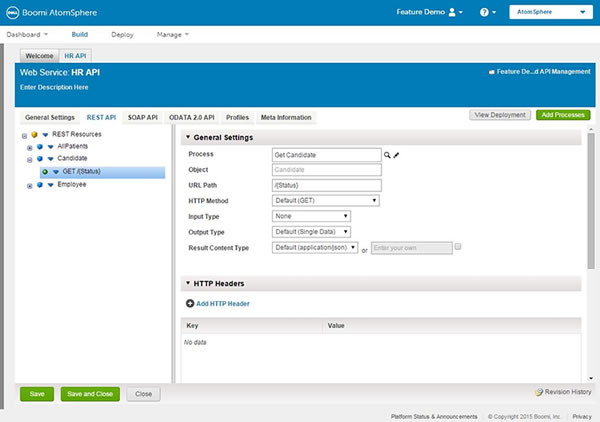 So, just how does Dell Boomi deliver the same ease-of-use integration for both SaaS and on-premises resources? It's delivered by applying the power of endpoints, services, microservices and APIs to these problems, McNabb explained.
"The key is we can take just about any endpoint and basically wrap it in a Boomi wrapper," McNabb said. This turns the endpoint into a service that can be made available that any other app or service can access. "We can now take existing endpoints from legacy apps, databases, FTP sites, mobile apps, new cloud services -- and we can very quickly turn them into a service that any other endpoint can integrate to," he said.
Powering this any-to-any integration capability comes via the Dell Boomi AtomSphere platform and the Atom runtime. AtomSphere offers a configure-not-code approach to integration. As users design and build integrations, they are stored in the platform's multi-tenant repository as XML. This repository contains the entire end-to-end integration process. In turn, this process is deployed to a Boomi Atom for run-time execution.
Dell Boomi API Management can also un-complicate many complex on-premises integration projects. Using the concept of microservices, McNabb said Dell Boomi looks to vastly simplify the messy 'hairballs' of system calls, message queues and other methods of integrating App A with Database B.
"With our API Management, you don't need to servicize your whole application. We let enterprises rapidly create microservices to expose a very specific view of their proprietary app or database, and grab just the six columns they need, pull aggregated data out of it, and expose that data via a web service," McNabb explained.
CLOUD-CON
Integration & Web APIs

Enterprise-Grade Integration Across Cloud and On-Premise
December 10

An Online Conference
On top of all this flexibility, because all these API-driven integrations run on Dell Boomi AtomSphere, they all can be monitored, managed and secured during operations, he added.
Beyond complexity, Dell Boomi's API Management also offers speed, helping IT cope with the frantic pace of creating and updating integrations for more and more apps. "The rate of change for an integration developer is categorically different, the average life expectancy for a mobile app today is 45 days. You don't have two weeks to create the API that will service that mobile app. You have hours, maybe days if you're lucky," McNabb told IDN.
By combining iPaaS with API Management, the developer experience for building integrations is code-free, and remains the same for SaaS or on-prem integration developers, McNabb added. "Customers like this 'economies of skill' we can bring to integration of any type because we use the same platform and the same tooling," he noted.
Once a developer learns a Boomi process, which is based on basic concepts of services, APIs, REST, JSON and so forth, they don't need to know another programming model or a new skill. McNabb added. "They go to the same build screen, whether web service for APIs or point-to-point, B2B EDI – it's all the same build experience and runs on the same platform," McNabb said, adding. "As the number of endpoints explodes, whether it be mobile, social, streaming or even IoT, we believe this simplification will be a real game-changer for the integration space."
At least one group of IT professionals agrees. The Enterprise Management Associates (EMA) recently released an assessment of Dell Boomi's 'unified platform' for integration In part, it read: "Dell Boomi's strategy of combining integration, MDM, and API management capabilities with authentication and security as a single PaaS supports rapid time to value and secure, enterprise-grade delivery. In addition, the look and feel across the product line is similar, providing, as Dell Boomi executives describe it, 'economies of skill.'