Bonita BPM 7 Set To Deliver 'Easy-To-Configure' BPM for Continuous Change, Real-Time Business
This week, Bonitasoft is set to bring BPM to the world of real-time business. Users will be able to make live changes to forms, workflows, business data and UIs with Bonita BPM 7, the company's latest update set for release. IDN speaks with Bonitasoft CEO Miguel Valdés-Faura.
by Vance McCarthy
Tags: always-on, apps, Bonitasoft, BPM, contracts, integration, mobile, models, open source, process, real-time, workflow,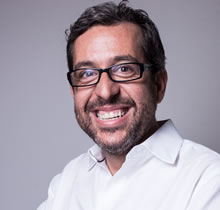 Miguel Valdés-Faura
ceo


"Bonitasoft's BPM platform lets enterprises adopt changes in a real-time and continuous way."
BPM-CON

Learn How BPM Can Deliver Quick ROI & Long-Term Success
October 29

Online Conference
Bonitasoft is set to bring BPM to the world of real-time business. Users will be able to make live changes to forms, workflows, business data and UIs with Bonita BPM 7, the company's latest update set for release after a valuable beta program.
"Enterprises have had a hard time designing for real, continuous change, Bonitasoft CEO Miguel Valdés-Faura told IDN. "Traditional enterprise applications aren't just designed for incremental improvements; these apps are just too complex, or it takes IT too long to make them."
Even more of an obstacle, companies are relying on more and more apps that always need to be up-and-running, making the task of updating 'always on' apps extremely challenging.
Valdés-Faura believes BPM offers companies a way to more easily modify and maintain these complex applications. "In today's complex app environment, we believe our BPM platform can offer a better way to let enterprises adopt changes, in a real-time and continuous way," he said.
Bonita BPM 7 aims to bring companies a more flexible and real-time way to adapt their software to changing business conditions by blending three technologies:
A loosely-coupled (model-driven) approach to enable live updates. It brings all crucial BPM app components together – user interfaces, process, business logic and business data.

A new intuitive, drag-and drop user interface designer to make it easier and faster for developers to make changes.

An ability to provide easy integration with many outside sources.
The result is a real convergence between the world of the 'BPM app' and traditional enterprise software – as well as some real improvement in how companies keep their software up-to-date and relevant to their business, Valdés-Faura told IDN. "What some do is take our engine and embed that into their app, and use our REST APIs to interact with processes. This is a use case that is happening more and more."
One of the more important keys to Bonita BPM 7 is Bonitasoft's use of an open model-based approach. These process models provide the key to unlocking a new type of 'loosely coupled' application approaches. "It will disrupt the old rigid model, and let users easily create engaging, easily modifiable applications," Valdés-Faura said.
With the new graphical UI Designer, Bonita BPM 7 users will be able to create and manage process-based apps – even in real time, he said. "Even while an app is running live, we can let users modify it with new screens, update fields in their pages and forms and make other changes," he said. Also using Bonitasoft's menu of connectors, these process-based apps will be able to connect with a wide range of external data sources (apps, documents, etc.), he added.
For even deeper connections, Bonita BPM 7 lets BPM apps just access the datasets they need, or even combine (or correlate) data from different data sources. "We also have a way to define the data schema," Valdés-Faura said. Bonitasoft's approach to data even lets users define relationships between multiple data sources that may be related, such as data about products (SKUs, pricing, available inventory, partnership arrangements, etc.).
In this recipe for success, the real secret sauce to this next-gen of BPM-based business applications is what Bonitasoft calls a 'contract.'
The Bonitasoft approach to contracts in Bonita BPM 7 delivers a 'loosely coupled' architecture among the various components of the BPM app. This is what lets users tie together processes, data and UIs – even while apps are running live – without a lot of complex coding, he said. This approach also helps ensure the BPM apps would not be broken during the changes, he added.
Valdés-Faura said Bonitasoft's use of 'contracts' provides two important benefits:
They allow user interface designers and process developers to collaborate efficiently.
They make it possible for users to implement continuous changes in business applications.
Valdés-Faura also detailed for IDN how Bonitasoft contracts operate.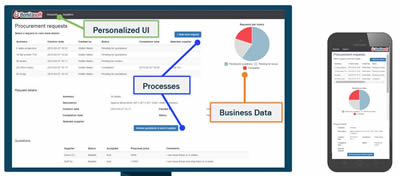 A 'contract' is part of the process definition, and its role is to define what data are expected by the process to execute a step, or to start a new instance. The web interface designer has to make sure that all required data are taken as input and then sent to the Bonita BPM Engine as it executes the process, he said.
"Once the UI designer and the process developers agree on the contract definition, they can each work independently. This is a great boost for team productivity," Valdés-Faura told IDN.
During runtime, "the Bonita BPM Engine checks the data received from the user interface against the contract. If the contract is met, the process flow proceeds. If the contract is not met, the execution engine will ignore the request and so can keep the process in a stable and coherent state," he added.

Valdés-Faura also shared a use case example of how a contract-approach to BPM adds value and agility.
Say a company wants to add a new supplier to its list of subcontractors. The new supplier can be added to the dataset of suppliers on the fly, and the UI guides the user through just what information needs to be entered, he said.
More than allowing companies to update their corporate or departmental workflow apps, Bonitasoft's contracts approach also makes it easier to support individual (or personalized) use cases. One big example is the delta that now exists between desktop and mobile apps, Valdés-Faura said.
As Bonitasoft's use of contracts simplifies design and updates for BPM apps, the company is seeing a huge variety of projects. "We are seeing different use cases from people using mobile devices versus desktop browsers. So, for example, when you are working with [transportation] companies with users on the road, we can provide a personalized interface as part of a bigger process. So, with our customizable designer, we enable you to adapt your UI for mobile, tablet or browser, without making customers decide which items to show or hide in their UI," Valdés-Faura said.
Bonita BPM 7 will be available in both the Bonitasoft community (open source) edition and commercial subscription edition.