Talend Looks To Democratize Master Data Management with Step-by-Step Guidance for Success
Talend is offering deeper guidance on Master Data Management to help companies design for success during the crucial early planning phases of a data integration project. IDN talks with Talend's Jean-Michel Franco
by Vance McCarthy
Tags: Big data, cloud, data, integration, management, Marketo, MDM, Passport Salesforce, ServiceNow, SaaS, Talend,
Jean-Michel Franco
product marketing
director


"We are unique in our approach to democratizing MDM, including the planning phase."
CLOUD-CON
Integration & Web APIs

Enterprise-Grade Integration Across Cloud and On-Premise
June 25

Online Conference
Talend is offering deeper guidance on Master Data Management to help companies design for success during the crucial early planning phases of a data integration project.
Talend Passport for MDM Success is offered as a consulting package aimed at taking the mistakes and guesswork out of such complex MDM projects. It aims to provide best practices and guardrails for MDM success, and aims to help companies avoid the pitfalls of a poorly planned execution and rollout.
To tackle these various use cases, Talend Passport for MDM Success takes a holistic approach to include the data, the silos and the applications involved, including on-premises, cloud-based SaaS and big data projects, according to Jean-Michel Franco, Talend's product marketing director.
"We believe we are unique in our approach to democratizing MDM… democratizing means that we need to pave the way to make it happen, including the planning phase," Franco told IDN. "With businesses moving more and more to off-premise solutions like cloud-based SaaS, storage and file sharing, the need for a wide variety of connectors to data sources is greater than ever,"
He shared this example: "A lot of organizations are moving away from a single CRM system: they may have Salesforce.com for sales, Marketo for marketing and ServiceNow for services. Those applications are sponsored and owned by an activity which drives the need for information governance to ensure consistency and share-ability of information across platforms," Franco added.
When MDM is done correctly, it can deliver a system of record to reconcile all their data -- structured and unstructured – across legacy, web and cloud systems, Franco said. In fact, Talend research indicates "organizations believe they need 34 data sources on average to get a Customer 360 view," he told IDN.
Under the covers, Talend's Passport for MDM Success is designed to:
Assess organizational maturity for engaging in MDM
Define and refine the MDM business case and prepare IT teams to communicate them to the lines of business
Develop a MDM project roadmap and get ready to begin a successful rollout
What differentiates Talend's MDM solution from others is that it focuses a great deal of attention on the planning phase, Franco said. MDM success is based in large measure on "the things that have to get done prior to the project to get funding, align IT and multiple lines of business on common objectives, get your organization ready for data governance and define an incremental roadmap for implementation rather than a huge one-step project, etc.," Franco noted.
Talend's Passport for MDM Success also follows the release of the Talend Metadata Bridge which lets users exchange metadata between Talend and related tools from other vendors, including data modeling and platforms for relational, unstructured and big data.
Talend Looks To Help Customers Overcome Tough Challenges To MDM Success
Talend Passport for MDM Success looks to address a wide range of MDM challenges that can plague companies, Franco said. Beyond implementation, MDM difficulties can start at the earliest stages, he added, and include planning, vectors of complexity, incremental approach, operationalizing data governance and sustainability.
A recent blog post by Forrester's Michele Goetz, principal analyst for enterprise architecture, also illustrates this need for a lifecycle approach to MDM:
Data silos are becoming networked organisms across distributed filesystems. databases and in-memory grids. How can you orchestrate a consistent trusted view of master data without a master data management solution? That team of data remediation specialists certainly can't keep pace with the task.. . . What concerns me is that MDM is still misunderstood. Even as companies take the recommendation to implement it, they don't really know what they have.
Talend Passport for MDM Success is driven by what Franco called MDM's top challenges facing companies today. He shared that list with IDN.
Digital Transformation of the Enterprise: Companies are digitalizing more and more of their processes to increase revenues, decrease costs and improve the customer experience. This [data digitation] is increasing the need to coordinate data capture and usage across a growing set of online channels, Franco told IDN.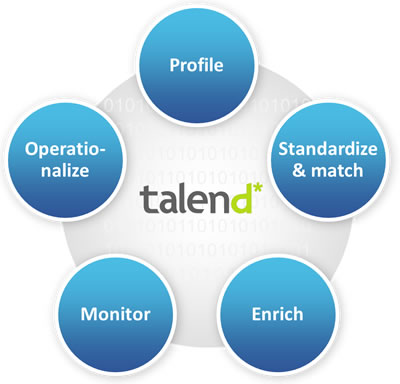 Customer centricity: Businesses are continuously trying to know their customers better and turn that knowledge into better service and increased sales. "The only way to achieve this is by combining data from multiple systems and exposing it across customer touch points," he said.
Cloud / SaaS: There is an increased number of cloud applications that lines of businesses can buy and consume without IT support. This creates "more and more silos of data [and] IT has less and less control," Franco said. Making things more difficult, expectations of IT support are as high as ever, he added.
Risk and Compliance: There are increasing regulations to improve privacy, security, risk and compliance (FDA, Basel, Sarbanes Oxley, HIPAA…). Businesses need to track and trace, govern, monitor and report across the business.
Talend Passport for MDM Success best practices consulting is born from hands-on experience with the Talend MDM product offering, alongside long-standing partnerships with top MDM consultants.
The Talend MDM product combines real-time data, applications, and process integration with embedded data quality and stewardship to unify any amount of data into a single, actionable version of the truth." Franco said. To cope with all these data sources, Talend proposes "a wide variety of connectors to data sources, for cloud, external data, etc. Connectors are free of charge, which is uncommon in the MDM and data integration market, Franco told IDN.
Among partners, alliance members now include Bearing Point, Cap Gemini, CGI, CSC, IPL, McKnight Consulting Group, Micropole, Sopra Steria and Virtusa.

Franco emphasizes that with so many on-premises and cloud data sources to deal with, a company does not need a big data project to get big benefits from MDM.
"You may want to integrate clickstreams in your customer profile or crowdsource information about your products. Big Data should probably be considered in the roadmap of most MDM projects, but more often than not it is considered as a next step once a trusted system of record across internal systems has been created," Franco said. With that timeline in mind, when a company is ready to combine big data and MDM, Talend MDM also runs on Hadoop, he added.